Signs Kylie Jenner And Jordyn Woods' Years-Long Feud Is Over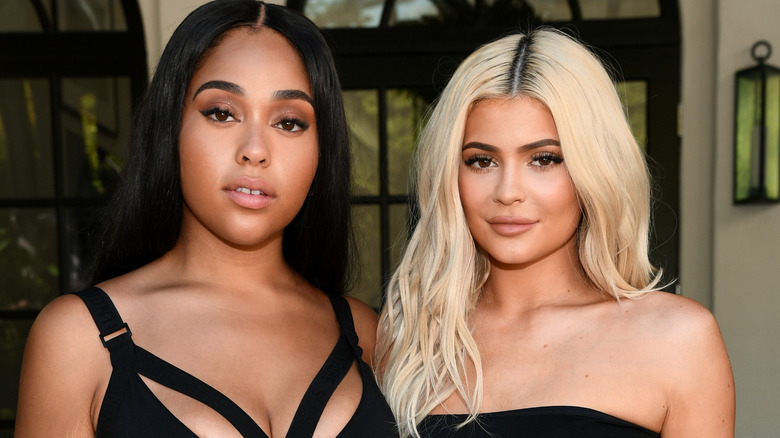 Emma Mcintyre/Getty Images
Kylie Jenner and Jordyn Woods have flaunted their renewed friendship since July, proving their long feud is finally over.
Those keeping up with Jenner's life know that she and Woods used to be BFFs who roomed together and even appeared on Jenner's reality show, "Life of Kylie." However, their bond was shattered in 2019 after Woods reportedly made out with Khloe Kardashian's then-boyfriend, Tristan Thompson. Woods admitted that Thompson kissed her at a house party but said she didn't let it go any further. Either way, her relationship with Jenner didn't survive the subsequent chaos — and their breakup was just as devastating as Khloe and Thompson's.
During the height of the drama, Jenner even defended Woods against her sisters' social media taunts. "I just feel like we're bigger than this, we're better than this ... We just don't need to bully anyone," Kylie said to Kim Kardashian during an episode of "Keeping Up With The Kardashians." She added, "I just don't think anyone deserves this. We should express everything to each other in person, however we feel." Around this time, there was buzz that the Kardashian family was gunning for Jenner to cut ties with Woods, though an insider implied the decision wouldn't come easy. The source told Us Weekly, "It will be very hard for Kylie to lose Jordyn because she's her best friend." Although Jenner and Woods drifted apart, recent events suggest they have found their way back to each other.
Kylie Jenner and Jordyn Woods went out to dinner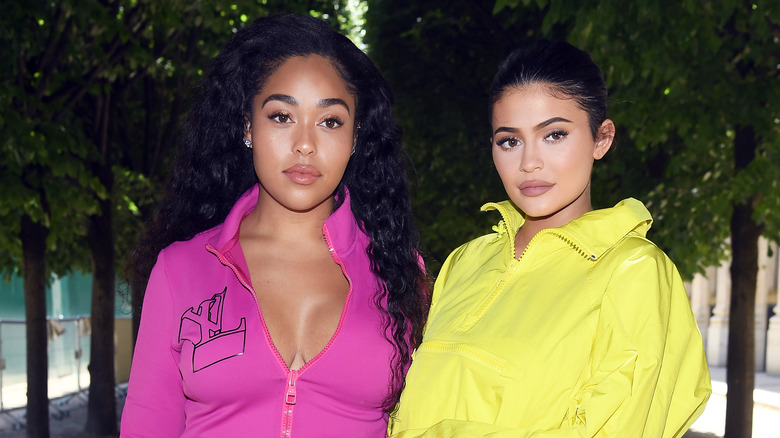 Pascal Le Segretain/Getty Images
Over the summer, Kylie Jenner and Jordyn Woods made their first joint appearance since their friendship shattered. The Daily Mail published photos of the friends heading to dinner in Los Angeles in July. In the images, the two appear happy, content, and comfortable with each other as they rock chic, stylish looks. While neither Woods nor Jenner have made any public statements about their bond, the photographic evidence is enough to deduce that they've obviously made up. 
Naturally, fans had some pretty intense reactions to their reconciliation. "Well Khloe forgave her man so why can't they do the same to Jordyn," tweeted one fan. "We won!! Khloe had no business making her lose her friend just to go back to that cheating man," another another. Some fans weren't happy, of course. "I'd forgive her but [I] don't think [I'd] be able to be friends again after you and your family were dragging me on every platform possible because your sisters man hated her," a fan tweeted in defense of Woods.
While most reactions to this news have been entertaining, what fans think doesn't actually matter if Jenner and Woods are happy. TMZ reported that Woods and Jenner had been privately reconnecting for over a year before their dinner date. Now, Jenner and Woods are ready to flaunt their rekindled friendship.
Kylie Jenner and Jordyn Woods took their friendship to TikTok
Kylie Jenner's friendship with Jordyn Woods is too important for Instagram. In September 2023, Jenner shared a video compilation showcasing her trip to Acne Studios on TikTok. Jordyn Woods made a surprise appearance 13 seconds into the 37-second clip. Rocking a bleach-blonde flipped bob, Woods posed next to Jenner, who looked effortlessly chic in her white baggy button-down. The best friends also donned similar pairs of shades, which probably cost a lot more than they're willing to admit. According to People, Jenner's starring role in the fashion brand's recent campaign prompted the outing.
Woods also promoted the trip on her social media. However, instead of following Jenner's lead and including her bestie in the post, Woods opted to post a solo selfie to her Instagram stories. The publication also reported that the friends were greeted by seemingly approving fans as they left the store. Fans in Jenner's TikTok comment section also seemed receptive to Jordyn's presence. "I KNOW I JUST SAW JORDYN," replied one fan. The comment has since amassed over 7,000 likes. Another fan commented, "That's the craziest Hard Launch ever ! Love that they found each other again." Same. Now, we want to know if Woods has spoken to Khloe Kardashian.