Why David Schwimmer Spent Years Out Of The Spotlight After Friends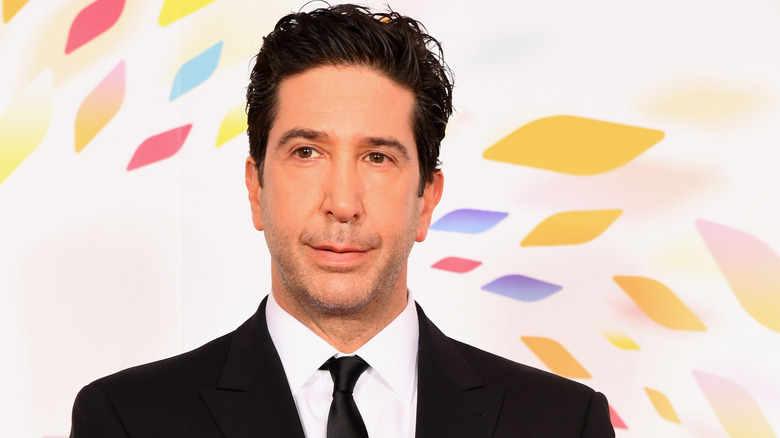 Dave J Hogan/Getty Images
For 10 years, David Schwimmer rode the wave of success. His role as Ross Geller on the wildly adored sitcom "Friends" not only saw his star skyrocket but also solidified his standing as a respected actor in the entertainment realm. But after the series retired from the small screen, Schwimmer also retreated from the limelight. What gives?
Funnily enough, the actor was admittedly disinterested in starring in "Friends" in the beginning. After several failed attempts at making it big on TV, he contemplated turning his back on it altogether and focusing on theater work instead. But one fateful call from his agent and the promise of acting with an ensemble prompted a change of heart. Along with Matthew Perry, Jennifer Aniston, Courteney Cox, Lisa Kudrow, and Matt LeBlanc, the sextet became a pop culture fixture in the '90s throughout the early aughts. While some cast members continued to thrive in their acting careers, with Aniston dominating the box office and Cox finding success in horror films and another sitcom, others were less triumphant in their attempts. Notably, Schwimmer seemed to have deliberately shied away from acting in mainstream projects.
As it turns out, it's not because of a waning passion for artistry, but because he was still reeling from the consequences that fame brought to his life.
Schwimmer's 'Friends' fame had a negative impact on his life
Jean-paul Aussenard/Getty Images
"Friends" was an instant hit, garnering a staggering 22 million viewers for its pilot episode alone. Once it hit the airwaves, David Schwimmer and his co-stars shot to fame overnight, forever changing the trajectory of their lives. Schwimmer, for his part, is eternally grateful for achieving success, but he never quite figured out how to deal with all the attention on him. "I had to learn how to be invisible when I go out," he shared in an interview with Female First. "Getting used to the attention was not easy."
But stealthily dodging fans in public was just the tip of the iceberg. Speaking with The Hollywood Reporter, he said that his popularity also had a negative toll on his personal life. "It was pretty jarring and it messed with my relationship to other people in a way that took years," he said. After "Friends," he also had to take a step back and navigate the uncertainty of his future. "I was trying to hide. So I was trying to figure out: How do I be an actor in this new world, in this new situation?"
Schwimmer also struggled with being typecast as Ross Geller. Prior to "Friends," he had quite a diverse acting portfolio, but the show eclipsed everything he had worked for. "There was a period that I was very, very frustrated by being pigeonholed in this one genre, this one idea. I got 'Friends' when I was 27 but I had done all this work on stage. But all that was just eradicated," he told The Guardian in 2020. "As far as the public was concerned, I came out of the womb doing sitcoms."
He dabbled explored projects outside of TV instead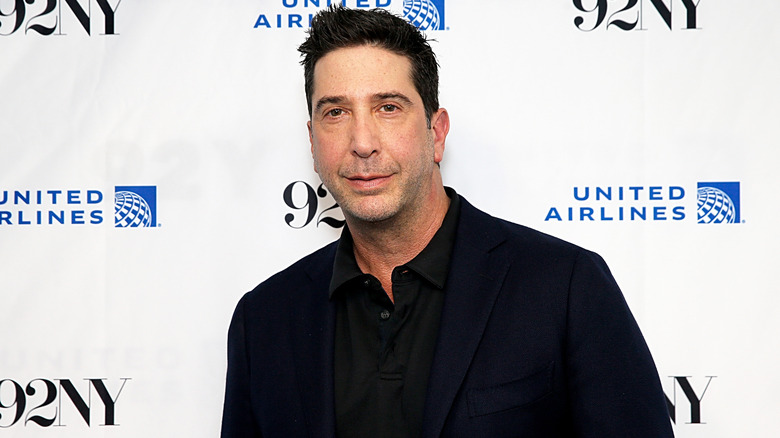 Dominik Bindl/Getty Images
David Schwimmer knew that it would be nearly impossible to stop people from associating him with his role on "Friends," so he sought work that diverged from Ross Geller. "I knew I needed to shift gears, creatively," he told The Financial Times. Even while filming the comedy series, he already took projects that were the opposite of what he was doing on TV. He starred in an indie film "The Pallbearer" in 1996, and HBO's "Band of Brothers" in 2001. He also took on a string of roles in theater, appearing both on Broadway and the West End. He even tried his hand at directing and producing films, taking the helm in "Run, Fatboy, Run" and "Trust."
"When I was cast in 'Band of Brothers', I thought, 'Aha! This will dispel Ross,'" he told The New York Times. "But I'm sure half the people who saw it thought I was Ross in the Army. With 'Trust' my thinking isn't that calculated. If I suddenly surprise people, great, and if not, I'm not counting on it. I hope to do this another 40 years. Maybe I'll be 80, and they'll finally say, 'Oh, he's not Ross.'"
It wasn't until he welcomed his daughter, Cleo, that he felt the urge to appear on-screen again. "There was something about just telling stories and role-playing and going on imaginary adventures with her in that very childlike way that re-engaged a part of me that I kind of lost touch with," he shared with Vulture. And while he's still sometimes typecast, he's determined to keep on keeping on, aiming for longevity in his career rather than short-term success.