Things Meghan Markle Owns That Once Belonged To Princess Diana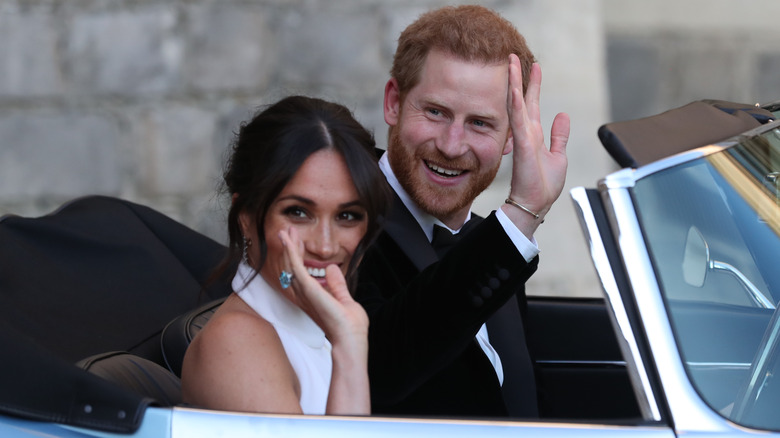 Wpa Pool/Getty Images
Meghan Markle never got a chance to meet her mother-in-law, but she has a number of fancy keepsakes by which to honor her memory. Prior to her passing, Princess Diana had specifically requested that her sons inherit her full collection of jewelry to gift to their wives one day, as was reported by The Telegraph back in 2002. Suffice it to say, both princes have made good on that request.
Though Princess Diana's engagement ring was famously given to Kate Middleton when Prince William proposed, Markle was also presented with a piece of her late mother-in-law's collection when Prince Harry went down on one knee. As he revealed in his and Markle's engagement interview with BBC, two of the diamonds used in the ring had belonged to his mother. It was a sweet nod to the late princess, to be sure. However, once he and Markle had tied the knot, she was gifted a number of full pieces that Princess Diana had once worn. These included earrings previously worn by Princess Diana, as well as bracelets, and a watch that was undoubtedly packed with meaning for Markle — more on that, later!
While there's a good chance Markle has yet to wear every piece of jewelry from her late mother-in-law, in the years since marrying Prince Harry, we've seen glimpses of some of the glamorous pieces now in her possession. That said, while the jewels the "Suits" alum has worn are undoubtedly valuable, something tells us Markle's bigger concern is the sentiment behind them. 
Meghan often wears Princess Diana's low-key pieces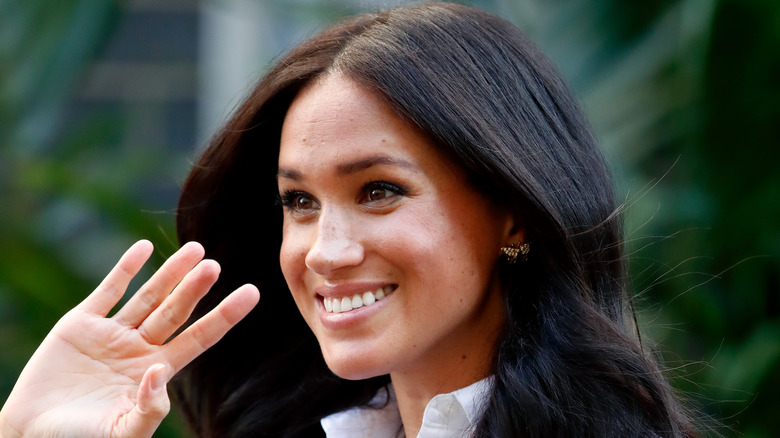 Max Mumby/indigo/Getty Images
No conversation about jewelry once owned by Princess Diana would be complete without mentioning a particularly massive aquamarine Asprey ring. The Duchess of Sussex famously wore it to her and Prince Harry's wedding reception, and several years later, went on to wear it ahead of the "Meghan & Harry" series premiere. However, that's probably the only dramatic accessory that Markle has pulled from her mother-in-law's treasure trove. For the most part, she's opted for more subtle pieces.
First up, a pair of butterfly earrings. In her first royal engagement after her pregnancy was announced, Markle wore the subtle earrings, along with an understated gold bracelet, while on tour in Oceania. The bracelet was also previously owned by Princess Diana, and Markle went on to wear it, along with the earrings, several times both on the tour and after. 
Another subtle piece of Princess Diana's that Markle has worn is a diamond tennis bracelet. That particular piece made headlines after the couple's Oprah Winfrey interview, as many outlets picked up on the homage to the late princess, who'd done an explosive interview of her own decades prior. That said, it is worth noting that Markle has more than one diamond bracelet in her royal jewelry box, and not all of them are from her mother-in-law. Back in 2018, Harper's Bazaar reported that Markle had been gifted a tennis bracelet by King Charles when she joined the family. 
Diana's watch is especially meaningful to Meghan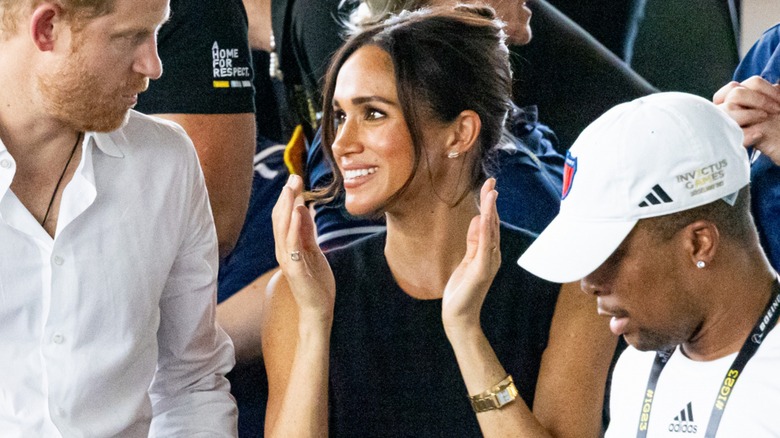 Patrick Van Katwijk/Getty
Bracelets, earrings, and rings aside, it's likely that the most meaningful piece of jewelry Meghan Markle received from Princess Diana's collection is a Cartier Tank Francaise watch. 
There has been some confusion over the watch in the past, with some reports suggesting that Prince William had been particularly attached to it and that it had been given to the now-Princess of Wales. Confusion aside, though, today, the watch is part of Markle's collection — joining the one she bought herself, back in 2012. That's right: Markle already had a Cartier Tank Francaise watch of her own. Not that having two Cartier watches is ever a problem ... but the significance behind the inherited piece can't be downplayed. 
In an instance of foreshadowing straight out of a storybook, even before meeting Prince Harry, Markle had told Hello! Canada that it was a gift not just to her, but an heirloom she wanted to pass down. "I plan to give it to my daughter one day. That's what makes pieces special, the connection you have to them," she'd said (via Harper's Bazaar.) Little did she know at the time that her late mother-in-law had felt the same way. 
Markle might not have had a personal relationship with Princess Diana, but it's safe to say, at least when it came to their thoughts around jewelry and the meaning it holds, the two had a lot in common.