Lady Gaga Addresses Bradley Cooper Romance Rumors Head-On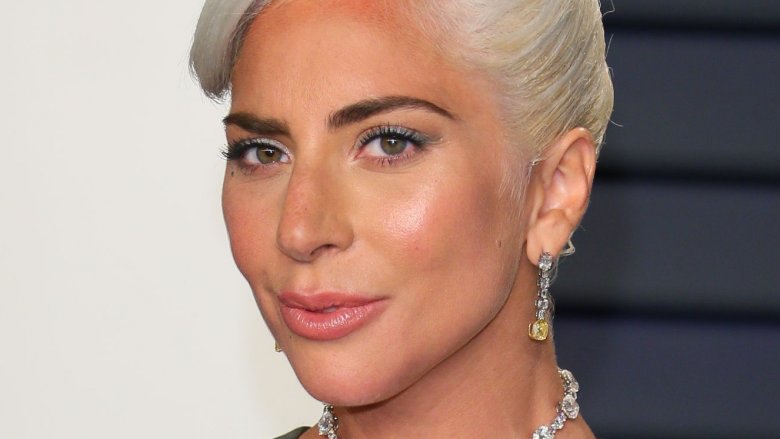 Getty Images
Lady Gaga is setting the record straight on those Bradley Cooper dating rumors.
During her Wednesday, Feb. 27, 2019, appearance on Jimmy Kimmel Live, the Mother Monster finally broke her silence on the ongoing speculation surrounding her relationship with her A Star Is Born co-star ... and she did not mince her words.
"First of all, like, social media, quite frankly, is the toilet of the Internet," Gaga (real name Stefani Germanotta) told the titular host with a roll of her eyes. "And what it has done to pop culture is just, like, abysmal." 
While addressing the romance hearsay head-on, the "Bad Romance" hitmaker said, "Yes, people saw love and guess what? That's what we wanted you to see. This is a love song, 'Shallow.' The movie A Star Is Born, it's a love story."
As Nicki Swift previously reported, Gaga, 32, and Cooper, 44, basically broke the Internet this past weekend with their performance of "Shallow" from the film at the 2019 Oscars. While showing off the duo's undeniable chemistry, this emotional — and steamy — rendition of the popular tune had multiple fans wondering whether the on-screen lovers might've developed a deeper, non-platonic connection in real life. With mixed reactions ranging from shocked to hopeful to downright critical, the ensuing controversy has since dominated headlines, with even the likes of former Spice Girls singer Mel B and Cooper's ex-wife, actress Jennifer Esposito, weighing in.
As Gaga recently told Jimmy Kimmel, it was actually Cooper himself who'd planned the performance out — which makes sense, considering the actor famously made his directorial debut with their A Star Is Born remake. "I knew that he had the vision for how it should go," she said. Giving credit where it was due, the pop star added, "He laid it all out. Everything that you saw — the way that it was shot, the way that they pushed the piano out ... us [walking] up on stage, no intro, all of it — that was all him."
"From a performance perspective, it was so important to both of us that we were connected the whole time," the nine-time Grammy Winner explained, before noting, "When you're singing love songs, that's what you want people to feel." That certainly makes sense.
Ultimately, Gaga isn't taking this dating speculation too seriously. After shutting down the reports once and for all, she quipped with a laugh, "I'm an artist and I guess we did a good job ... Fooled ya!" For his part, Kimmel later jokingly chimed in with, "You know what? I fall in love when I look at him. It's really hard not to look into those eyes and just get lost." Well, he's not wrong.
After the 2018-2019 film awards season came to a close this weekend, Gaga took to Instagram to celebrate the success of her A Star Is Born collaboration with Cooper. "Nothing could be more special than sharing this moment at the Oscars with a true friend and artistic genius," she captioned a snapshot of the two performing "Shallow."
However, the first-time Oscar winner didn't seem 100% ready to close this chapter on her career during her recent late-night show appearance, where she made sure to show off her latest trophy. "It's been quite a week," Gaga joked, after pulling her Academy Award out of a bag. She went on to echo the sentiments behind her emotional acceptance speech at the Oscars, which she delivered alongside collaborators Mark Ronson, Anthony Rossomando, and Andrew Wyatt, after they won Best Original Song for their work on "Shallow." 
"I swear, when we won, it was like my whole artistic journey flashed before my eyes," the "Applause" singer revealed to Kimmel. "And I instantly saw myself sitting on my stoop of my studio apartment in New York City on the concrete with my keyboard next to me, trying to figure out how I was going to lug my keyboard, again, up my walk-up." Of the Oscar win itself, Gaga added, "It's incredible. This was hard work. And, you know, I said it in my speech and I'll say it again: If you work hard and you don't give up, you can do anything." 
While Lady Gaga and Bradley Cooper appear on the onset of going their separate ways in their post-A Star Is Born careers, those who are looking for one more Gaga/Cooper fix are in luck. According to USA Today, fans will have another chance to see the classic tale of aspiring singer-songwriter Ally Campana (Gaga) and country rock star Jackson Maine (Cooper) play out on the big screen early next month. Make sure to grab your tissues, because A Star Is Born — featuring an additional 12 minutes of footage — will receive an encore theatrical release for one week only starting this Friday, March 1.