The Wildest Kardashian Interviews Ever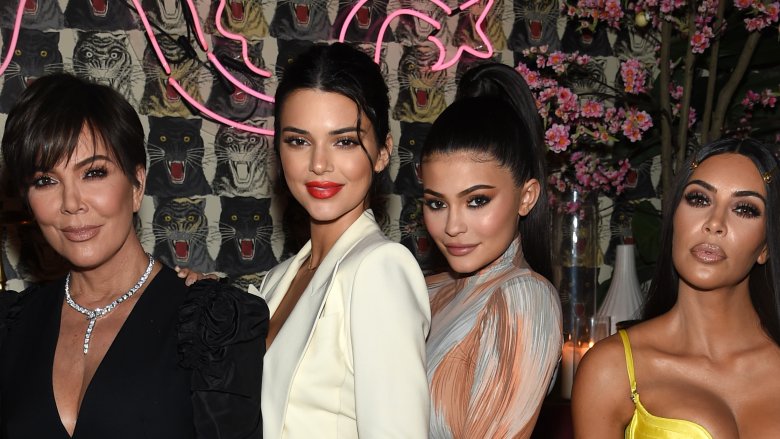 Dimitrios Kambouris/Getty Images
The Kardashians have had some pretty memorable moments ever since they started their run as A-list darlings in 2007 with the premiere of Keeping Up With the Kardashians. With Kris Jenner as their money-churning matriarch, it's hard to know what familial drama is "accidental" and what's been conjured up as means to further their media empire. From Kim Kardashian's 72-day marriage to NBA star Kris Humphries to the cheating scandal between Khloé Kardashian's ex Tristan Thompson and Jordyn Woods, the public has marveled at the Kardashian-Jenner clan's ability to turn over-the-top situations into pure reality TV gold.
Nobody knows how to handle the press better than the KarJenners, who are always composed during interviews, only answering questions as they see fit and keeping mum on juicy details. Heck, they even managed to hide Kylie Jenner's pregnancy during its entire course! Sometimes, however, America's most well-known family lets loose, and we're graced with bits of their personality and sincerity — which is obviously way more fun to watch than the somewhat robotic PR machines they've been known to become. From the time they got incessantly berated by a famous radio host to when one Kardashian bizarrely answered questions in the middle of a massage, we've rounded up the wildest Kardashian interviews ever.
Kim blamed some bad life decisions on drug use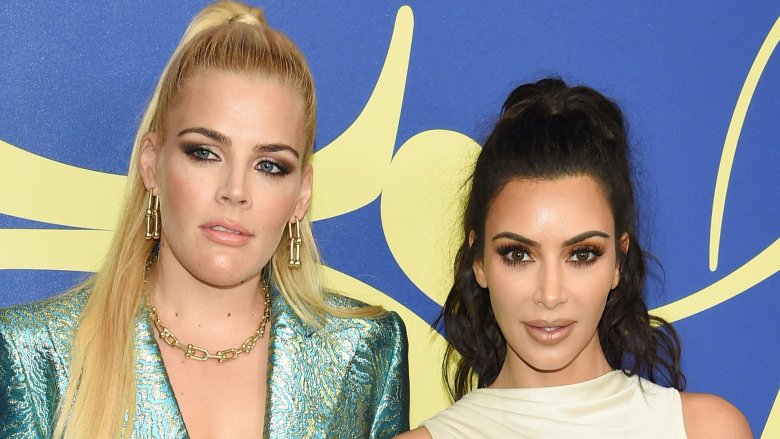 Dimitrios Kambouris/Getty Images
It's no secret that Kim Kardashian is pretty much a straight edge. As the most famous of the KarJenner tribe, she knows she has a particular image to maintain. According to a source cited by People in 2018, "Kim definitely had her years of partying, especially around the time she was friends with Paris [Hilton] ... Her life is completely different now." Indeed, the E! star lives such a life of abstinence these days that fans were shook when she opened up about her past drug use in a 2018 episode of Keeping Up with the Kardashians. People reports that Kim was admittedly "high on ecstasy during two notable life moments — when she wed music producer Damon Thomas in 2000 and when she made a sex tape with Ray J in 2003." 
Viewers were left mouth agog, including actress Busy Philipps, who asked the KKW Beauty mogul to dish even further on her show, Busy Tonight (via USA Today). "It's just weird to people," Kim told the titular host. "Like I've done ecstasy, but I don't drink, I don't smoke weed, I don't do anything." She went on to explain that she once told mom Kris that she'd started dabbling in drug use, saying, "She was just so upset thinking that I was gonna, like, turn into something and just be this crazy drug addict." Lo and behold, the famous momager convinced her daughter to go totally sober.
J-Law volunteered as tribute to have Kim dress her
The Kardashian-Jenner squad rolls with a close group of friends, staying pretty hush-hush around those who aren't part of their inner circle. Truth be told, why wouldn't they? Living a life that's swarmed by cameras, it must be hard to know who you can trust. So, who's the one KarJenner pal we didn't expect? None other than Oscar-winning actress Jennifer Lawrence. 
It turns out that J-Law is a massive Keeping Up With the Kardashians fan and isn't afraid to openly gush about the family every chance she gets. The Hunger Games star even had the opportunity to interview Kim Kardashian while subbing in for Jimmy Kimmel on Jimmy Kimmel Live! in 2017. At the time, Lawrence revealed that she once got drunk with momager Kris at a dinner party held at the matriarch's house, which led to a bizarre game of dress-up. "I remember getting naked in your mom's closet and ordering you to dress me," Lawrence told her guest. "You dressed me fabulously ... Is my memory correct, did you call Kanye to come up in the closet, did you want him to style me?" The reality of the situation? According to Kim, the starlet told her she wanted Kardashian's rapper husband to style her, but by the time Kim returned to the room, Lawrence was "fully butt naked." We guess this friendship has truly seen it all!
Which KarJenner sister did James Corden call 'the worst'?
As host of The Late Late Show, comedian James Corden and his team came up with a particularly funny segment called "Spill Your Guts or Fill Your Guts." As absolutely disgusting as it sounds, it sees the British comic ask his celeb guests extremely personal questions. What's the consequence of not answering? Eating one of the atrociously gross things set in front of them, such as cow tongue, 1,000-year-old eggs, and scarab beetles. Yuck! 
Poor Kim Kardashian unwittingly came on the show to participate in 2017. While starting off with a nicely-presented glass of bird saliva, Corden asked the reality TV star to rank her family members from "best-dressed to worst-dressed." Kim threw sister Khloé under the bus by giving her last place, saying, "She's going to kill me, I'm so sorry!" After some back and forth — which consisted of Corden eating a scorpion — Kim asked the funnyman who his least favorite Kardashian-Jenner was. After putting some thought into the question, the answer finally came to the Brit. "I know, easy! Kylie! Kylie Jenner, she pulled out the show, she was going to come, she didn't come," he said, before jokingly adding, "F**k her, she's the worst!"
Khloé didn't share any deets on the O.J. Simpson trial
Perhaps the most rebellious of the Kardashian-Jenners, Khloé Kardashian always seems to have a crazy story to dish. From the time she stole a car as a teen and watched it catch fire, to her measly three-hour stint in jail after allegedly violating her probation following a DUI, the girl has certainly lived an exuberant lifestyle. That's why we were beyond excited for Khloé to join James Corden in a segment of "Spill Your Guts or Fill Your Guts" months before sister Kim had the honor of drinking a sardine smoothie on the show.
Immediately after sitting down for her potential feast with The Late Late Show host, the Revenge Body star let a few profanities slip — and we knew this appearance was going to be good. Not having any trouble answering her first question, Khloé was presented with her next treat: a fish eye. "You guys, it's a real f**king fish eye," she told the audience. "And I think this has blood on it!" Um, ew! In reference to the infamous O.J. Simpson trial, in which Khloé's late father, lawyer Robert Kardashian, was part of the defense team, Corden asked her the unthinkable: "Do you think O.J. did it?" After giggling at the Brit and looking at him in shock, the KUWTK star opted to plop the fish eye in her mouth in lieu of answering. So gross.
Paris Hilton said Kim's derriere looked like what?
There's no denying that iconic radio host Howard Stern has created his legacy as a masterclass interviewer. His salacious style of getting down to the nitty-gritty is enough to scare most people away — that is, unless you're one Kim Kardashian. Years before becoming pros at dodging shady interview questions, sisters Kim and Khloé appeared on The Howard Stern Show in 2009. They still managed to handle themselves perfectly well, however, even when the radio personality wouldn't stop pressing Kim about her alleged feud with a certain heiress. 
"You were not anyone famous, but somehow through this sort of wacky lifestyle ... people became aware of you," Stern began, adding to Kim, "Paris Hilton is jealous of you, isn't she?" Without missing a beat, Kim cooly replied, "I haven't talked to her in a few years." However, the shock jock continued to prod, "Why? ... You got famous and she couldn't deal with it, right? Be honest." The blunt badgering appeared to get to the reality TV star's head, considering she went on to reveal that Hilton herself apparently went on a radio station and announced that Kim's "a** looks like cellulite in a trash bag or something." Thankfully, ten years after this tell-all interview, these former frenemies appeared to finally be on good terms again: In May 2019, Hilton release her "Best Friend's A**" music video, which notably featured a cameo by the most famous Kardashian booty of them all.
Are any questions off-limits with the Kardashian clan?
In 2016, Kim Kardashian was bound and held at gunpoint during a robbery in her Paris hotel room, according to Vanity Fair. The ordeal was understandably nothing short of traumatic, and caused the reality TV star to retreat from social media and take some time to deal with what had happened with her family's support. Since the KarJenner clan tends to stick together no matter what, fans weren't necessarily surprised by Kourtney Kardashian's non-response when reporter David Campbell asked her about the horrific incident during a remote interview with Australia's Today Extra. When asked how Kim was doing, Kourtney looked off-camera, went silent, and seemingly refused to speak any further. In a confusing and awkward moment, Campbell quipped, "I think she's totally blanking me on that question!" Cringe.
However, it reportedly turns out that no questions were off-limits. According to Aussie TV personality Sonia Kruger, someone from Kourt's crew apparently interrupted the interview at that moment. "I think someone in our Channel Nine bureau [in Los Angeles] actually tried to stop this person from barging into the room because it was a live interview," she claimed to KIIS FM's Hughesy & Kate (via the Daily Mail). She added, "I get the feeling that someone's going to be fired as a result because there was a little bit of argy-bargy in the studio."
Incognito Kourtney
The Kardashian-Jenners have some of the most recognizable faces in the world. With their mugs plastered on our phones, TVs, and all over social media, it's hard to imagine any member of society coming up to them and not knowing who they are. That's why fans howled in laughter when Kourtney Kardashian did an undercover bit for Jimmy Kimmel Live! in 2017 (via the Daily Mail).
Before stepping out onto Hollywood Boulevard to interview people while incognito, the oldest of the KarJenner sister threw on a blonde wig, prosthetic nose, and news reporter garb. While younger sis Khloé Kardashian talked in her ear and instructed her on what to say, Kourtney brazenly chatted people up. The best bit? It actually worked! Just ahead of the 10-year anniversary of Keeping Up with the Kardashians, the reality TV star asked people such gems as, "Can you believe those whores have lasted for ten years?" After one unsuspecting interviewee revealed he'd watched the show but "not on purpose," Khloé immediately jumped in to tell her sister to respond with, "That's okay, they're f**king overrated." Only one die-hard fan recognized the KUWTK starlet and jumped in to hug her, while the rest had no idea. We can't believe she got away with it! 
The interview that drove foot-fetish fans crazy
With so many high-energy moments from the Kardashian-Jenner clan, Allure graced us with the most bizarre albeit relaxing interview with Kim Kardashian: A tell-all with the starlet while she received an intimate foot massage. That's right, you read that correctly. In what's probably the most original interview to date, Kim answered a collection of personal questions as soothing spa music played in the background. 
From questions on gender equality to her father's final words, nothing was off-limits for the celeb. Kim even got mega cute while discussing her marriage with Kanye West. When asked about the sweetest thing the rapper had ever said to her, the brunette gushed, "I think when he talks about how we would've found each other in other lifetimes, and just how we're meant to be. Things like that are really sweet." (Cue the chorus of "awws.") As for what life lesson she planned to teach her daughter, North? "My mom has taught us how to throw a party and how to keep a home," Kim said. "I'm excited just to teach her all of those things." Let's just say we hope we're invited, too.
Does Justin Bieber have some beef with Kendall Jenner?
Kendall Jenner has certainly made a name for herself while stepping out of her family's shadow. She even held the title of the world's highest-paid model for the second year in a row in 2018, according to Forbes. Of course, the leggy beauty has also made friends with a number of fellow models, with the Hadid sisters and Hailey Baldwin all in her close posse. In an adorable episode of James Corden's Carpool Karaoke, Jenner dragged bestie Baldwin along for the ride while taking the driver's seat ... but had a little surprise in store for her pal: Both got hooked up to a lie detector test and took turns asking each other questions. 
The grilling started easily enough with Baldwin asking Jenner if she'd ever created a fake Instagram account to "look at what your ex-boyfriend is doing." She immediately screamed, "Yes!" and the duo erupted in a fit of giggles. Before we got a chance to ponder which ex-flame this could be, the KUWTK star moved on to her most brazen question: Does Justin Bieber think she's cool? The pop star's then-fiancée paused before letting out an unconvincing, "Of course." When this turned out to be a lie, the two models both cracked up. Considering Jenner's alleged dating history with the Biebs, who knows how they may have left things off?
Kimye's mystery sinks
Along with having the honor of covering Vogue in May 2019, Kim Kardashian invited the monster fashion mag over to visit her ultra-luxe Hidden Hills, Calif. home and ask her 73 questions in an 11-minute video. It was all pretty adorable, with the entire Kardashian-West brood jumping up and down on their famous parents' bed, complete with a proud Kanye West giggling along with daughter Chicago in his lap.
However, viewers were fixated on one extremely bizarre detail ... their sinks seemingly had no place for the water to go or drain out. In what sparked an online debate and a slew of hilarious Twitter reactions, fans wanted to know one thing and one thing only: Do Kim and Kanye's sinks actually work?! Eventually, the KUWTK star herself took to her Instagram Stories to finally set the record straight. "Since everyone is a little confused about our sinks, I thought I would show you a little tour of our bathroom," Kardashian told her followers (via Elle). She added, "So, our sinks. Kanye drew this. 8 versions of this prototype sink was made and it does actually slightly slope down. There's a slit for the water. You put it on as high pressure as you want and no backsplash will come up." Well, there you have it, folks. Now, where can we order one?
These news anchors don't care to keep up with the Kardashians
Looking back, 2011 was a different time for the Kardashian family. They were still gearing up for the worldwide media domination that would subsequently follow, and had a clothing collection sold at Sears of all places. While appearing on Good Day Philadelphia to promote their fashion line, Kim and Kourtney Kardashian were met with some surprisingly unprofessional reporters. 
Just seconds after their chat came to a close and the sisters signed off, reporter Mike Jerrick's shoulders began trembling with laughter. Meanwhile, co-host Sheinelle Jones tried to maintain a modicum of decency by slapping him on the arm. After Jerrick confirmed with Jones that the Kardashian sisters could no longer hear him, he ripped into the reality TV stars, imitating their higher-pitched voices and the over-sized shoulder pads they'd worn for the interview. For her part, Jones attempted to save the situation through her own stifled laughs by declaring, "I think they're stunning." Cringe.