James Corden Reveals The Rudest Celebrity He's Ever Met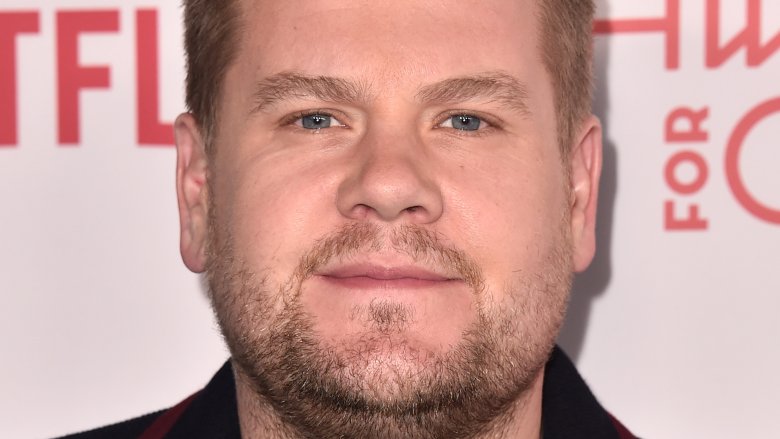 Alberto E. Rodriguez/Getty Images
Late night's James Corden was the toast of Broadway this weekend following his second-time turn as host of the Tony Awards. As a Tony winner himself, he's known to feel just at home in the theatre as he is when collaborating with some of the world's most famous celebs for hilarious bits on The Late Late Show — including none other than Tom Hanks to act out the beloved actor's filmography back in March 2015's pilot episode and songstress Céline Dion for a rendition of "Carpool Karaoke" in May 2019. 
The affable comedian seems to get on with just about everyone, but since egos are known to run amok in showbiz, he hasn't been too impressed with every single famous face he's met. Fans may remember the time Corden shockingly revealed the rudest celebrity he's ever met in a funny albeit disgusting round of his show's ever-popular "Spill Your Guts or Fill Your Guts" segment with guest Khloé Kardashian back in January 2017. (We'll give you a hint: the celeb in question delivered a note-worthy performance in the 2008 movie-musical Mamma Mia!)
For those who don't know, the premise of Corden's game is simple enough: both the British comic and his celeb guests are asked extremely personal and awkward questions. However, if they choose not to answer, the consequences involve ingesting, well, a rather unusual snack. Right off the bat, the appearance marked one of the Kardashian-Jenner clan's wildest interviews, during which the Keeping Up With the Kardashians star herself opted to eat an actual fish eye rather than answer, "Do you think O.J. did it?" The reality TV star's late father, lawyer Robert Kardashian, was part of the defense team in the infamous O.J. Simpson trial. So, you get the gist.
With a glass of bird saliva set in front of him, Corden actually appeared torn after Kardashian asked him to "name a celebrity who has been rude to you at a party." She quipped, "And it wasn't me, honey." 
"There was someone, but I don't know if we're going to try and book him on the show," Corden reluctantly began. However, Kardashian apparently wanted to hear the Brit dish the dirt as much as we did and replied, "Why would you want to book him if he's rude? Screw him, and tell us the name." The audience cheered. "I don't know if I can drink it," Corden admitted, before revealing with a laugh that the star in question was none other than James Bond alum Pierce Brosnan. ...Wait, what?
"I don't think he's a rude man, he just happened to be [to me]," he went on to say of the Irish actor, but explained, "I went to see U2 and I was with my friend Louis and his wife and my wife, and Pierce Brosnan was with some friends here, and they left halfway through the gig to go off, and we left the space [for them]. And then they'd been gone quite a long time and Bono was like right there on this sort of big runway in the middle of the show, so me and my wife moved into this area."
The English funnyman continued, "And literally, I've never felt anything like it, this arm went on here and just pushed me out the way. And I looked at him like that, and he didn't even glance at me, he just moved back into his area." Perhaps Corden simply caught Brosnan on a bad day? Or, as Kardashian herself pointed out, "Maybe he was drunk?" Either way, Corden didn't appear to think so, as he responded with, "Maybe he's just a bit f**king rude." Yikes. 
For his part, Pierce Brosnan and his team have never publicly commented on James Corden's surprising reveal. However, the Daily Mail notes that the movie star didn't look too pleased while attending the TCA Winter Press Tour in Los Angeles just days later.
Meanwhile, it should be noted that the late-night host himself wasn't willing to spill all the tea at the time. When Kardashian later asked who'd been the worst singer on "Carpool Karaoke," Corden opted to chow down on some chicken feet in lieu of throwing another celeb under the bus, saying, "I just think it's so unfair to answer that."
But that's not to say his apparent tiff with Brosnan marked the only celebrity beef Corden's experienced throughout his career. Fans may recall the time he shared a tense moment with Sir Patrick Stewart of all people while on stage at the Glamour Awards in 2010. While presenting an award, the legendary actor scolded the comedian's posture and weight, saying in part, "From where I was sitting, I could see your belly." In response, Cordon said, "You could see my belly. I can see you dying right now."
However, Stewart later expressed regret for trading insults with the comedian and even appeared as a guest on The Late Late Show years later, proving that their awkward televised clash was thankfully water under the bridge. As for Corden and Brosnan? Well, at this point, a reconciliation between the two unfortunately seems unlikely.