What You Didn't Know About These Massive Music Videos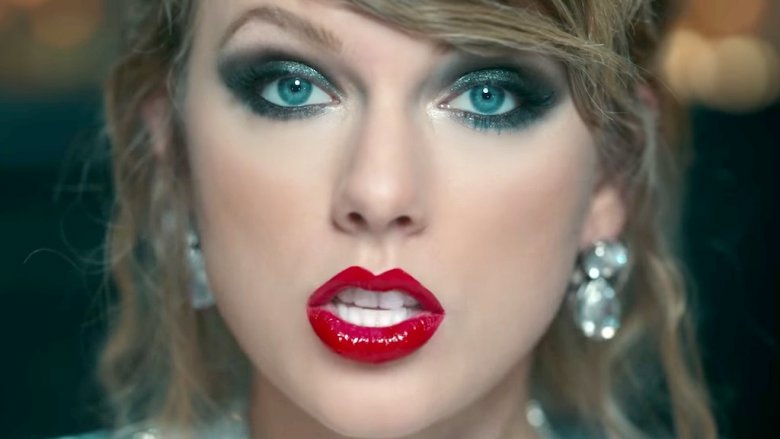 The billion view club is a thing of legend on YouTube, but more stars have joined through popular music videos than you might think. From Maroon 5's Wedding Crashers-inspired effort for "Sugar" to Psy's K-pop crossover into the American mainstream with "Gangham Style" (which still haunts the smallest corner of our hippocampus), we're pretty much all guilty of watching these videos over and over again. In fact, Louis Fonsi and Daddy Yankee's "Despacito" holds the record for most-watched video on YouTube, as of this writing, and has been viewed more than 6.2 billion times. For reference, the entire population of Earth is less than eight billion people. So, nearly everyone on the planet with access to the Internet has probably seen this clip or at least heard the song.
We may know the lyrics to all these mega hits by heart, but all artists have their secrets. For starters, not every video in this exclusive club was as big of a production as you might think. Yup, you can apparently film YouTube's next viral hit on a whim. But let's dig further. Here's what you didn't know about these massive music videos.
The hidden feminist message in Katy Perry's 'Bon Appétit'
Katy Perry — in all her whipped cream bra glory — doesn't typically disappoint when it comes to her music videos. "Bon Appétit," which has racked up more than 721 million views since 2017, is no exception ... albeit for a somewhat surprising reason. 
Perry has long been criticized for her brand of feminism: the kind that once waged Internet wars against Taylor Swift and led the pop star to ironically declare she wasn't a feminist while accepting Billboard's Woman of the Year award. But that was then, and this is now: Perry's since squashed her beef with Swift, admitted on Australia's Today that she is indeed a feminist, and worked a surprise feminist conclusion into "Bon Appétit." 
As MTV News pointed out, the video seems purely seductive — almost exploitative — on the surface. With Perry bathed in mirepoix and prepared like a roast chicken throughout, we only realize at the end that she's not the one getting devoured; rather, she's doing the devouring after the chefs in question bind and gag hungry restaurant patrons, then bake them into a pie for the songstress' enjoyment. Cannibalism aside, it really speaks to how women can be the ones to choose what to do with their bodies, even if that appears to not initially be the case.
Was Maroon 5's 'Sugar' music video partially staged?
There are a few things about Maroon 5 frontman Adam Levine that are permanently etched into our brains: His decidedly awful character in Begin Again, his string of Victoria's Secret model girlfriends, and his bizarre collection of stomach tattoos. ...It's almost enough to make us forget that Maroon 5 might have actually faked crashing weddings in their music video for "Sugar," which has garnered nearly 3 billion views since 2015.
While Levine claims the band will around Los Angeles to crash "every wedding we possibly can" at the top of the clip, Cosmopolitan alleged that a fair amount of the events might have actually been staged. One of the brides featured appears to be Raina Hein, a runner-up from the 14th cycle of America's Next Top Model. The magazine scoured her social media for any information about a husband or fiancé, but came up totally blank. Actor Nico Evers-Swindell (you might know him from the 2011 Lifetime movie William & Kate) also appears to get hitched in the clip, but his on-screen bride is not his real-life wife, actress Megan Ferguson. Married actors Stephen and Barbara Woo also turn up in the video, but hinted on Facebook that at least one of the weddings was staged. Ain't nothing sweeter than some fake nuptials.
Taylor Swift buried Nils Sjoberg, not Calvin Harris
2017 will forever mark the year Taylor Swift fell from her girl-next-door grace and crowned herself the snake queen. She cemented this idea when she crawled out of a grave marked "Taylor Swift's Reputation" in her "Look What You Made Me Do" music video. The plot itself was conveniently located next to one Nils Sjoberg. Apparently, Swift's alter ego couldn't come to the phone either. Why? Because she's dead.
For those who aren't wrapped up in the never-ending dramatic narrative from which Swift so adamantly wanted to remove herself, Nils Sjoberg was the singer's pen name. After TMZ claimed Swift helped ex Calvin Harris write his massive Rihanna hit, "This Is What You Came For," under the pseudonym, the Scottish DJ confirmed that she wrote lyrics and provided some backing vocals. However, he later accused the star of "trying to tear" him down in a series of since-deleted tweets, writing in part, "I know you're off tour and you need someone new to try and bury like Katy ETC but I'm not that guy, sorry. I won't allow it" (via Entertainment Tonight). 
However, Swift's video sends the major message that Sjoberg is the one being buried, not Harris or even Katy Perry ... and it's pretty clear she wanted us to know.
The original 'Baby Shark Dance' was extremely grim
"Baby Shark Dance" has been devouring our brains on a loop since 2016, racking up more than 3 billion YouTube views and nearly rivaling the popularity of Psy's"Gangnam Style." However, this infectious earworm was once far more insidious. 
The version made popular by Korean entertainment company Pinkfong depicts small children doing the titular dance and ends with the kids running away to avoid being eaten by a family of sharks. They sing "safe at last" and presumably all is good. No lost limbs, unless of course you're doing the original "Baby Shark Dance," which involved the imminent death of children and worked dismemberment into cheeky choreography.
According to The Week, this darker version may have been popular across summer camps, but it was actually inappropriate for children, considering it featured a bit where someone is viciously attacked by a shark, attempted to be resuscitated with CPR, but then dies from their injuries. In the dance, children hop around on one leg as if to mime an amputation. Just imagine an army of three-year-olds singing, "CPR, do-do-do-do-do-do. It's not working, do-do-do-do-do-do. Now we're dead, do-do-do-do-do-do" ... and try to let that sink in.
Justin Bieber's 'Sorry' music video was shot off the cusp
It's never too late to say sorry, but Justin Bieber has never apologized for the fact that this massive hit has been stuck in our heads since 2015. Never mind the Selena Gomez drama, "Sorry" was penned with some of the biggest stars in the biz (think: Skrillex, Julia Michaels, and BloodPop), while the equally infectious music video was seemingly pulled out of nothing.
The Biebs ended up giving his "Sorry" dancers a whole lot of leeway during the filming process. According to Us Weekly, the entire thing was the brainchild of Parris Goebel's ReQuest Dance Crew. Goebel claimed she and two of her friends styled the dance troop mainly with stuff from her own closet. They each did their own makeup and all donned the same shade of Mac's Ruby Woo lipstick. Goebel didn't stress about organizing the choreography either — especially because it was originally meant to be a lyric video.
"Nothing was planned too much, not even the dancing," Goebel told the magazine. "It was more like, 'How do we feel on the spot?'" With well over 3 billion hits, who knew something so seemingly haphazard could be so darn iconic?
The infamous 'Dilemma' Excel text explained
There are a lot of head-scratching music videos in this world: Tom Petty and the Heartbreakers' Alice in Wonderland-inspired "Don't Come Around Here No More," Nine Inch Nails' "Closer," and anything by Die Antwoord. However, none of this compares to the moment in 2002 when all of us realized Kelly Rowland was trying to text Nelly from a Microsoft Excel spreadsheet in the music video for "Dilemma." 
"Where you at?" the Destiny's Child alum typed into her Nokia flip phone. "Holla when you get there." Nelly, of course, did not holla, because Excel is not iMessage. While Nelly's music video has racked up more than 647 million views on YouTube, it was years before the stars addressed the matter. During a 2016 appearance on the Australian TV show The Project, the rapper claimed, "That was the new technology at the time ... It looks a little dated now, I can see that" (via Mashable). For her part, Rowland discussed the infamous scene in a 2019 episode of The Real. Claiming she didn't even know what Microsoft Excel was, the songstress noted that when she "saw all these memes, I was like, I don't care." We're starting to think neither Rowland nor Nelly have ever seen an Excel spreadsheet firsthand.
The real reason Adele used a flip phone in 'Hello'
Adele's dramatic clip for "Hello" has amassed more than 2.5 billion views on YouTube. It's also another music video that inexplicably uses bizarre technology. No, she doesn't try to shoot out a text with a Microsoft Office program, but she does appear to use a flip phone in the year 2015. There are only a couple possible explanations: Her smartphone fell out of her pocket and shattered while she was chasing pavement, she enjoys the simplicity of T9, or it was an intentional quirk injected into Adele's black-and-white world by director Xavier Dolan.
While speaking with The New York Times, Dolan revealed that "Hello" is heavily focused on the details — as it should be, considering it was the first to be shot using IMAX cameras. "As much as I love iPhones in real life ... it's so distracting to see an iPhone in a movie," he said of the video's old-school tech. "It's so implanted into our reality that you are sort of taken out of the material — I would have hated to see her write a text on her iPhone. I'd rather it be obsolete and use flip phones." Dolan also called the flip phone Gifs that followed the video release "the true mark of glory." Indeed, it's the modern measure of success.
'Shape of You' was Ed Sheeran's most grueling music video shoot
"Shape of You" remains one of Ed Sheeran's biggest successes. The video has racked up over 4 billion views, while the song pretty much dominated airwaves in 2017 ... to the point that even the Brit was sick of hearing it. That's how you know you've got a massive hit — but it almost wasn't his. In an interview with BBC Radio 1, Sheeran admitted he originally considered giving the song to Rihanna, but ultimately decided to keep it (via Billboard). However, he probably regretted that fact when it came down to shooting the video.  
"The 'Shape Of You' video was the most physically draining video that I've ever done because the director really wanted me to, like, look in shape," the star told MTV International. While doing sprints and pull-ups in the clip really brought him out of his comfort zone, one of the most difficult parts was the scene where Sheeran fights a sumo wrestler. His sumo suit's helmet was reportedly so uncomfortable that he asked if he could use a stunt double. Unfortunately, he could not, and instead "had to run full pelt at this 42 stone sumo wrestler," which knocked the singer to the ground. No one said good art was painless.
'Despacito' was shot in a day and still smashed records
Luis Fonsi and Daddy Yankee's video for "Despacito" became the first YouTube video to ever reach six billion views, according to Billboard. Strangely enough, the 2017 video shoot and editing process was relatively low-key. The entire thing was edited using Apple's Final Cut Pro X, a bizarre choice for a major production considering it's a favorite for amateur content creators around the globe.
Video director Carlos Pérez opened up about this process with FCP.co itself, claiming the entire thing was shot in just 14 hours in La Perla, Puerto Rico. The day apparently had "little stress or problem solving." All in all, it was pretty chill. Compare this to a similar major production like Adele's "Hello," which The New York Times noted took an entire five days to shoot in Quebec; or Taylor Swift's bathtub of diamonds in "Look What You Made Me Do," which cost a nerve-wracking upwards of $10 million and required an "insane" amount of security, according to Page Six. As it turns out, you don't need that much to be wildly successful.
Major Lazer and DJ Snake shot 'Lean On' on a whim
Major Lazer and DJ Snake's hit song "Lean On" is inescapable. According to Billboard, it became Spotify's most-streamed song of all time in 2015. Such a massive song deserves a massive video, but while the visual eventually amassed more than 2.6 billion views on YouTube, it wasn't really the big production most of us would expect. Major Lazer member Diplo opened up about the filming process in a Facebook post, revealing that they had a limited budget, no planning from a giant label, and just a couple of days off in India between tour dates to shoot. It took 24 hours — from sunrise to sunrise — to improvise and make music video magic. However, the crew was so tired that everyone slept between takes on set, including an elephant that was supposed to appear.
"We rented this old palace facade, and while [it] looks beautiful on camera, it was just held up by 2x4s and had people sleeping behind every corner or an animal tied to a post," Diplo wrote. "Originally we had plans to use an elephant in the video but after we went over on another shot and it was time to use the elephant, it had fallen asleep ... The trainer said 'no elephant,' if I wake him up, he will kill everyone."
Elephant or not, the song still managed to join YouTube's exclusive club.
OneRepublic didn't fake it in the 'Counting Stars' music video
Not too many artists are willing to get down and dirty for their work, but OneRepublic make the exception. In a behind the scenes look at the band's "Counting Stars" video shoot, it was revealed that the pop-rockers covered themselves in real dirt to get that grungy aesthetic. Seriously, Ryan Tedder will do a lot for his art ... but here's hoping the producers had some Allegra on set because someone could have asphyxiated if they had a dust allergy.
According to Rolling Stone, "Counting Stars" joined YouTube's billion view club in 2016, three years after the clip's release. The whole thing was shot in a church basement in New Orleans, a far cry from the band's Colorado Springs hometown and possibly haunted. Okay, we can't entirely prove there were ghosts even if it was filmed in a church basement in New Orleans, but we do know the spot has a lot of history. The church is the second oldest African American church in the United States and has been kicking since the 1850s. That means the dust down there could pre-date the Civil War. OneRepublic is basically bathing in the kind of stuff our history books are made from (but really, we hope they took a long shower after this shoot).
It took an entire team to craft this Paul Walker tribute
Charlie Puth and Wiz Khalifa's "See You Again" duet broke records in 2017 when it became the most-viewed video on YouTube, overthrowing Psy's "Gangnam Style" reign (via ABC News). Most of us picture a song so profoundly emotional to effortlessly pour out of the deep caverns of a songwriter's heart, but this one was pretty much lab created for the Furious 7 soundtrack as a tribute to the late Paul Walker.
According to the Los Angeles Times, a then-unknown Puth was one of more than 50 songwriters invited to suggest songs for the soundtrack. The singer was apparently "so low on the list" that he wasn't even shown footage from the film. In minutes, Puth laid down a simple lyrical idea about missing a friend "during an eventful time" with fellow songwriter Justin Franks. Universal Pictures and Atlantic Records loved Puth's melody and commissioned Wiz Khalifa, who'd contributed to the Fast & Furious 6 soundtrack, to sing the verses. It then went through a months-long "note-giving and production process" where a team messed around with beats and samples. The results are perfectly manufactured to prey on our tear ducts — especially once you add the footage of Paul Walker on top.