Ojani Noa: The Truth About Jennifer Lopez's First Husband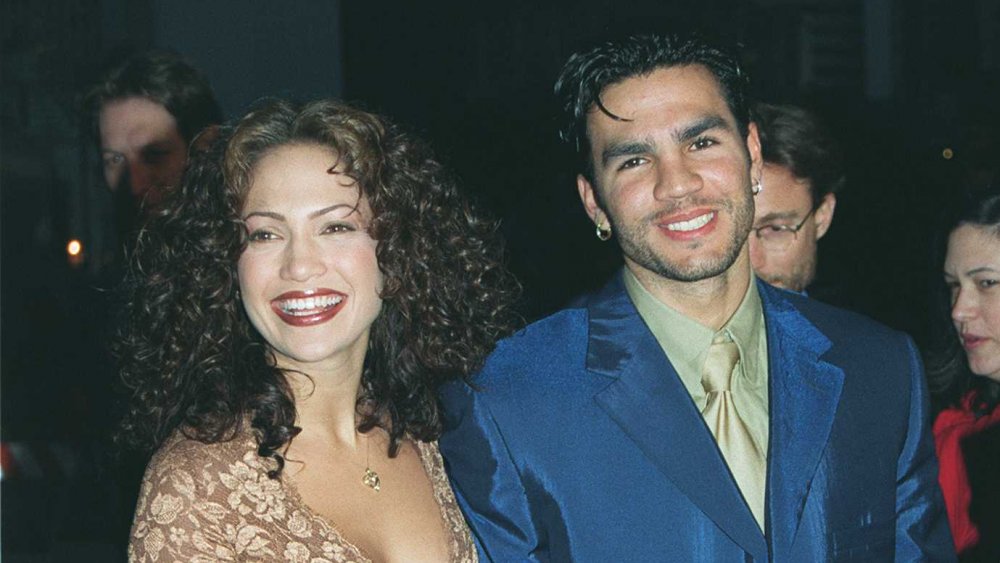 Albert Ortega/Getty Images
Over the years, Jennifer Lopez has been involved in several high-profile relationships. Shall we take a quick trip down memory lane? There was her relationship with rapper Sean Combs (aka P. Diddy or Puff Daddy or whatever he happens to be going by at the moment), her engagement to actor Ben Affleck, her marriage to crooner Marc Anthony, and her seemingly settled situation with former MLB player Alex Rodriguez. She was also briefly married to dancer Chris Judd, but some people tend to forget that since he's not as famous as the other fellas. However, before those dudes, the superstar was married to Ojani Noa. If you don't know who that is, here's the (occasionally cringe-worthy) truth about Lopez's first husband.
When Lopez met Noa he was a waiter. These days, he describes himself on Instagram as an actor, model, TV host, producer, writer, entrepreneur, and personal trainer. After a whirlwind courtship, the two tied the knot in 1997. Alas, things weren't meant to last and by 1998 they had called it quits.
Lopez later talked about her marriage to Noa as well as her marriage to Judd, saying, "I've never been married in a church. I've been married three times, and once was nine months and once was 11 months, so I don't really count those" — ouch!
While that should have been the end of things, the star seems to have trouble letting go of her exes and Noa ensured that by popping up years later for unpleasant reasons.
Ojani Noa tried to sell a tape of his honeymoon with Jennifer Lopez
Although Jennifer Lopez and Ojani Noa were only married for a short time, the drama didn't stop with the divorce. However, whenever he's tried to take advantage of her fame, J.Lo's managed to effectively shut him down. "In 2004, Lopez was able to put in place a confidentiality agreement between both parties," according to Popsugar. And yet, "she later claimed he was violating [the agreement] when he shopped around both a tell-all book and a honeymoon tape."
Noa's business partner, Ed Meyer, discussed the plans "to produce a DVD" and "have a streaming release of the J.Lo home video footage," according to In Touch, stating, "There is revealing video of [Lopez] with a lack of clothing and in sexual situations, especially in the hotel footage from the honeymoon. The videos contain salacious material and are going to shock her fans." However, what actually shocked fans was that her ex was attempting to sell the private tape.
Paper magazine notes that "[f]or a grueling six years beginning in 2003, Jenny from the Block Blocked Noa and Meyer's efforts in court and eventually won the case, barring him from releasing their private home videos; or a movie titled How I Married Jennifer Lopez: The JLO and Ojani Noa Story; or a tell-all book." 
Fortunately, all of Noa's attempts to exploit his ex were squashed. Let's hope he never manages to release the tape or any other tidbits from their time together.