How Chris Harrison Really Feels About Peter And Madison's Chances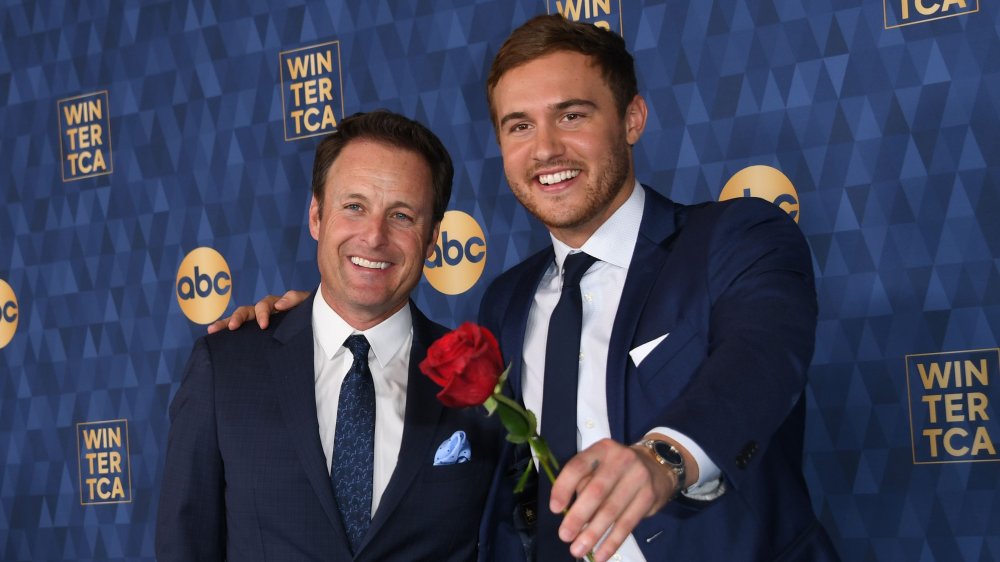 Valerie Macon/Getty Images
As any Bachelor fan will tell you, host Chris Harrison is like the franchise's lovable dad. He's there to talk the contestants through tough times while doling out words of advice and encouragement. And when Peter Weber's Bachelor finale pretty much exploded into a stressful mess on March 10 — with even Peter's own mother Barb refusing to take his side — Harrison was there to smooth things out. Or at least he tried his best to do so.
Spoilers ahead for the Bachelor finale. After proposing to Hannah Ann Sluss, Peter soon realized his heart was still stuck on contestant Madison Prewett, who had already self-eliminated from the competition. Hannah Ann subsequently dumped Peter, who later reunited with Madison thanks to Harrison's help. However, not everyone was cheering for this rekindled romance, including Barb, who said during After the Final Rose, "He's gonna have to fail to succeed, that's it. All his friends, all his family, everyone that knows him knows that it's not gonna work." While Barb added, "Would we want it to work? Yes," the moment was still super awkward. His dad, Peter Sr., wasn't the most enthused either (... but that may have had more to do with what his wife whispered to him from the audience).
Anyway, now Harrison is weighing in on that "wild" finale that even he "needed time to process." In a new interview with Glamour published March 12, he spilled his thoughts on what happens with Madison and Peter from here.
Here's Chris Harrison's expert take on the situation
Although Barb didn't exactly give her blessing to her son Peter Weber and Madison Prewett (to put it mildly), that doesn't mean Chris Harrison is in the same boat. The host told Glamour, "I mean, look, it's so easy to say what Barb said on TV — that they're not going to make it — because the odds are against them. Odds are against any relationship, much less one that has the deck stacked against them like that."
Even so, Harrison is opting for the more optimistic approach. He told the magazine, "But why not just root for them? What's the harm in saying, 'I wish them well and I'll be there for them?' If they break up, they break up. If they make it, they make it. Why do people feel the need to say, 'I told you so?'"
Harrison shared similar sentiments in a post-finale interview with Extra. He told the outlet, "If you think they are going to fail, then why not just let them fail and then you can say, 'Hey, next time let's do a little better than that.'" He also described the event as "uncomfortable" and akin to "a horrible Thanksgiving dinner and everyone airing their dirty laundry." Yup, that pretty much sums it up!
No matter what, Pilot Pete is 'forever grateful' for his 'Bachelor' journey
Regardless of what anyone has to say, Peter Weber is looking back on the experience with fondness. "Being the Bachelor has been the most incredible experience of my life. I have grown in ways that I didn't even know possible," he wrote on Instagram ahead of the finale. In the post, he called Hannah Ann Sluss and Madison Prewett's love the "most beautiful [thing] that happened to me throughout this journey." He added, "No matter how this thing ends I will be forever grateful for you both."
For the record, there are several other Bachelor Nation couples who have defied the odds and fans' skepticism. Arie Luyendyk Jr. — who similarly proposed and then called things off to be with another contestant — is now married to that second woman, Lauren Burnham, and they have a daughter together. Colton Underwood — who chased Cassie Randolph after she left the show (not unlike what Madison did) — is still as happy as ever in his relationship.
Sometimes it's a bumpy path to love for Bachelor alums, but that doesn't mean that Peter and Madison don't have a chance. And if Chris Harrison is rooting for them, all the better.