The Truth About B. Simone And DaBaby's Relationship
Jonathan "DaBaby" Lyndale Kirk can't seem to dodge relationship rumors lately. Case in point: The rapper made headlines for seemingly flirting with The View alum Raven-Symoné on Instagram Live and appearing in a romantic photo with Wild 'n Out star B. Simone, all in a couple of days, per Complex.
We're not sure what went down with Raven-Symoné, but we do have some insight on B. Simone and DaBaby's status. Here's what happened in a nutshell: On March 31, 2020, B. Simone posted a photo seemingly of DaBaby, although you can't see his face. Instead, all you can glimpse is the mystery man hugging B. Simone and grabbing her butt (gasp!). However, fans quickly put two and two together and identified DaBaby as the man in the photo, likely because of his distinct hand tattoos.
The photo caused quite the stir, largely because B. Simone had a long and very public crush on DaBaby. But just as fans started to congratulate the star for finally scoring the man of her dreams, DaBaby clarified the true nature of their relationship.
B. Simone is a huge DaBaby fan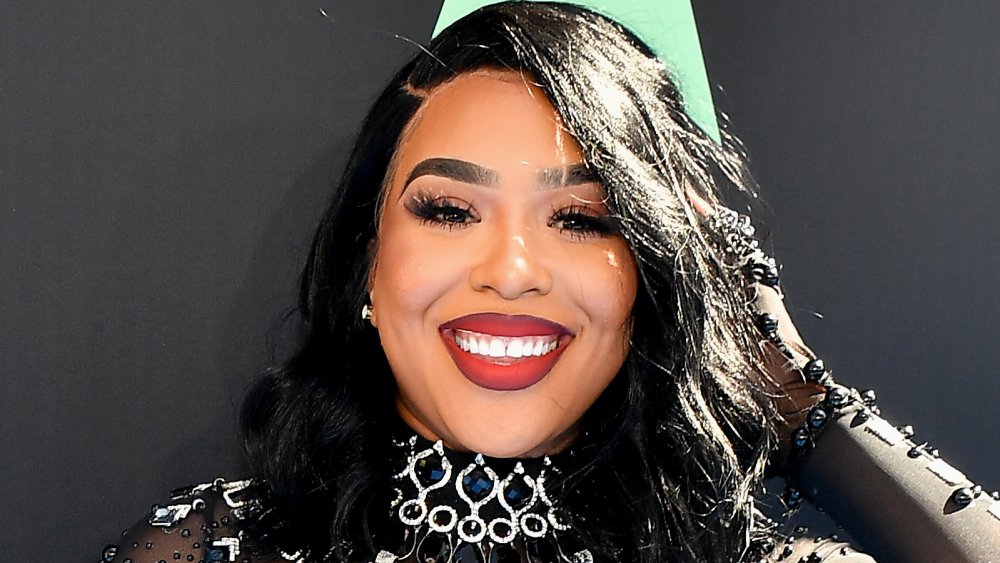 Paras Griffin/Getty Images
Before we discuss the spicy photo in-depth, let's first review the link between B. Simone and DaBaby. The MTV star regularly discusses her crush on DaBaby via Instagram, and in one post, she pretended to get married to a life-size cut-out version of the North Carolina native while dressed up as a bride at a Halloween party. In another post, she even (perhaps jokingly?) said that she's "ready to be a step momma" to his two children. "I have been practicing and everything," she wrote. DaBaby commented on the latter post with a bunch of waving emojis, a laughing emoji, and an eyeball emoji (via Hot New Hip-Hop).
The pair finally met in person at a club in December 2019. DaBaby cuddled up to B. Simone with his head on her chest, and B. Simone posted a clip of the cute interaction on her Instagram, referring to herself and DaBaby as "Mr. and Mrs. Kirk" in the caption. DaBaby's real name is Jonathan Lyndale Kirk, in case you already forgot.
After the meeting, no public updates surfaced regarding DaBaby and B. Simone's "love story." Of course, that all changed when the butt-grab photo went viral.
The truth behind DaBaby and B. Simone's cheeky pic
After B. Simone posted a photo with DaBaby, some fans figured that she'd finally manifested a relationship with the rapper for real. "B. Simone got DaBaby after all that chasing she did," one person tweeted. And to be fair, B. Simone did invite speculation when she captioned the snap with a red heart and a lock emoji.
However, DaBaby soon crushed all the rumors with a simple comment, "#MarketingQueen." The star then previewed the new music video for his single, "Find My Way," starring none other than B. Simone. The video dropped one day later on April 1, 2020.
Not only was the photo a marketing ploy to promote the music video, but B. Simone also happens to have a new book coming out called, Baby Girl Manifest the Life You Want. The book is currently available for pre-order, and multiple viral tweets have called her a "marketing f***ing genius" for implying that she'd manifested a relationship with DaBaby right before her book about manifesting came out.
Marketing queen, indeed! Even though B. Simone may not have bagged DaBaby IRL, starring in a music video with him is pretty cool, too.
As for B. Simone's take on the pair's dynamic, she complimented the rapper in a behind-the-scenes video for being very "professional." In regards to their chemistry, she added, "We both know how to act."