Helen Mirren Is Unrecognizable In Isolation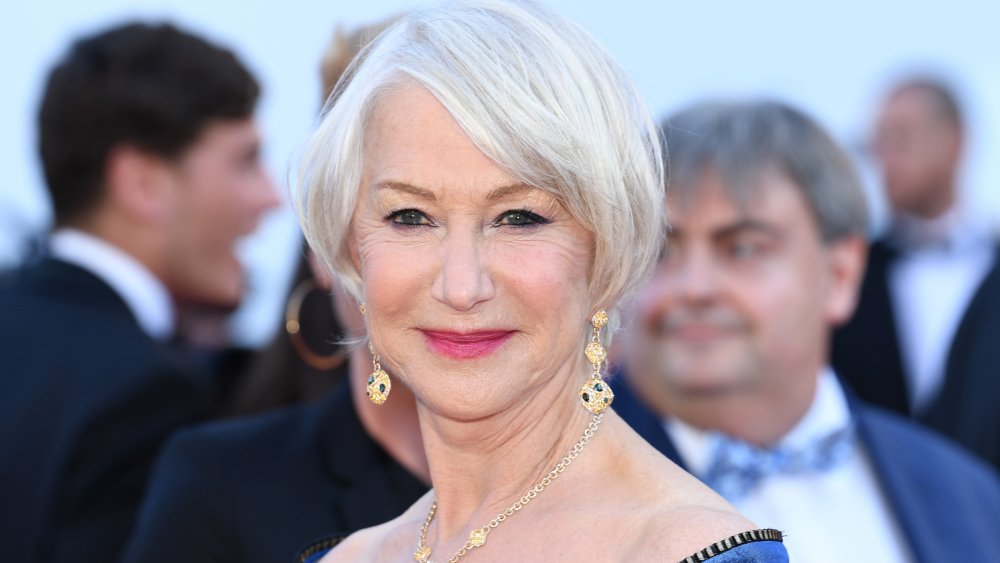 Pascal Le Segretain/Getty Images
Helen Mirren is a wealthy woman, a "declared feminist", and just one of a number of older celebrities who used to be really attractive. Frankly, she was absolutely gorgeous when she was younger. That's why it's not terribly surprising that she's still as lovely as ever.
Yet, Mirren told Glamour in March 2020, "I am not beautiful. I'm not." She explained her point of view, saying, "Listen, let's get real. There are beautiful people in the world, and I think we can all recognize them. Men or women, there is such thing as absolute beauty. The rest of us, 95% of us, are not in that category, but we're in other categories: interesting, funny, smart, brave, inspirational. I mean, there are many, many different categories."
The admired actress also offered some advice. "I would say ... find your category," she suggested. "Remember that there is not one single person on this planet like you. You are an absolute individual. Find pride and solace in that." That attitude is perhaps why she felt comfortable sharing a photo of herself during her coronavirus-related isolation that makes her look almost unrecognizable.
Helen Mirren shared an unrecognizable selfie for a good reason
Plenty of stars have been easing up on their high-maintenance beauty routines while in isolation — including Heidi Klum, Sarah Hyland, and DJ Khaled — and Helen Mirren is no different. At least, she appears to be taking it easy on the perfectly coiffed 'do and camera-worthy makeup first thing in the morning. That became clear when the actress took to Instagram on March 31, 2020, to share a selfie that might surprise some fans. Thanks to the fact that her hair is slightly askew and she's wearing glasses and pajamas but no makeup, the star looks a lot different in the pic than she does when walking the red carpet.
However, Mirren's fans were still fond of her appearance. "A true beauty," one follower wrote in the comments on the post, while another added, "So beautiful!!!" Yet another of the star's followers noted that the actress is "[s]till stunning!"
As nice as that praise may be, Mirren wasn't sharing the photo to elicit compliments. Instead, she had a benevolent goal in mind. "[I]n return for this pic of me literally first thing in the morning, please donate to the intensive care support," she captioned her post while also including a link where those who are so motivated can send money to help health care workers who are fighting Covid-19. 
This is one A-list actress who is taking A+ action during a time of need.