The Truth About Simon Helberg's Famous Parents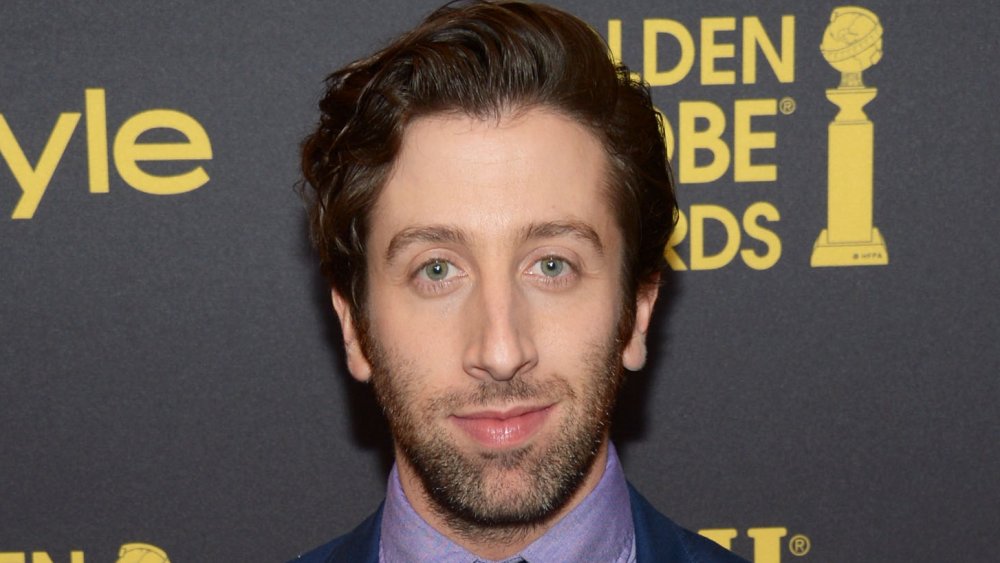 Matt Winkelmeyer/Getty Images
Along with Kaley Cuoco, Jim Parsons, Johnny Galecki, and Kunal Nayyar, Simon Helberg became one of the biggest stars on television thanks to The Big Bang Theory. However, while Helberg landed the role of Howard Wolowitz in 2007, he actually got his start in the business years earlier due, in part, to his parents.
Born and raised in Los Angeles, Helberg became interested in acting when he was still just a teenager, and he eventually moved across the country to study at New York University's Tisch School of the Arts, per the Los Angeles Times. While there, he trained with the Atlantic Theater Company. By 1999, he began earning smaller roles in films like Mumford, Old School, and Evan Almighty. Fairly early on his career, Helberg also landed gigs on shows like Popular, Undeclared, and Sabrina the Teenage Witch. From there, he was onto A-list level TV stardom on TBBT.
However, he might never have gotten into show business at all if it hadn't been for his parents, who are both in the industry as well.
Simon Helberg's parents are both in show business
Simon Helberg is obviously a talented actor, which is why he not only made fans laugh on The Big Bang Theory, but also earned a Golden Globe nomination for his role in 2016's Florence Foster Jenkins. His on-camera skills may be something that he inherited from his father, fellow actor Sandy Helberg.
Appearing in films and on TV shows since the '70s, Sandy can be seen in 1984's This Is Spinal Tap, 1987's Spaceballs, and 1995's Mortal Kombat, as well as on M*A*S*H, The Jeffersons, Knight Rider, Night Court, Remington Steele, and Days of Our Lives — just to name a few.
As for Simon's mom, Harriet B. Helberg is a casting director who worked behind the scenes on shows like Barney Miller, Benson, and Night Court. And if you're curious, yes, she worked on the episode of Night Court that Sandy popped up on. Perhaps she used her influence to help him land the minor role?
While the pair don't seem to be super active these days when it comes to work, they can still be seen attending industry events together. Case in point? They made an appearance at the 2014 Holly Shorts Film Festival. Harriet took to Twitter to share a selfie of herself and Sandy posing during the night out, and by the looks of their smiles, they're enjoying every moment of their lives in the show business scene.
Simon Helberg is a parent himself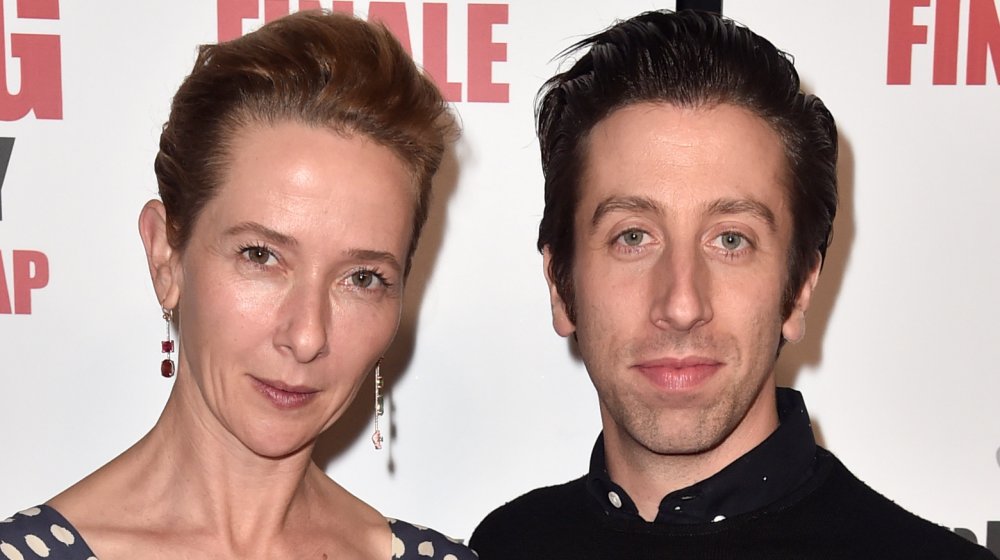 Alberto E. Rodriguez/Getty Images
It's clear Simon Helberg has pretty cool parents, so it's no surprise he's doing an awesome job raising his own two children, Wilder and Adeline, with his wife, filmmaker Jocelyn Towne (pictured above left). "I can lay down the law a little bit with my kids," he joked to People in 2016 about being a dad. "They're very small — they're the only people that I'm bigger than. It's fun to throw my weight around."
The parents are just as impressive as Sandy and Harriet Helberg, revealing in a Reddit Q&A after Wilder's birth (via Us Weekly), "[we] made 2 babies and 2 films in the last 2 years." Talk about a major accomplishment!
Of course, it's fair to reason that Simon had his parents' encouragement when it came to making it in the entertainment industry. However, that wasn't always the case. "My dad was one of the original members of the Groundlings and I watched him as an actor have ups and downs, and I watched my mom as a casting director have ups and downs," Simon told Interview magazine. "Eventually my parents started writing television together. So I watched a more realistic version of the business." 
He added, "And my parents weren't like, 'Oh yeah! This is a family business!' They were like, 'No, don't do it. Or go to school. Maybe you could minor in being a doctor...'"
Considering Simon and Towne have had great success, we have a suspicion Sandy and Harriet feel differently today.