The Real Reason Kathy Griffin Can't Stand Ellen DeGeneres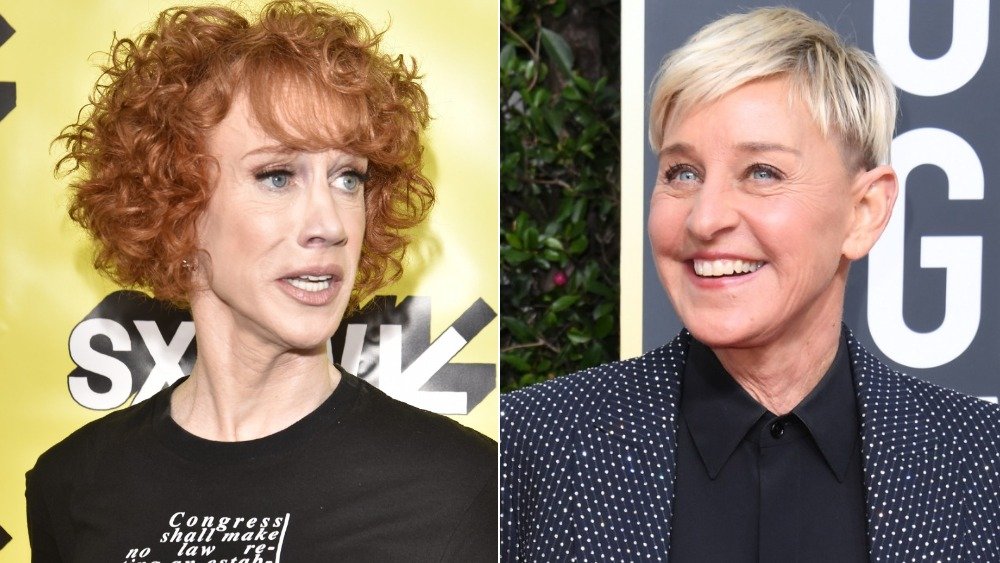 Tim Mosenfelder, Jon Kopaloff/Getty Images
We may receive a commission on purchases made from links.
If there's anyone in Hollywood who ain't afraid to speak their mind, it's Kathy Griffin. In fact, the comedian has basically made a career out of speaking up. She calls people out for things and has had her fair share of feuds. And apparently, Griffin is "no longer sorry" for the controversial photo where she held up a fake, severed head made to look like President Donald Trump.
Thanks to Griffin's outspoken nature, if she doesn't like someone, we're probably going to hear about it. Case in point? Griffin can't stand Ellen DeGeneres. These days, it seems like dislike for DeGeneres is becoming more and more common as guests of the daytime talk show continue to speak out about the host's surprisingly unfriendly nature. According to reports, DeGeneres neglected her crew during the coronavirus and testimonials reveal that DeGeneres is nothing like she seems.
The combination of Griffin's proclivity to call people out and DeGeneres' shady side is combustible, and no one will be surprised to hear that they have an ongoing feud that began many years ago. In fact, both Griffin and DeGeneres have dished about the other many times.
Ellen DeGeneres thinks Kathy Griffin is 'very mean'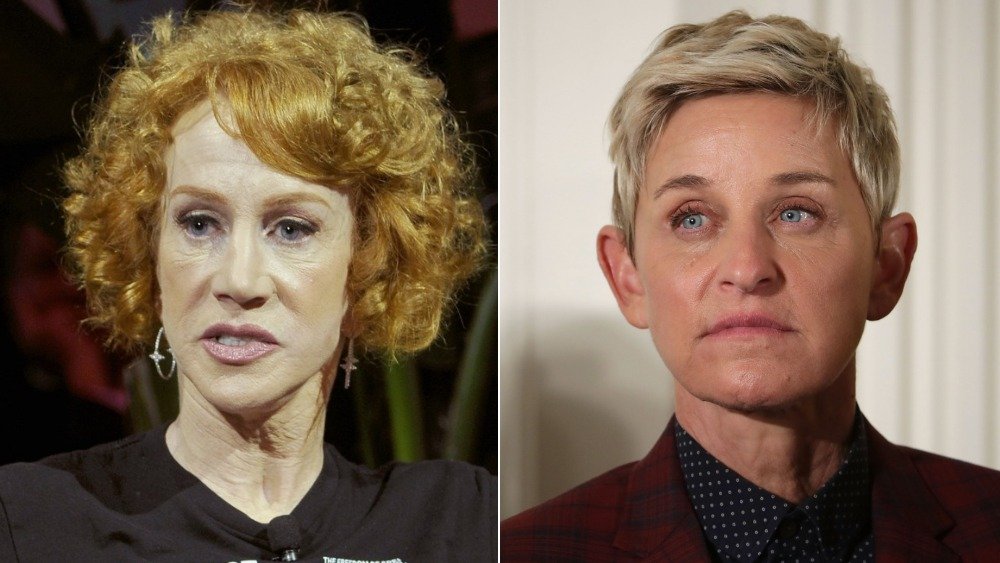 John Sciulli, Chip Somodevilla/Getty Images
In Kathy Griffin's 2016 book, Kathy Griffin's Celebrity Run-Ins: My A-Z Index, she seemingly discreetly dissed Ellen DeGeneres, writing (via US Weekly), "I'm almost positive a certain beloved daytime talk show host once had me kicked out of a backstage dressing room at the Emmy Awards." She continued: "I can't prove it, but this person, who has short blonde hair, has a mean streak that all of Hollywood knows about." 
So how did this all begin? Well, Griffin said that in 2007, DeGeneres dissed her on The Ellen DeGeneres Show, telling her audience how mean Griffin was. According to Us Weekly, Griffin said she felt betrayed: "I was in the dressing room like, 'S**t! You're another woman comic, c'mon!'"
DeGeneres was interviewed by W Magazine the same year and when asked what she thought of Griffin, DeGeneres replied: "Very mean ... I know she had a big thing about wanting to be on the show, and we didn't book her. She did a whole thing that I banned her from the show. I didn't ban her from the show, because first you have to be on the show to be banned." Clearly, the interview took place before Griffin popped up on the show. 
That being said, banned or not, the feud between the two comedians continues.
Kathy Griffin and Ellen DeGeneres fought about Joan Rivers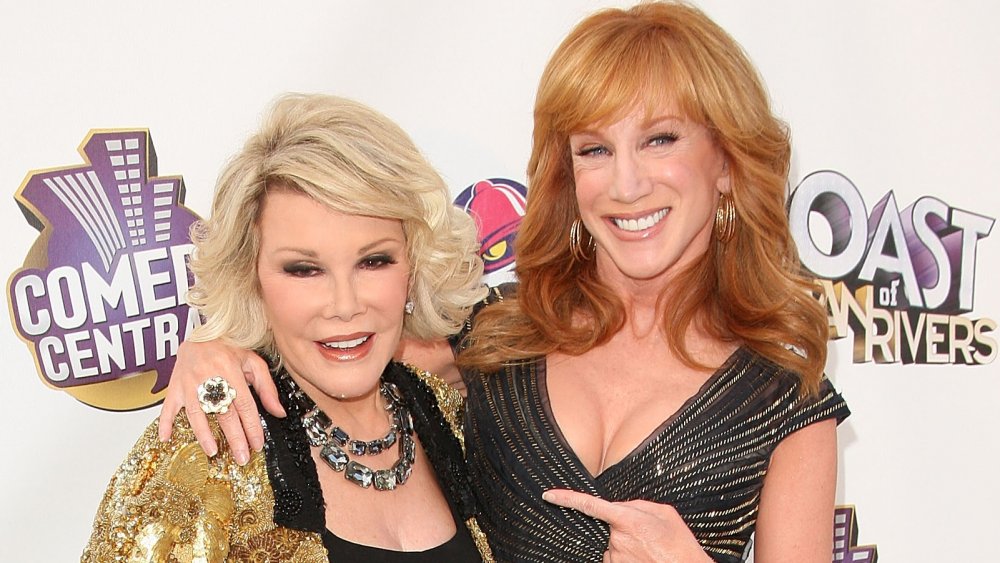 Jason Merritt/term/Getty Images
In July 2018, Kathy Griffin shared that her feud with Ellen DeGeneres rages on. The comedian spoke to an audience in Los Angeles about her dislike for the talk show host. According to Variety, the two comedians fought again after the death of Joan Rivers, who passed on Sept. 4, 2014. According to the outlet, DeGeneres never liked Rivers or Griffin because she felt they were both too vulgar. For that reason, Rivers always felt like DeGeneres iced her out.
However, after Rivers died, Griffin reached out to DeGeneres and said (via Variety): "I just called her and I just said, 'Look, woman to woman, comic to comic, I think you need to let go of your hatred for Joan Rivers. She's passed away, just do a f**king tribute, be cool.'" But DeGeneres refused, saying that "there's a difference between mean and funny," and she felt Rivers was the latter. Griffin said that this incident resulted in a huge fight.
Griffin spoke about the core of her frustration with DeGeneres in 2016, telling Us Weekly: "I just feel really strongly about women supporting each other, especially women over 50 and women in comedy, because the people who still make decisions are still middle-aged white guys. We have to be better at not turning on each other."