Kathy Griffin Lashes Out At Julie Chen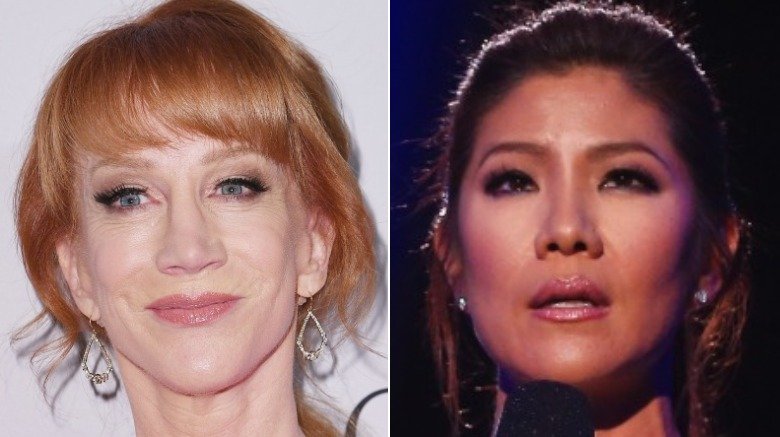 Getty Images
Kathy Griffin is not mincing her words when it comes to former CBS CEO Leslie Moonves' wife of 14 years, television personality Julie Chen.
On Sunday, Sept. 9, 2018, the comedian took to Twitter to speak out against the couple after a total of 12 women accused the disgraced television exec of sexual harassment and sexual assault.
"Normally, I hate when women are blamed for their husband's misconduct...it happens all the time," Griffin began her series of tweets. "And after the first allegations against Leslie were revealed, I hoped his wife wouldn't face blowback." As Nicki Swift previously reported, Moonves, 68, was first accused of sexual misconduct by six women in journalist Ronan Farrow's shocking New Yorker exposé in late July 2018. At the time, CBS launched an investigation into the allegations, which Moonves denied, and Chen famously came to her husband's defense.
Griffin, 57, continued, "Julie Chen has always been nice to me and I had no reason to believe that she knew about her husband assaulting women before they got married. So I reached out to her and told her I would love to come on her show and I didn't need to make it about her husband/CBS." While the Big Brother host apparently never responded, the My Life on the D-List alum reasoned, "I figured she was just swamped with the scandal and didn't think anything of it. Then, several days ago I learned of how Julie has treated people from folks that I know personally." Griffin didn't go into specifics here, apart from citing a recent Huffington Post article alleging that Moonves wished to ruin Janet Jackson's career after the infamous 2004 Super Bowl halftime show, and sharing a clip of Chen "speaking so smugly" about Jackson last year.
"After the conversations I had earlier this week, I sent this message to Julie Chen last Thursday," Griffin continued, while posting a screenshot which read, "You know what Julie? I've [changed] my mind. F**k you and your misogynistic husband. You two deserve each other. Oh, and tell him Kathy f**king Griffin said hello. Bye b**ch." The stand-up comic concluded, "Make no mistake, Leslie still has a ton of power and I'm going to pay for this dearly. And that's what he and his cohorts in this town do to women in the business."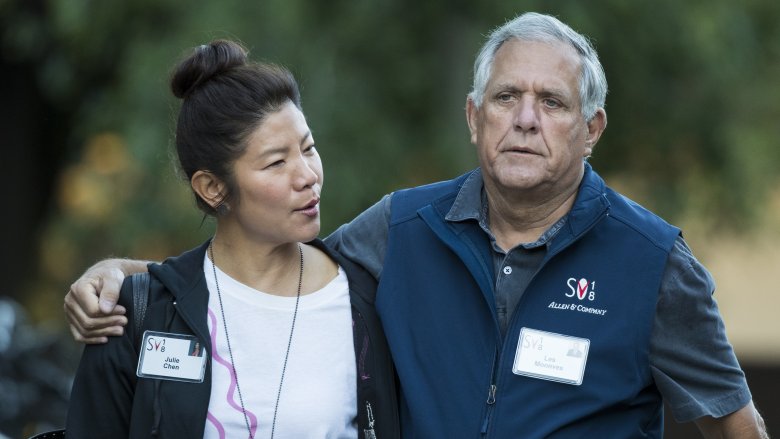 Getty Images
At the time of this writing, Chen, 48, has yet to publicly comment on Griffin's remarks. However, considering the fact that she's taken a step back from the spotlight amid the latest developments in her husband's ongoing scandal, this isn't too surprising. 
On Sept. 9, Farrow published a follow-up piece, in which six more women came forward with serious allegations of inappropriate behavior and unwanted advances against Moonves. The alleged incidents, which spanned the 1980s and early 2000s, included forcing the women to perform oral sex on him and exposing himself without their consent, as well as the reported use of physical violence, intimidation, and retaliation, which ultimately hurt their careers.
Moonves, who stepped down from his position at CBS hours later with no severance compensation, has since denied this new round of claims, stating, "The appalling accusations in this article are untrue. ...In my 40 years of work, I have never before heard of such disturbing accusations. I can only surmise they are surfacing now for the first time, decades later, as part of a concerted effort by others to destroy my name, my reputation, and my career. Anyone who knows me knows that the person described in this article is not me."
For her part, Chen was noticeably absent from the season 9 premiere of her show The Talk on Monday, Sept. 10, having released in a statement before the taping, "I am taking a few days off from The Talk to be with my family. I will be back soon and will see you Thursday night on Big Brother" (via Variety). 
However, her colleagues at the CBS talk show have since expressed their support for her while also speaking out on her husband's allegations. "We've been together since the beginning. I love her, I support her always," Roseanne star Sara Gilbert said, for example (via Variety). "However, this is an important time in our culture, and just because this hits close to home, it doesn't change the story. All women's stories, and these women's stories, matter. This is very serious, and the appropriate actions need to take place."
According to recent reports, it sounds like Chen is planning on continuing to stand by her husband's side amid the claims. "She's told people close to her that she's not going to leave him," a source recently told Radar Online. "She believes it's all part of his past and there's nothing recent." 
However, another insider previously compared Chen's position to that of Harvey Weinstein's now ex-wife, fashion designer Georgina Chapman, telling the gossip rag last month, "After he went down, no one wanted to wear her clothes." Weinstein, of course, was first accused of an alleged 30-year history of sexual harassment, sexual assault, and rape in October 2017. He and Chapman, who share two young children together, reached a divorce settlement in January 2018. As the website's source added, "Julie is talented, but her career is so tied to Les' that if he gets fired, she's in big trouble, too."
Since last fall and in the wake of the #MeToo movement, Moonves is just the latest in a string of powerful figures throughout the entertainment industry to face consequences after being accused of sexual misconduct.