Where Does Chrissy Teigen Live And How Big Is Her House?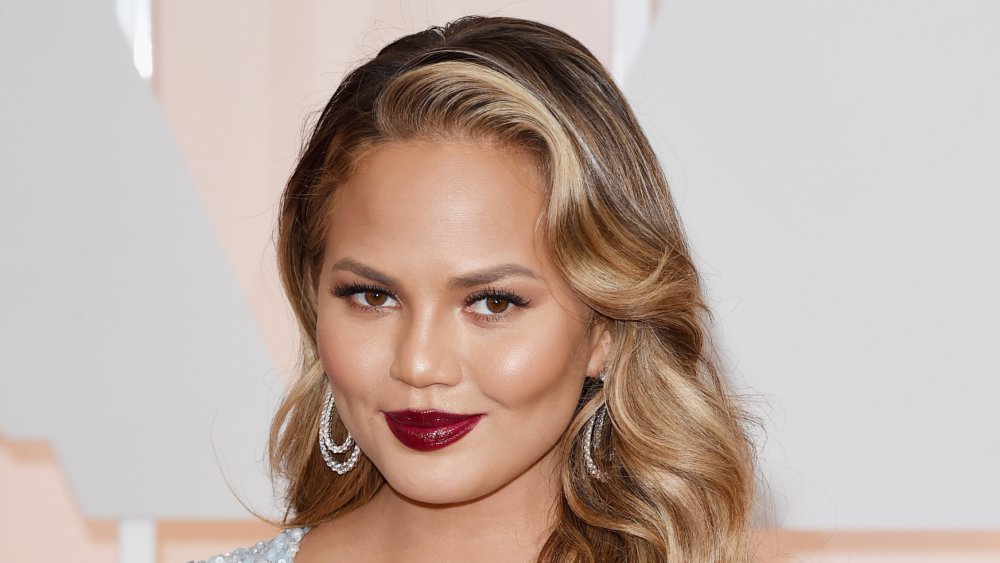 Jason Merritt/term/Getty Images
We may receive a commission on purchases made from links.
Chrissy Teigen and husband John Legend are doing bi-coastal living the right way. Teigen came into fame as a model, named "Rookie Of The Year" by Sports Illustrated in 2010. But today, the mom, cookbook author, and Lip Sync Battle host is perhaps best known for her hilarious and relatable Twitter presence. Teigen never holds back on the platform, posting photos of her baby bump, her family life, and more. She comes off as more grounded than your average celeb online, more into guilty pleasures like bringing hardboiled eggs to bed. There's also another constant throughout her posts: her house looks incredible.
The Twitter-lebrity and her 11-time Grammy winner husband Legend — who she married in 2013 and with whom she's had adorable youngsters Luna and Miles, per Elle — have huge homes on both coasts. As Variety reported, their primary abode, which they picked up in 2016, was formerly owned by Rihanna. It looks pretty incredible. The $14 million Beverly Hills estate is a contemporary dream house that still manages to feel intimate. Per the outlet, the modern stunner is 8,520 square feet with five bedrooms and eight bathrooms, located at the end of a cul-de-sac, with 30-foot ceilings, canyon views, and a shimmering pool. Plus, a grand piano that's perfect for living room concerts. Nice place to start a family!
Here is a photo of that amazing home and the rest of Chrissy Teigen and Jon Legend's impressive and social media-ready real estate portfolio.
Chrissy Teigen and John Legend own four lavish homes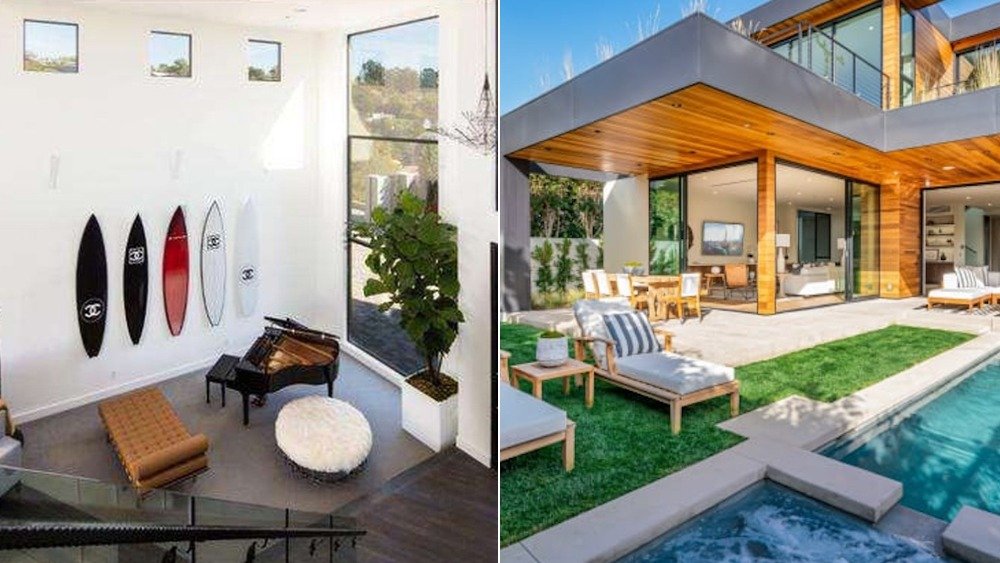 Hilton & Hyland, Benjamin Illulian
What's Chrissy Teigen and John Legend's main home like? According to Variety, visitors are greeted by dramatic, towering windows, theatrically large living spaces, and a step-down living room with wall-to-wall glass sliders that bring you straight to the pool. According to Curbed, the couple sold a sporty mid-century modern home in Hollywood Hills in 2014 before picking this one up. They listed it for 2.5 million but sold it for exactly 2 million, per Variety. It had been featured in 2013 in Architectural Digest.
But the couple's portfolio is now expanding. In April 2020, they picked up a second home for $5.1 million, per Town and Country, in West Hollywood, California — just a short distance from the couple's current one. That 3,500 square foot home is lined with a chic wood exterior and boasts a two-story living room, pool, and spa. A nice second option in case their massive main crib gets stale.
In addition, Teigen and Legend own two (yes two) penthouses in New York City, in Manhattan's Nolita neighborhood. They bought one in May 2018 for slightly over $9 million, per Variety, and according to The Dirt, a second one in April 2020 for $8 million... right next door. The apartments feature mature exposed brick, and both have outdoor terraces. According to The Real Deal, they sold another unit in the building earlier to upgrade. Wow; this power couple has a powerful portfolio of homes!