Why Dakota Johnson Isn't A Fan Of Ellen DeGeneres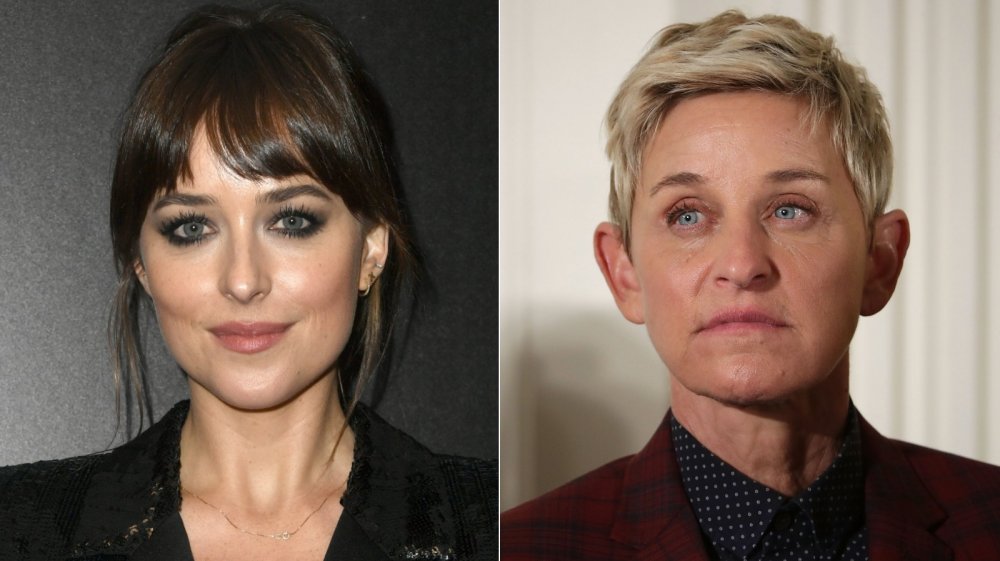 Frazer Harrison, Chip Somodevilla/Getty Images
2020 will be remembered for many things, including being the year that Ellen DeGeneres' carefully constructed public persona crumbled under intense public scrutiny. She first found herself in hot water in March 2020 when she compared self-isolating in one of her many palatial estates to incarceration, per CNN. Then, in April 2020, Variety reported that the talk show host's Ellen DeGeneres Show crew members were "distressed and outraged over their treatment from top producers amid the coronavirus pandemic."
In July 2020, the other shoe dropped when Buzzfeed News published an article exposing a "toxic work environment" for those working behind the scenes on The Ellen DeGeneres Show. According to the outlet, some employees claimed they were fired for attending funerals or taking sick days. One Black employee told Buzzfeed that she quit after enduring a year and a half of "racist comments, actions, and 'microaggressions.'"
And the bad vibes weren't limited to employees, either. Guests on The Ellen DeGeneres Show have reportedly seen another side to daytime talk show host, too. In August 2020, Mariah Carey told Vulture that during a 2008 interview, DeGeneres outed her pregnancy on national television. She miscarried a few weeks later. And thats just one example of celebrities who can't stand DeGeneres. 
While everyone from DeGeneres' former DJ to her ex-girlfriend, Anne Heche, spoke up about the host in 2020, Dakota Johnson was seemingly ahead of her time, taking DeGeneres to task on her own TV show in late 2019. But what caused all the bad blood in the first place?
Does Dakota Johnson think Ellen DeGeneres is rude?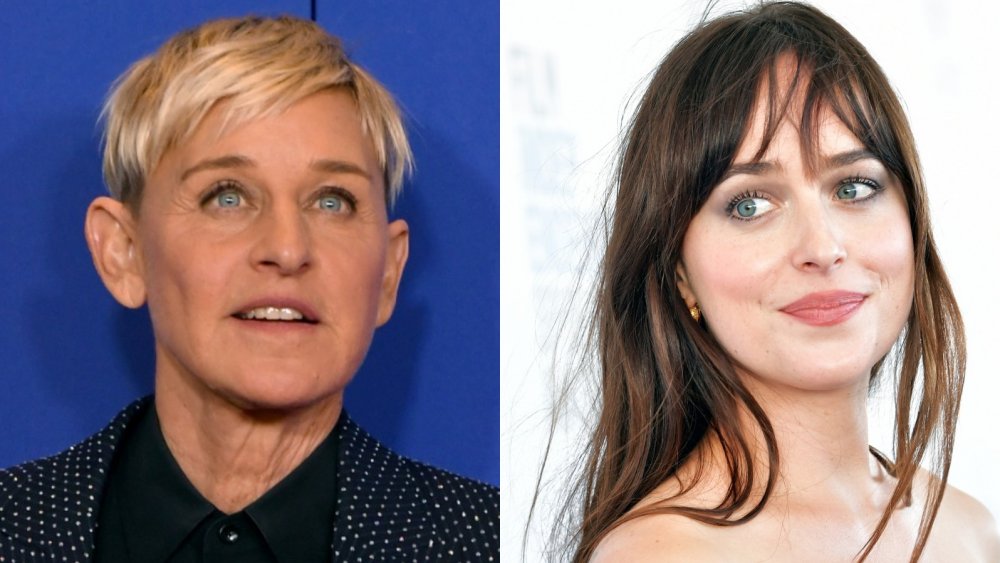 Kevin Winter, Amy Sussman/Getty Images
To get to the bottom of things, we have to go back to November 2019, when Dakota Johnson appeared on The Ellen DeGeneres Show to promote her film The Peanut Butter Falcon. DeGeneres began the interview by wishing the actress a happy 30th birthday and then joked, "How was the party? I wasn't invited."
Johnson seemingly wasn't in the mood for jokes. "Actually, no, that's not the truth, Ellen, you were invited," she replied, maintaining that she did extend an invite. "Last time I was on the show, last year you gave me a bunch of s**t about not inviting you," she continued flatly. The ordinarily chatty talk show host appeared to be at a loss for words. Johnson asserted that in 2019, she had invited DeGeneres, but she was a no show. DeGeneres said she thought the actress must be mistaken.
But Johnson didn't back down. "Ask everybody," she challenged. "Ask Jonathan, your producer." Off screen, producers confirmed Johnson's story. DeGeneres then tried to change the subject. It's unclear where DeGeneres was the night of the party, but, according to Vox, she was spotted in Texas with George W. Bush at a Dallas Cowboys game the following day.
For viewers, Johnson's interview just might go down as one of the most awkward in Ellen DeGeneres Show history. For DeGeneres, it might have marked the beginning of the end of her "nice girl" facade. If there's a lesson in all of this, surely it's to remember to RSVP.