What Beyoncé And Jay-Z's Superyacht Vacation Is Really Like, According To An Expert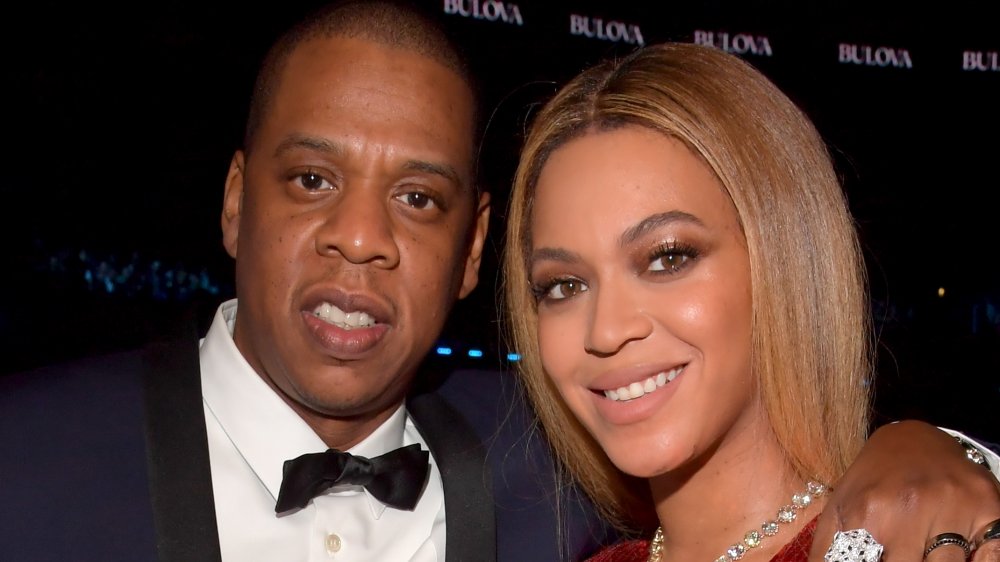 Lester Cohen/Getty Images
Go big or go home, as they say. And when it comes to Beyoncé and Jay-Z, that meant celebrating Bey's 39th birthday by traveling to Croatia for a vacation on a superyacht. That's right, a superyacht. And yes, the name is well-deserved.
Don't believe us? Then you'll surely be interested in what Braden Sterling, Managing Director of The Agency Carmel-Pebble Beach, told Nicki Swift. That's because the expert offered some exclusive insight into what a superyacht — specifically the super-expensive superyacht that Bey enjoyed — is really like. "Some say it's all about the destination but when it comes to chartering a superyacht, it's all about the vessel and the experiences it has to offer," Sterling explained, and you're about to find out how true that is.
"There are many different types of experiences depending on the yacht," Sterling says. "I have had the pleasure of sailing on a 171 foot Perini Navi in the San Francisco Bay with a crew worthy of competing in the America's Cup. This was an experience full of adrenaline and in contrast to chartering a 100 foot Cerri Cantieri Navali on the Amalfi Coast, which is all about rest and relaxation, fine wine, dining, and 'port hopping.'" On the other hand, Sterling points out that "perhaps one prefers ... a motor yacht outfitted with water slides, jet skis, and scuba gear." Frankly, "there really is something for everyone." As for Beyoncé and Jay-Z, that something was a jaw-droppingly massive yacht with all of the luxuries they could want.
Beyoncé and Jay-Z 's chartered yacht is so big, it's a 'giga-yacht'
In order to celebrate Beyoncé's birthday in September 2020, the singer and her family chartered Imperial Yachts' LANA, a superyacht that is "top of the line as far as luxury is concerned," according to TMZ. Stretching "longer than a football field," the spacious boat offers room for "12 guests — not counting the 34 crew members it also accommodates — in 8 en-suite staterooms, 7 VIP rooms, and a master suite." There's also a "pool on the deck, a theater, a spa with professional masseuses, [and] foldable terraces," as well as the use of "a jet ski, wakeboards, SEABOBs, water skies, inflatable paddleboards, fishing equipment," and more.
Managing Director of The Agency Carmel-Pebble Beach Braden Sterling gave Nicki Swift even more information on the spectacular vessel, saying that the "yacht Beyoncé and Jay-Z charted" — which is so big it's actually a "giga-yacht" — "is special in that it was built by Benetti, a subsidiary of the Azimut Yachts company, which is based in Viareggio," which is "known as the yacht capital of Italy." Our expert noted that it's "equivalent to a luxury brand such as Valentino or Versace." That means the "[c]raftsmanship and materials are the finest," while the yacht also offers "unique amenities."
"Beyoncé and Jay-Z were the first to charter the vessel, a genius launch by Imperial to unveil their largest offering to date," Sterling noted. However, if you're interested in taking the same kind of trip, be prepared to pay a lot of money!
The superyacht Beyoncé and Jay-Z chartered costs millions per week
If you're now dreaming of taking a vacation on a superyacht like Beyoncé and Jay-Z, you should know that Managing Director of The Agency Carmel-Pebble Beach Braden Sterling let Nicki Swift in on the fact that the "associated costs with chartering a superyacht are largely based on the location, the season, and the experiences the boat has to offer," as well as if the yacht comes with "a full crew." So how much did Bey pay (unless she got it for free)? Cosmopolitan puts the cost at over $2 million per week.
Sterling notes that there are also "mega-yachts" that are "only accessible by the elite via a personal invite from the yacht's owner." In that case, "[n]on-disclosures by all crew and captain are required, which says much about the guests and the events that take place." Considering Beyoncé and Jay-Z are two of the biggest stars in the world and have a family to protect, a non-disclosure clause seems like it would be an enticing perk.
Beyond that, Sterling shared that there will be "[c]ustomized 24-hour pampering based on pre-board guest preference sheets, in a completely private environment, with dining specific to your personal diet, amenities tailored for relaxation with all the amenities one can dream of." And, of course, "a tender that provides quick access to private beaches or port towns for dining and shopping, along with access to private clubs." Sterling assures us that it's "truly an experience like no other."