Why Billie Eilish Was Almost Sent To Therapy Because Of Justin Bieber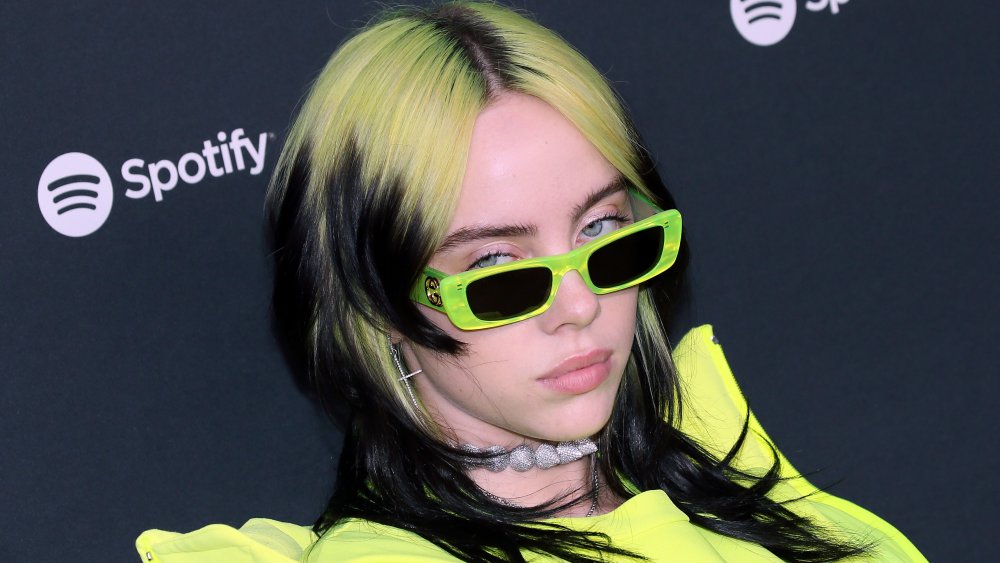 David Livingston/Getty Images
Before Billie Eilish was a superstar she was apparently a super fan. As legend has it, back in 2016, then-14-year-old Eilish uploaded "Ocean Eyes," her first song, to SoundCloud, per Vox. The only person who was ever supposed to hear it was her dance teacher, but by the next day, the song had gone viral. Since then, the bright-haired, baggy-clothed pop sensation has seen a level of megastardom few others have this decade. 
According to Insider, her 2018 debut album, When We All Fall Asleep, Where Do We Go? "had the biggest opening week for a debut album in the history of Billboard's current chart." Boasting hits like "Bad Guy," it won the coveted Album Of The Year award at the 2019 Grammys. Eilish ended up taking home four other statues at the 2019 award show, making history in the process. Since then, she's penned the theme song for the James Bond flick No Time to Die. So yep! Impressive resume indeed, but let's rewind. Before Eilish was a huge, musically controversial star, she was a huge fan of Justin Bieber. Like, a concerningly big fan.
Eilish's love of the Calvin Klein-wearing, fondue-eating star is no secret. The duo collaborated on a remix of "Bad Guy" in 2019, with Eilish using a throwback image of her standing against a full wall of Bieber posters as the album art, so we had a feeling. However, apparently, the star's Bieber Fever was quite severe. Here's why Billie Eilish's parents almost sent the star to therapy over Justin Bieber.
Billie Eilish had a bad case of Bieber Fever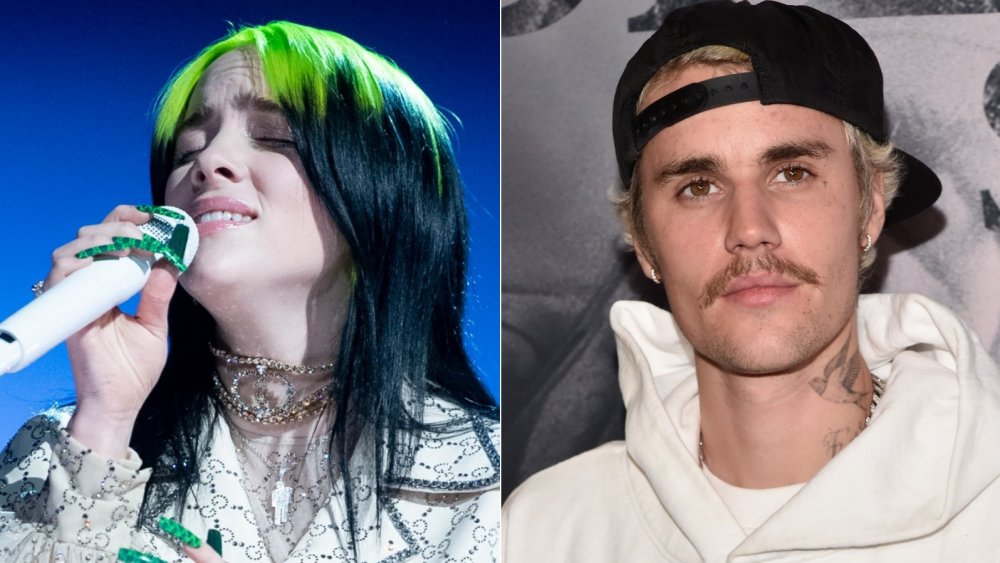 Emma Mcintyre, Alberto E. Rodriguez/Getty Images
So why did Billie Eilish almost go to therapy over Justin Bieber? Apparently, her love of the star growing up was way more intense than fans may have thought. "I just want to say, we did consider taking you to therapy because you were in so much pain over Justin Bieber," her mom Maggie said on Eilish's Apple radio show, Me & Dad, in July 2020, (via Entertainment Tonight).
The pair humorously recalled that the video for "As Long As You Love Me," in particular, caused Eilish to spiral. "I would watch the music video for this song and just sob," she said. "I remember this one really well and the video, and Billie talking about it ... and just crying and crying," her mom added. "Everyone knows the whole Billie/Justin Bieber thing, but this song was a big part of it." 
That being said, Bieber and Eilish have since had an adorable friendship timeline. Eilish first DMed Bieber on Instagram way back in 2014, per Billboard, with Bieber reportedly responding five years later for that aforementioned collaboration. The pair finally met and hugged it out VIP-style at Coachella in 2019. Now, he fancies himself a brother figure!  "If she ever needs me, I'm going to be here for her," he tearfully told Apple Music's Zane Lowe in February 2020. "I just want to protect her, you know?" Aw! Who's sobbing now, Bieber, Eilish ... or us!?