Kamala Harris And Hillary Clinton's Relationship Explained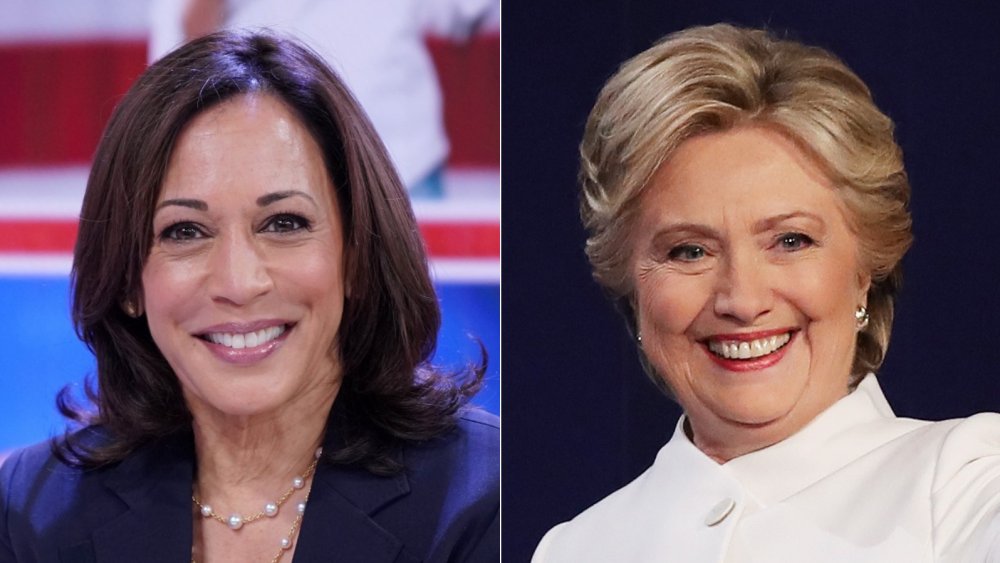 Alexander Tamargo, Drew Angerer/Getty Images
Hillary Clinton and Kamala Harris are two women in politics who have both tread new ground. So what do they think of each other? It's no secret that Clinton's 2016 run for office was historic, as she was the only former first lady to win elected office and the first woman nominated by a major U.S. party to run for president, per Reuters. Obviously, the Washington D.C. insider isn't beloved by everyone, but with stints as a senator and secretary of state under the Obama administration (via Politico), it's not up for debate that she blazed a trail. She even won a "trailblazer" award! 
Meanwhile, Harris' career might be even more historic. She was, according to CBS News, the second Black woman and the first Indian-American elected to the Senate. She's also the first graduate of a historically Black college or university on a major party's presidential ticket, and, if Joe Biden wins the 2020 presidential election, she'll be the first female vice president, as The Atlantic noted.
So, of course, it's easy to see the similarities between the two who have even done some 2020 campaign events together. Maybe too easy. "I know a thing or two about the slings and arrows coming her way," Clinton said at the 2020 Democratic National Convention, per MSN. "Kamala can handle them all." That's a nice sentiment, but where do they really stand as the 2020 election looms? 
Here's a closer look at Harris and Clinton's relationship.
Hillary Clinton hopes Kamala Harris gets less 'sexist' treatment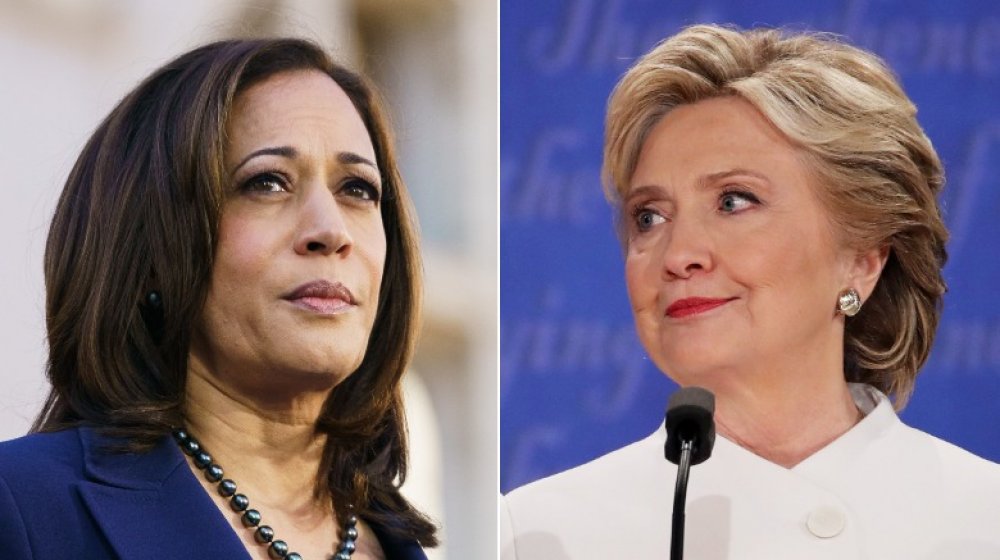 Mason Trinca, Drew Angerer/Getty Images
What is Hillary Clinton and Kamala Harris' relationship like? It seems the California senator has Clinton's sincere support. In August 2020, Clinton tweeted that Harris' nomination was "[h]istory in the making." She wrote, "She's already proven herself to be an incredible public servant and leader... Please join me in having her back and getting her elected." The 2016 nominee doubled down on that support by explaining in an online news forum hosted by news organization The 19th, per News18, that she's hoping Harris turns a new leaf in terms of media treatment and that the other woman's reception is different than her own. Clinton said, "I hope, especially with Kamala on the ticket, that the coverage of women running for president or vice president will be less sexist, less sensationalist, and less trivializing."
As for President Donald Trump, according to the New York Post, he's called Harris a "bad version of Hillary." And as The New York Times pointed out, she's already been called buzz words by conservative media like "immodest," "ambitious," and "unlikeable." 
"What vice president in U.S. history wasn't ambitious?" Valerie Jarrett, a former adviser to President Barack Obama, retorted to MSNBC per NYT. Meanwhile, professor Treva Lindsey told Politico that while Harris' "attire may not receive the scrutiny Secretary Hillary Clinton's did ... her demeanor, her delivery, and her personal life will be under the same microscope." Politics may be tough, but so is Kamala Harris!