Trump's Video Message Sparks Conspiracy Theories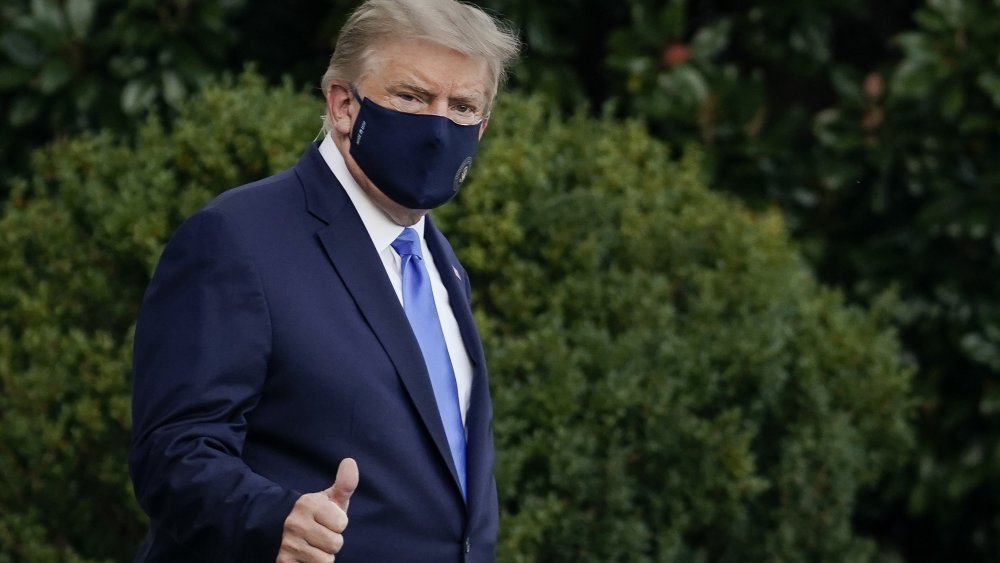 Drew Angerer/Getty Images
Before being airlifted to Walter Reed National Military Medical Center in Bethesda, Md., President Donald Trump took the time to post a brief message to his followers on social media in an attempt to assuage any worries over the state of his health after testing positive for coronavirus. On Oct. 2, 2020, before boarding a helicopter from the White House to the hospital while wearing a mask — a sight rarely seen since the pandemic hit the U.S. in January 2020 — Trump posted the video to Twitter, which many then retweeted, including his daughter Ivanka, in an effort to share well-wishes for a speedy recovery.
In the video, Trump addressed the public wearing a suit, tie, and no mask, while he seemingly attempted to downplay the state of his health through reassurances. "I think I'm doing very well but we're going to make sure that things work out," Trump explained, emphasizing that the reason for his hospitalization was more of a preventative measure than an emergency issue.
Trump's diagnosis and hospitalization ultimately left the American public with myriad questions. including whether or not Trump was actually diagnosed 72 hours before announcing his condition to the public, potentially endangering supporters and campaign donors, and whether or not his rapid descent from reports of "no symptoms" to "moderate symptoms" within the span of 24 hours signaled the severity of his case. Yet, while his video was surely meant to calm supporters, it seems the video has spawned an entirely new wave of questions. 
Some think Donald Trump's video indicated his poor health
After President Donald Trump posted a video addressing his followers about the state of his health, many took to social media to react. These reactions seemingly fell into two main camps: those who thought the footage failed to convey Trump's good health despite testing positive for COVID-19, and those who took the video to be the sure sign of — what else? — a conspiracy. 
Soon after the video went live on Oct. 2, 2020, CNN correspondent Jim Acosta took to Twitter to disseminate intel relayed to him by a source within the administration. According to Acosta's insider, who the journalist called a "Trump adviser," there is "reason for concern about Trump's health." Purportedly, the source stated that "Trump [is] very tired, very fatigued, and having some trouble breathing." But, despite his state, "officials continue to say Trump will be fine." Acosta's source's description of Trump seemed to pair well with the way Trump appeared in the video: comparatively subdued and less animated, as compared to his typically outspoken, boisterous demeanor.  
The List also reported that a slew of people took to Twitter to share an entirely different take: that, to whatever degree, the video in question is a fake. Among the doubters included users who posited the video was pre-recorded long before Trump was officially diagnosed, and one who wondered why, if Trump was well enough to record a video, he wouldn't do so live on-air.