The Internet Can't Get Enough Of This Ruth Bader Ginsburg Debate Meme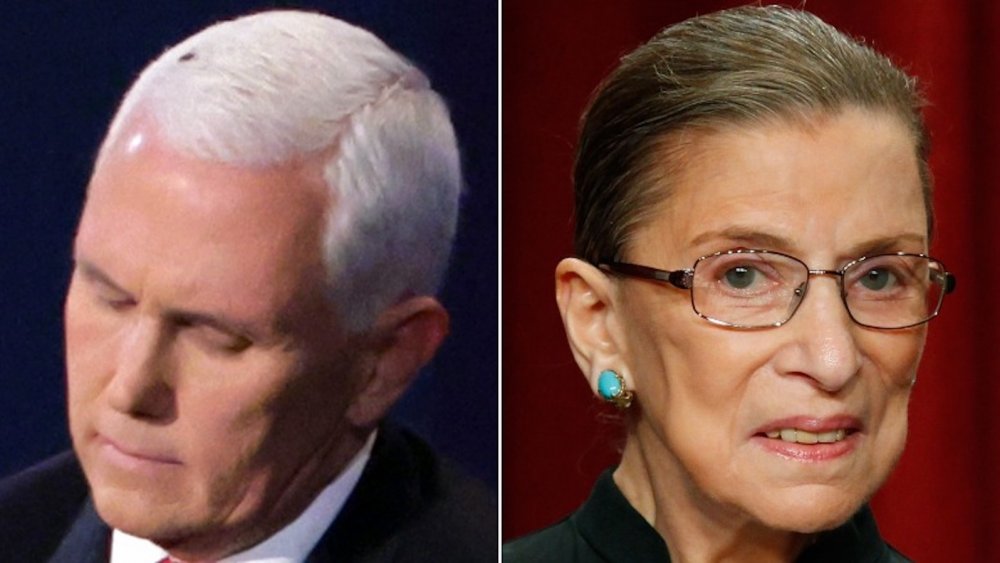 Alex Wong, Mark Wilson/Getty Images
Ever since a fly landed on Vice President Mike Pence's head during the 2020 Vice Presidential debate, there have been more amazing memes than we can swat away! 
The face-off between the Republican incumbent and Democratic challenger Kamala Harris on Oct. 7, 2020 touched on all sorts of topics, from the administration's coronavirus pandemic response to the economy. But the runaway — or flyaway — star of the event was the insect that touched down on Pence. The creature, which stayed atop the VP's hair for two minutes, per The New York Times, soon became a star. For a brief, beautiful moment, viewers could forget the drastic issues ahead of the Nov. 3 election and the divisions between the left and right to gaze upon just one set of wings. 
Almost immediately, jokes started flying in online. Former vice president and presidential candidate Joe Biden tried to cash in on the jokes, and a "Pence's fly" parody Twitter account was buzzing in no time. One of our favorite memes had to do with late Supreme Court Justice Ruth Bader Ginsberg. Seriously, the internet is in larvae — we mean love — with this one. 
Fly on down for one of our favorite Ruth Bader Ginsberg fly memes.
There's just something so right about this RBG meme
Doesn't that Ruth Bader Ginsberg fly meme just get you buzzed? It was shared by a Twitter user who captioned the classic photo of RBG with this remark: "You didn't even let us bury her you f**kers," referencing the White House's dash to fill the vacant Supreme Court seat before the election. This meme clearly implies some sort of vengeful force behind the fly. It seems the concept came from another twitter user, who wrote, without an image (but with 90,000 likes and counting): "I sent the fly. – RBG."
The internet has essentially bugged out over the simple yet snarky image. "Ha, I thought something similar last night..." replied one user, alongside a drawing of RBG riding a humongous fly like Khaleesi riding one of her dragons in Game of Thrones. "It was kind of Exorcist like" tweeted another. 
It seemed no Twitter user remained a fly on the wall once the Ruth Bader Ginsberg-related memes started rolling. "I would never have expected RBG to be reincarnated as a fly," wrote one online scribe. "RBG, if you're still fighting for us up there please send us a sign. *fly lands on Pence's head and stays for an insanely long time*," wrote another.
Perhaps the real winner of the debate between Mike Pence and Kamala Harris was...Ruth Bader Ginsberg's fly!