The Kamala Harris Debate Moment That Shut Mike Pence Down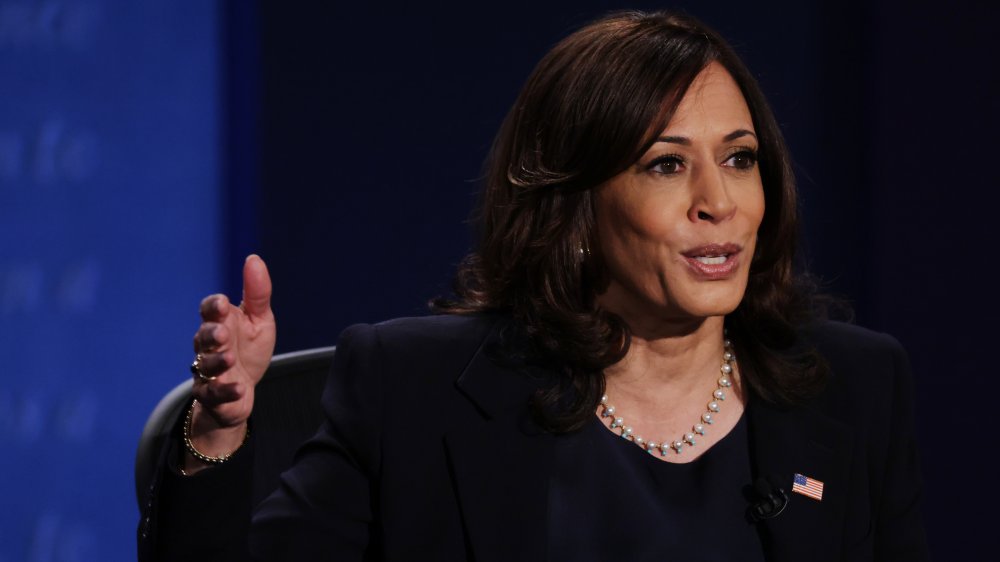 Alex Wong/Getty Images
Throughout the vice presidential debate on Oct. 7, 2020, there were a number of instances in which Vice President Mike Pence went over his allotted time slots against challenger and Democratic VP nominee Kamala Harris. Throughout their exchange, which was moderated by USA Today Washington bureau chief Susan Page, Pence didn't necessarily "[interrupt] in the way Trump did, but he [completely ignored] the debate time rules and speaking for well beyond his time," reported CNN political correspondent Abby D. Phillip during her live coverage. 
Sen. Harris herself wasn't entirely in compliance, either. Many on social media echoed her plaintive statement that she wanted "equal time, please" in response to Pence's repeated violation of the official debate rules, and Page herself reiterated to Pence that she was only present to reinforce those self-same rules. Pence used his airtime to promote current President Donald Trump's campaign, but VP nominee Kamala Harris had more than a few IRL moments to make her presence known. Here's the one that stood out.
Kamala Harris gave Mike Pence a history lesson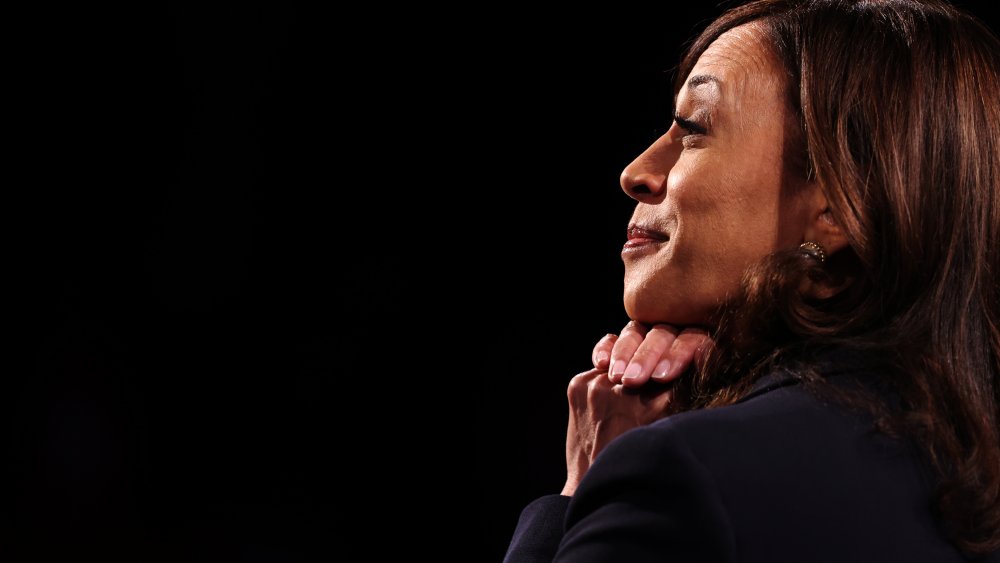 Justin Sullivan/Getty Images
Within the initial act of the 90-minute, commercially uninterrupted vice presidential debate on Oct. 7, 2020, Sen. Kamala Harris' first major barb against incumbent VP Mike Pence happened within the realm of discussing — if you can believe it — tax cuts.
During a segment of the debate in which Pence interrupted Harris to claim that Joe Biden, Sen. Harris' running mate, would raise taxes if Biden were elected to office, Harris herself let Pence know how little time she had for it. "If you don't mind letting me finish, we can have a conversation," Harris said to Pence. (While fact-checkers for The New York Times noted that both Harris and Pence were inaccurate in their representations of their points during the debate, NYT also noted that Pence's comment here was "[factually] misleading because it [suggested] that the tax cuts were spread equitably across the country ... [and because] the bulk of the tax cuts benefited the highest earners."
But what many have proclaimed as Kamala's true show-stopper happened moments later, after Pence accused the Democratic Party of attempting to "[pack] the courts" in the wake of the GOP's rushed nomination of SCOTUS nominee Amy Coney Barrett. In response, Harris cited Abraham Lincoln's response to the same quandary. In Lincoln's case, a SCOTUS vacancy occurred 27 days before a presidential election, but Lincoln refused to fill it, citing the impending election. "The American people are voting right now," Harris added. "And it should be their decision about who will serve on this most important body for a lifetime."
To that, celebrities like Queer Eye personality Antoni Porowski succinctly concluded: "CONTINUE THE HISTORY LESSON KAMALA!!!"