The Masked Singer's Baby Alien Was Someone Fans Weren't Expecting
The Masked Singer fans finally got to see who was under Baby Alien's adorable costume during the Group B Playoffs on Oct. 14, 2020. While Baby Alien, which is not just an elaborate costume but also a puppet, previously charmed the judges with his rendition of "Faith" by George Michael, he fumbled and was ultimately sent home after a performance of "It's Time" by Imagine Dragons. 
Comedian Joel McHale returned for the second week in a row to serve as a guest panelist for the playoffs. McHale, along with judges Ken Jeong, Jenny McCarthy, Nicole Scherzinger, and Robin Thicke were stumped by the Baby Alien's secret identity. Baby Alien had the judges throwing out the names of comedians and actors, thanks to his hilarious one-liners, believable European accent, and vocal skills that hinted he was most likely not a professional singer. However, the true identity of the person underneath the cute mask was someone the judges and fans weren't expecting.
The Masked Singer's baby alien was an NFL athlete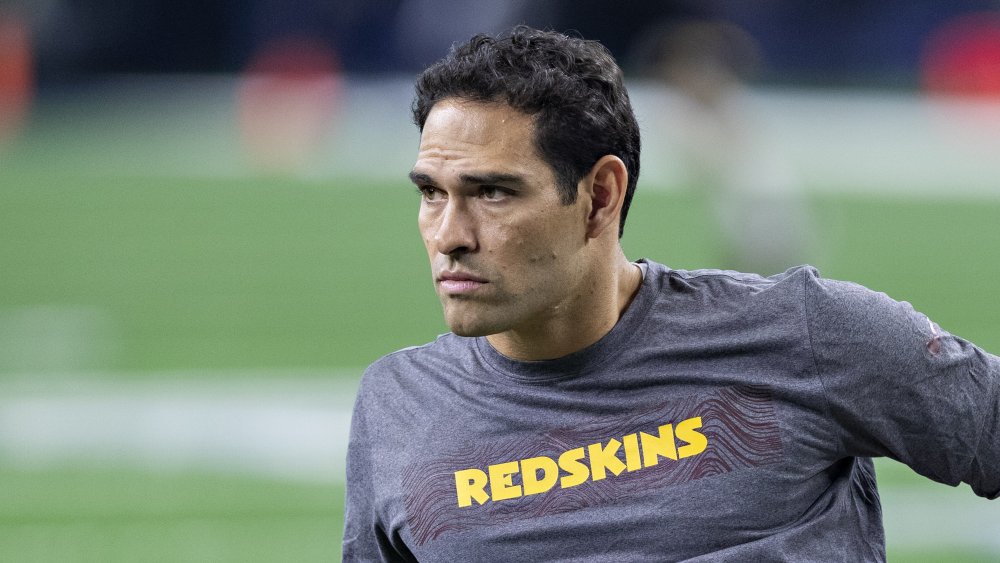 Wesley Hitt/Getty Images
The Masked Singer judges and fans were way off when it came to their Baby Alien guesses. With hints such as "I practice wearing a 30-pound backpack at home and do hours of puppet choreography" and "I've been roasted before," as People reported, fans and judges alike were intrigued. Before the reveal, the judges submitted their guesses: Eric Bana, Sacha Baron Cohen, Jeff Dunham, and Taylor Lautner. Meanwhile, the Twitter world was certain the man under the mask was Sam Riegel. 
Everyone was understandably shocked when Baby Alien took off his mask to reveal himself as former NFL quarterback Mark Sanchez, who has no signs of puppetry on his resume. Twitter was instantly flooded with stunned remarks. One user wrote, "me when baby alien was unmasked and it wasnt sam riegel," along with a video of Keke Palmer shaking her head. Another surprised spectator tweeted, "You fooled me, you fooled me good Mark." As for the judges, they displayed their shock with wide-open mouths and eyes.
Sanchez was thankful for his time on The Masked Singer and reflected on the stage with Nick Cannon, who asked Sanchez to share his favorite part of being on the show. "Sharing this experience with my little man," he sweetly said, adding that his son now knows all the words to "Faith" and "It's Time. "We've been rocking out in the car. It's been fun."