The Real Reason Savannah Guthrie And Rachel Maddow Reportedly Clashed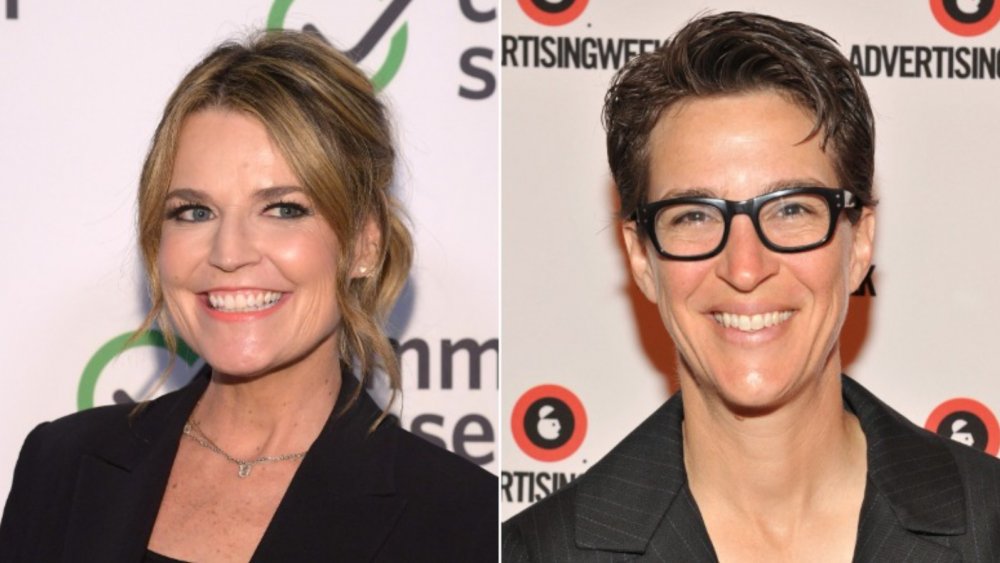 Amy Sussman, D Dipasupil/Getty Images
There's trouble brewing behind the scenes at NBC between longtime Today host Savannah Guthrie and MSNBC's popular anchor Rachel Maddow. According to OK!, the journalists are in disagreement about NBC's decision to schedule a town hall for President Donald Trump on Thursday, Oct. 15, 2020 at the same time ABC already planned to host a town hall for Democratic presidential candidate Joe Biden. Trump and Biden were supposed to go head-to-head in the second presidential debate instead, but Trump refused to participate after the Commission on Presidential Debates switched the format to a virtual debate in response to the president's coronavirus diagnosis.
OK! reported that Guthrie is "completely comfortable" moderating the in-person event with Trump, who is no longer contagious, according to top U.S. public health official Anthony Fauci (per U.S. News). On the other hand, an OK! source said Maddow is "livid" about the unprecedented decision. While Maddow has not made a direct public statement about her opposition to the town hall, OK! reported that she has made her disapproval known on her set. Let's take a closer look at the liberal journalist's frustration with her colleague and network.
Rachel Maddow has expressed her anger with NBC behind the scenes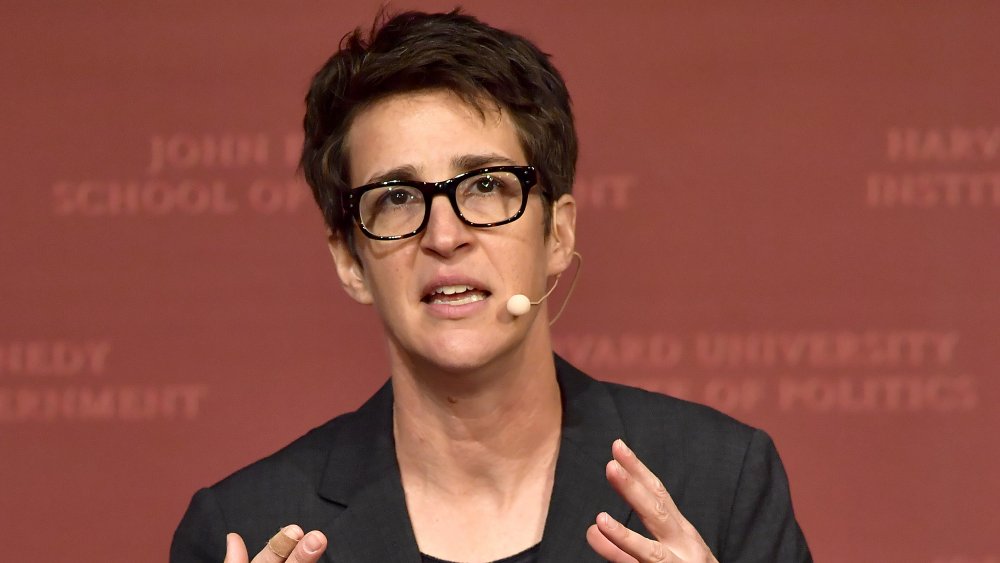 Paul Marotta/Getty Images
According to OK!, an inside source revealed that Rachel Maddow is in a tricky situation: she wants to stand up for herself, but doing so will only cause friction within NBC. "Behind-the-scenes, Rachel has made her feelings very clear — she doesn't think NBC should back Trump for pulling out of the debate and give him what he wanted. But saying anything would make Savannah and her bosses mad, while saying nothing makes her complicit," the source explained.
Maddow has not made any public claims yet, but the situation was brought up on her MSNBC program, The Rachel Maddow Show, on Oct. 14, 2020, the same day NBC announced the event. In an interview with Democratic vice presidential candidate Kamala Harris, Maddow asked Harris if she was "as mad as everybody else" about NBC's town hall with President Donald Trump (via Variety). Harris replied that she wasn't going to cover the subject, but Maddow pressed again. "Should the networks refuse to give the president other opportunities for airtime if he's the one who refuses the chance to debate?" the political journalist rephrased. While Harris never gave a straight answer, it is clear that Maddow felt strongly about the situation. Maddow is not the only one fuming about NBC's decision, though. People took to the internet to show their disappointment with the network, too.
NBC faced major backlash after announcing a town hall with President Donald Trump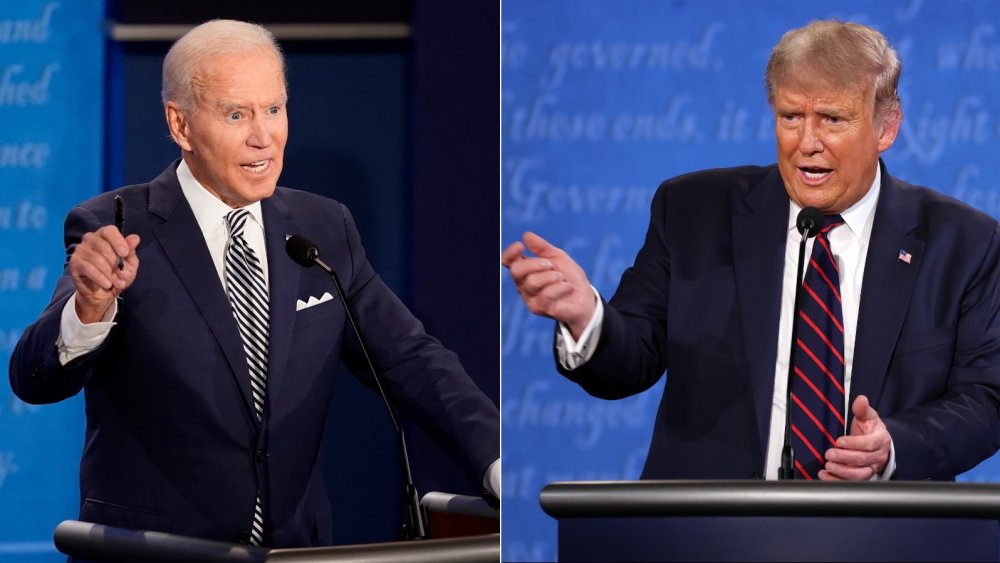 Pool, Win Mcnamee/Getty Images
NBC News received sharp criticism about its decision to swap the now-cancelled second presidential debate for a town hall featuring President Donald Trump. In fact, people were so furious with NBC, which announced the event just a day before it was set to air, that they called for a boycott of the network on social media. "CONDEMN THE SCHEDULING OF THE TOWN HALL TONIGHT #BoycottMSNBC #BoycottNBC," one user demanded. Others said they would never watch NBC again. "I hope no one tunes in because they'll be watching Biden on ABC. As a long time NBC news watcher, I'm done," another disgruntled viewer wrote.
Another person called Comcast, which owns NBCUniversal, "concast" and further explained his issue so NBC would know why they were losing a viewer. "Savannah Guthrie may ask 'hard' questions but trump will NEVER answer them," the person tweeted. "It's embarrassing and a shame that NBC would stoop this low for ratings. No thanks. I'll be watching @ABC." Some are surprised that NBC would host Trump after he has repeatedly called the network's reporting "fake news." However, OK!'s exclusive source pointed out that NBC has a longtime relationship with Trump, dating back to his reality show, The Apprentice, which premiered on the network in 2004.
However, much like the upcoming election, town hall audiences can voice their opinions by tuning in to ABC (for Joe Biden) or NBC (for President Trump) on Oct. 15 at 8 p.m. ET.