What Song Did Kamala Harris Walk Out To For Her Victory Speech?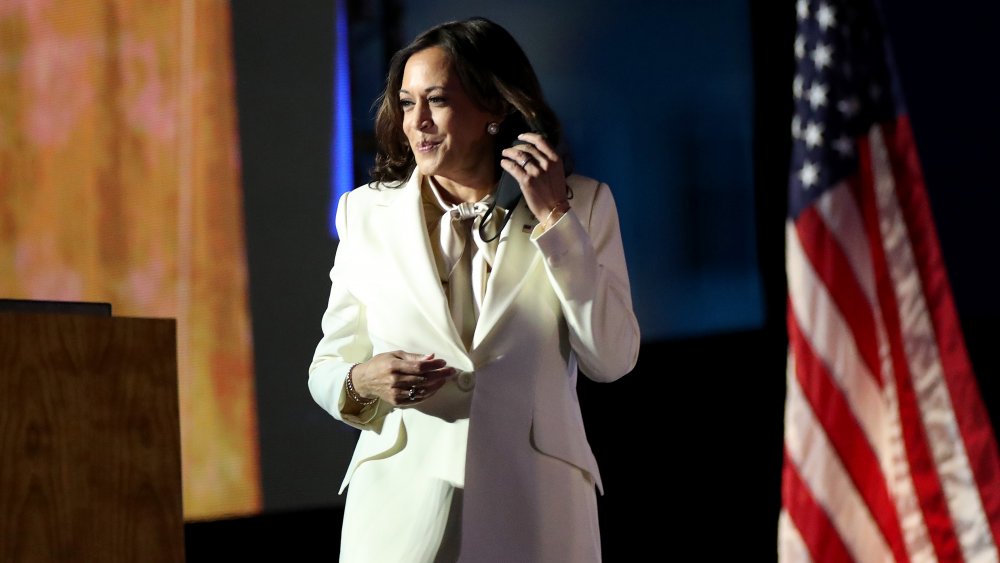 Drew Angerer/Getty Images
Vice President-Elect Kamala Harris delivered her victory speech at the Chase Center in Wilmington, Del. before introducing the next President of the United States, Joe Biden, on Nov. 7, 2020. The nation's new "momala" walked out onto the stage to the tune of Mary J Blige's "Work That," and her supporters rejoiced at her nod to female empowerment.
"Vice-President elect Kamala Harris, Senator Harris coming out on stage to Mary J. Blige was simply amazing," one fan tweeted. "She's amazing and her words come from a good place. #thankful #Kamala #bidenharis2020." Another supporter tweeted, "I know that we have sooooooo much work to do, but something about seeing VP-elect Harris walk out to Mary J Blige and speak feels good." 
Acknowledging the history-making moment and celebrating the first female and first Black vice president, another moved supporter wrote, "She has been referred to as announced Vice-President elect Kamala Harris all day. But it wasn't until she strutted out in that fierce suit to Mary J. Blige that it finally hit me and the tears flowed."
While many praised Harris' iconic song choice, they also reveled in her moving words. Keep scrolling to see what the vice president-elect said in her victory speech.
This is how Mary J. Blige feels about Kamala Harris using her song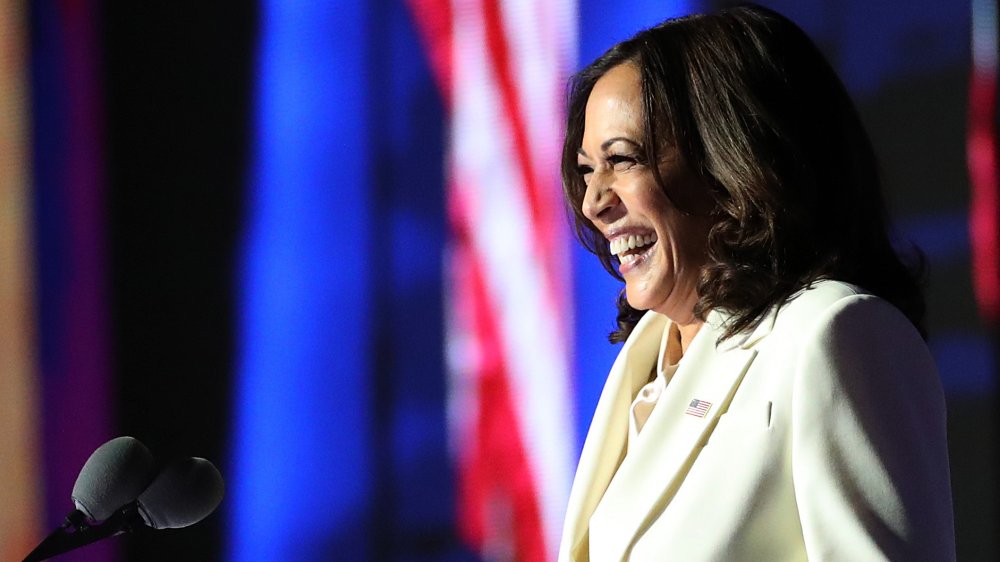 Drew Angerer/Getty Images
Before introducing President-Elect Joe Biden, Kamala Harris thanked the American people for their continued support celebrated her momentous accomplishment. "While I may be the first woman in this office, I will not be the last, because every little girl watching tonight sees that this is a country of possibilities," she said (via The Hill). 
"Yessssssss @KamalaHarris you show the world what a woman can do. #bidenharis2020 #kamala #whorunstheworld #girls," one supporter tweeted.
While social media erupted in joy over her powerful remarks and groundbreaking song choice, this isn't the first time Harris made a statement to Mary J Blige's inspirational tune. She also walked out to the song in September 2020 at the Democratic National Convention. At the time, Andy Cohen asked Blige how she felt about Harris using her song. "It was just overwhelming. It blew me away," Blige said on Watch What Happens Live. "I didn't know, I was so surprised and blown away that she chose it." 
We can't wait to see what this trailblazer does with her revolutionary victory.