The Truth About Alex Trebek's Relationship With Regis Philbin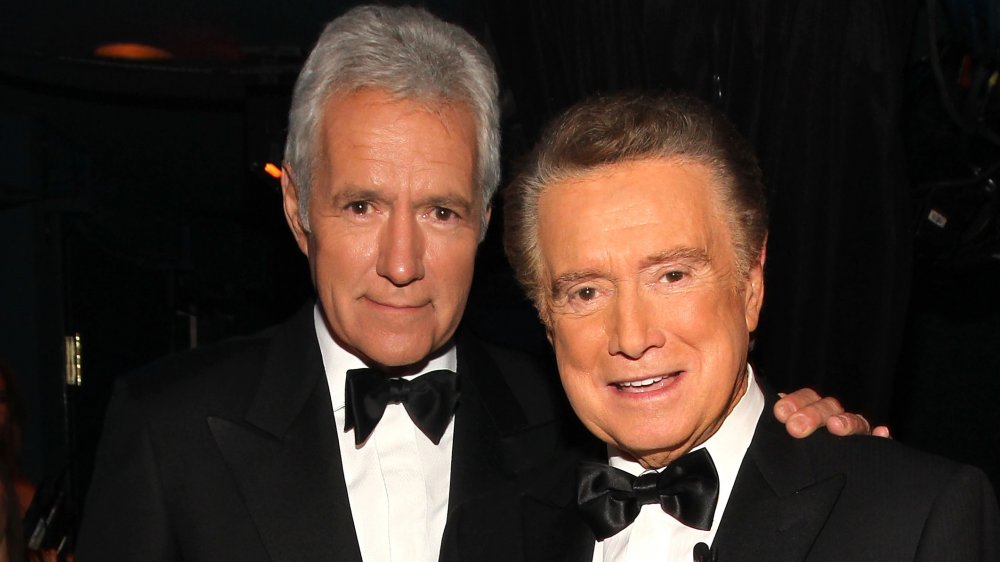 Christopher Polk/Getty Images
On Nov. 8, 2020, the world found out that Alex Trebek passed away following his battle with pancreatic cancer. Soon after, fans publicly mourned the loss of the Jeopardy! host, in addition to Regis Philbin, who had passed away in July 2020.
One fan tweeted, "Alex [Trebek] & Regis Philbin were two of the very best at what they did for the game show landscape. But it's because they were more than just hosts. The connection was deeper. 2020 continues to remind us of the closeness we have to those we let into our living rooms. RIP." Another posted, "Alex Trebek and Regis Philbin, gone less than four months apart. 2020, you can stop now." Someone else tweeted, "2020 ain't playing, first Regis Philbin R.I.P now Alex Trebek R.I.P."
Following the news of Philbin's passing, Jeopardy! decided to re-air the very first Celebrity Jeopardy! episode ever, which featured Philbin, Carol Burnett, and Donna Mills. The choice to air the episode was made weeks prior as "a way of expressing [their] gratitude to Regis for his friendship to the show for so many years." Upon learning that he passed away, the show's website stated, "We proudly present it now in memoriam and with love." The episode itself was an entertaining one, with Trebek poking fun at Philbin for his lack of success during the game, which Philbin played into.
The two hosts were known for their playful banter back and forth, which even resulted in a not-so-serious public feud.
Alex Trebek and Regis Philbin 'feuded' — sort of
In 1997, People reported that Alex Trebek made fun of Regis Philbin's show Who Wants to be a Millionaire? for having easy questions. In 2000, the New York Post shared that Trebek mocked the show for asking, "What color are Post-It notes?" Trebek also turned down two offers to appear on Millionaire.
Trebek and Philbin reportedly settled their minor issues during a phone conversation. Per the Post, Trebek told Philbin, "You're getting a lot of mileage out of this." Apparently, Philbin responded, "We're just having fun." All in all, Trebek said their "feud" was "completely blown out of proportion," and it was actually just some "good-naturedly poking fun at some of the questions on the show."
Trebek remarked, "It's unfortunate that some people have said there's a feud." He also said that he loved having Philbin on as a Jeopardy! contestant, but noted that Philbin didn't return once he started hosting his own game show. In December 2019, OK! Magazine reported that Trebek interviewed Regis for his show Alex's Trebek's Game Changers. When Trebek asked how it felt being a contestant on Jeopardy!, Philbin joked, "I was very nervous. I'm nervous now, just look at you and what you're doing to me."
Some people may be looking for controversy since both Philbin and Trebek hosted popular game shows, but when it comes down to it, both of them had a great amount of admiration, respect, and jokes for each other.