The Truth About Alex Trebek's Guinness World Record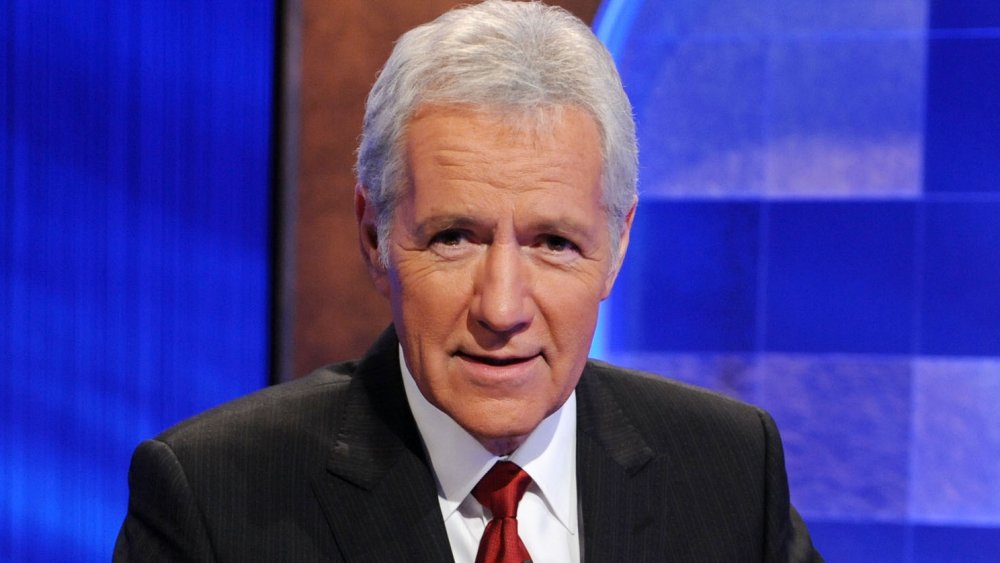 Amanda Edwards/Getty Images
Longtime Jeopardy! host Alex Trebek passed away on Nov. 8, 2020, at the age of 80, per CNN. In early March 2019, the beloved host announced that he had been diagnosed with stage 4 pancreatic cancer via a video message. In the video, Trebek said that he wanted to keep with his "longtime policy of being open and transparent" with his fan base. Trebek — who delivered the news in his usual articulate, no-nonsense style — joked that he had to keep working because he still had three years left in his contract.
After beginning his career as a journalist, Trebek started hosting Jeopardy! in 1984, when show creator Merv Griffin asked Trebek to take over a revival of the show. Trebek's role as host was so successful that he earned five Daytime Emmy Awards over the course of his career, per CNN, and became so popular that even his iconic mustache occasionally made headlines. While Trebek himself certainly made headlines every now and then thanks to various awards and achievements, one major milestone came in 2014 when he set a Guinness World Record.
Alex Trebek takes the cake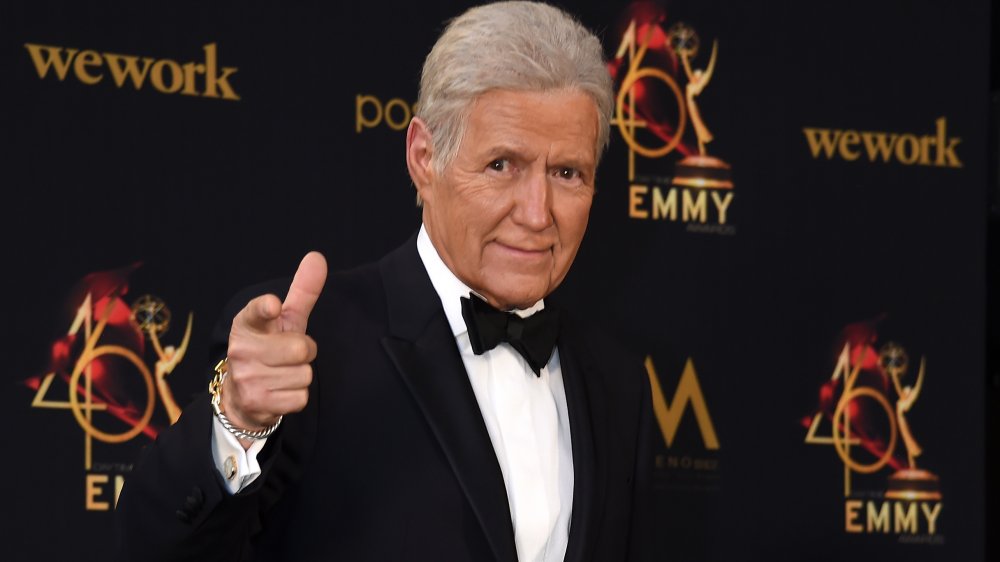 Gregg Deguire/Getty Images
In June 2014, Alex Trebek landed himself a Guinness World Record for "most gameshow episodes hosted by the same presenter," per Variety. At the time of his win, Trebek had hosted 6,829 episodes. That being said, Trebek didn't quit while he was ahead. According to The New York Times, by the time of his passing, Trebek had hosted more than 8,000 Jeopardy! episodes. 
When Trebek was presented with the award, he wryly joked that he would likely one day be beaten by another host. "This is the kind of record," Trebek said, holding his award, "that can and could and probably will be broken by someone else. I'm thinking Pat Sajak is not that far behind and he's a lot younger than I am." Even in victory, Trebek was encouraging others.
The gesture of camaraderie was not forgotten. After Trebek passed, Sajak — who is the longtime host of Wheel of Fortune – made a statement about his former competition, saying (via People), "It was an honor for me to be a part of his professional family for nearly 40 years. His strength and courage and grace during his recent health struggles inspired countless others. Alex was truly one of a kind."
Trebek left behind a legacy of graciousness and kindness and while he was open to the idea of having his Guinness World Record broken, no one will ever be Trebek. As Wheel of Fortune's Vanna White told People: "There will never be another Alex Trebek and he will truly be missed."