How The Internet Really Feels About Reba And Darius Rucker At The CMAs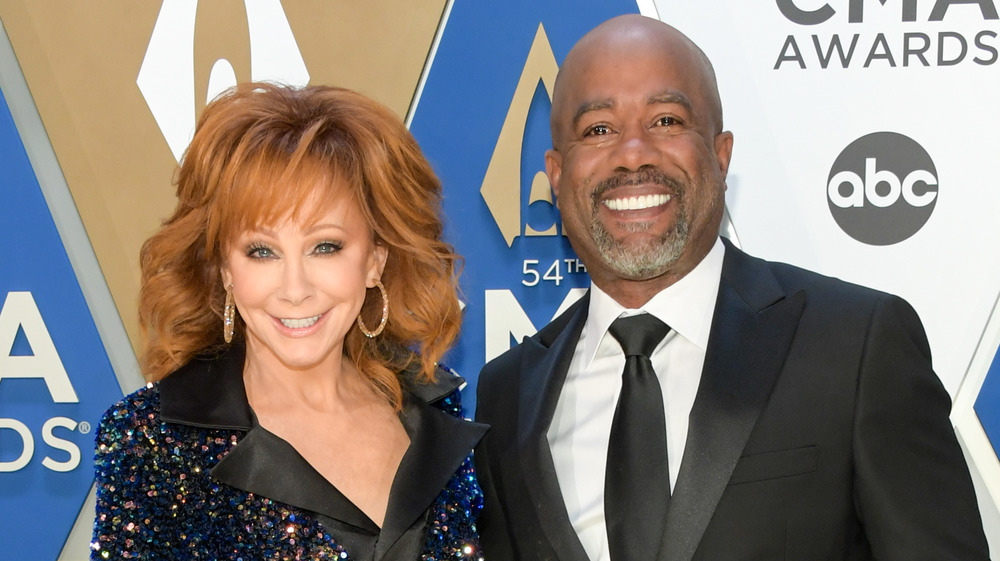 Jason Kempin/Getty Images
On Nov. 11, 2020, country music's greatest stars came out for the genre's "biggest night." But did it have the greatest hosts? From Tina Fey and Amy Poehler's hilarious Golden Globes banter all the way down to Anne Hathaway and James Franco's treacherous Oscars turn, co-hosting an award show can go in a lot of directions. So what did the internet think of Reba McEntire and Darius Rucker, who co-hosted this year's CMA Awards? 
Reba and Rucker are both hugely successful names in country music, but they had huge cowboy boots to fill. From 2004 to 2006, Brooks and Dunn hosted the show. Then Carrie Underwood and Brad Paisley hosted the CMA Awards from 2008 until 2018. Their impressive 11-year run ended in 2019, when Underwood co-hosted with Reba McEntire and Dolly Parton. So Underwood hosted for 12 years in total. However, the "Before He Cheats" singer announced the end of her run in December 2019 with a lengthy Instagram statement. (Some speculated her Entertainer of the Year snub, at the hands of Garth Brooks, might have been to blame). But regardless, Underwood basically is the CMAs!
Meanwhile, in the uphill battle department, before the show had even begun, the CMAs established an awkward tone when they announced the show would be "no drama zone." Sure... Plus the shadow of coronavirus loomed large over the event, as multiple performers dropped out prior to the show. So, how did Reba and Rucker do? Keep scrolling to see how the internet felt.
Reba McEntire and Darius Rucker were 'not as funny' as past CMA hosts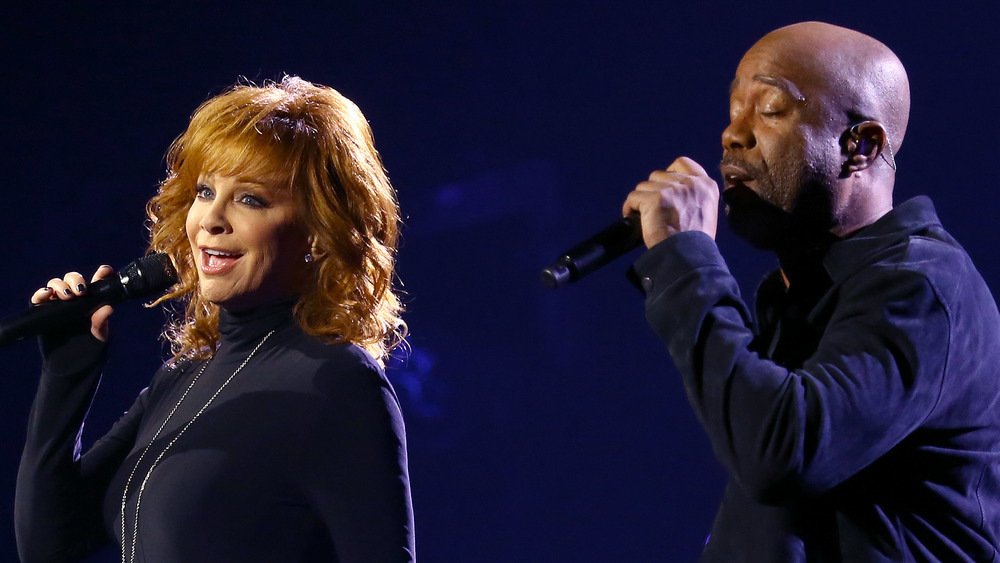 Terry Wyatt/Getty Images
How did fans feel about Reba McEntire and Darius Rucker's 2020 CMA Awards co-hosting job? For some fans, their on-stage banter just couldn't compete with that of Brad Paisley and Carrie Underwood. "I think Reba & Darius are doing a good job, but man do I miss Brad & Carrie," one Twitter user wrote. "Agreed. They're definitely not as funny. They're not bad. But they're not Brad and Carrie," another added. A third remarked on the general awkward vibe. "Darius and Reba are two of the most naturally likable ... but I definitely do miss Brad & Carrie. Also, someone needs to start serving cocktails around this room. People feel a little polite/weirded out being there," they wrote. Yup, the tense audience didn't help!
That said, the pair parlayed their veteran status in the country music industry into some truly touching moments. They debuted their duet of Elvis Presley's tune "In the Ghetto," which many fans felt was a beautiful tribute to the late Mac Davis, who co-wrote the song and passed away this year (via Pop Culture). "I'll be downloading this after the show for sure," one Twitter user wrote. "Reba and Darius doing 'In The Ghetto' was a SHOWSTOPPER," another said. 
Reba and Rucker definitely struck the right tone for the song. This, all while Charley Pride, who The Tennessean called "country music's foremost Black superstar" received the legacy award. So all in all, Reba and Rucker held their own!