The Most Uncomfortable Celebrity Hook-Ups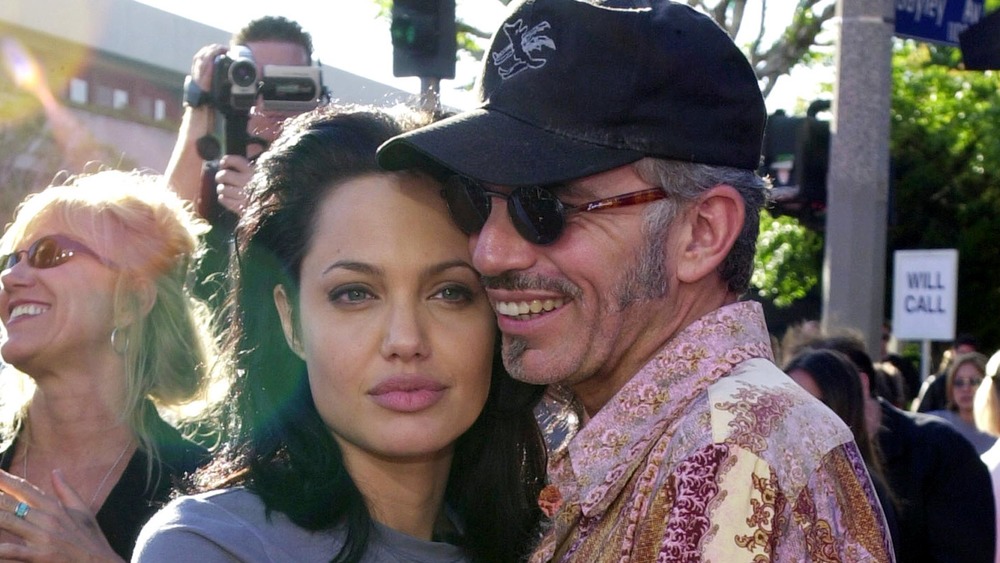 Chris Weeks/Getty Images
Ever since Hollywood became a thing, nothing has been more gripping to the world than celebrity couples. Whether we want to admit it or not, we all love to see it when the rich and famous fall in love and then out — and the messier the breakup, the better. While we love to revel in matches made in heaven such as Beyonce and Jay-Z, Chrissy Teigen and John Legend, as well as Prince Harry and Meghan Markle, nothing is quite as thrilling as when an unlikely pair gets together. 
The world of Tinseltown has treated us to some absurd pairings, such as Cher's truly bizarre romance with Tom Cruise, or Ashton Kutcher's "eight-week fling" with Rihanna. While these matches were definitely odd, we're more interested in the downright cringe-worthy hook-ups. The following celebs have had trysts that have not only made headlines, but they have left us with our jaws on the floor.
Let's look at some of the most uncomfortable pairings to ever happen in Hollywood. 
Billy Bob Thornton and Angelina Jolie's creepy blood-filled vials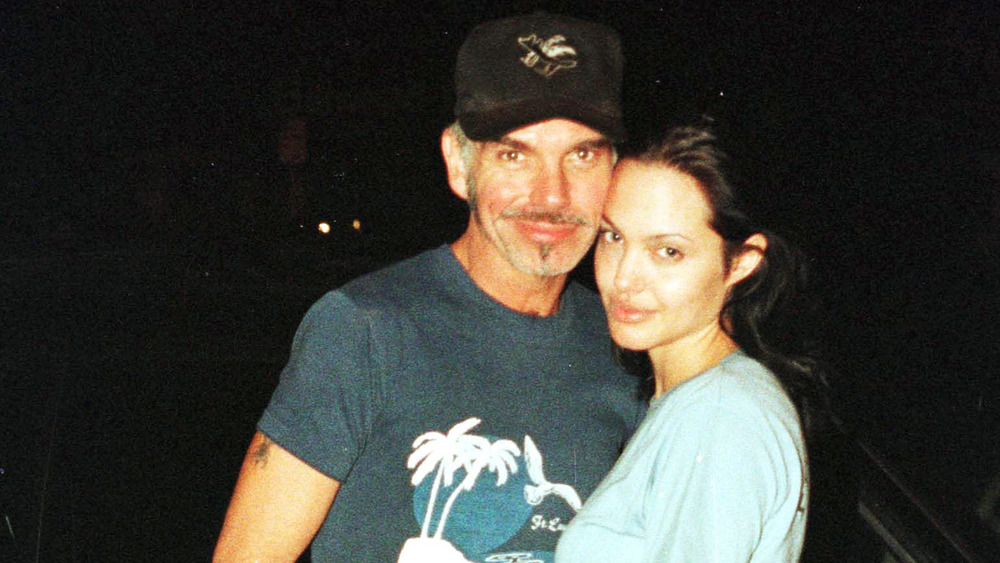 Eric Ford/Getty Images
Between the vials of blood and their over-the-top PDA, Billy Bob Thornton and Angelina Jolie had a knack for making us all feel like we were somehow invading their private space. There was something about them being so comfortable in their raunchiness that made the rest of the world look at them sideways.
Years after their divorce, Thornton went on to divulge the nitty-gritty details regarding those blood-filled vials to a room full of students at Loyola Marymount University's School of Film & Television (via E!), because why not?
"[A] vial of blood is very simple. Angie came home one day with a kit she bought. You know those lockets you buy that are clear and you put a picture of your grannie in it or something like that and wear it around your neck? That's what it was," he explained. "She bought two of those. We were apart a lot because she's off making Tomb Raider and I'm making Monster's Ball. We were on opposite ends — we see each other for two weeks and whatever. She thought it would be interesting and romantic if we took a little razorblade and sliced our fingers, smeared a little blood on these lockets and you wear it around your neck just like you wear your son or daughter's baby hair in one." Romance is in the eye of the beholder in this case.
Woody Allen's relationship with Mia Farrow's adopted daughter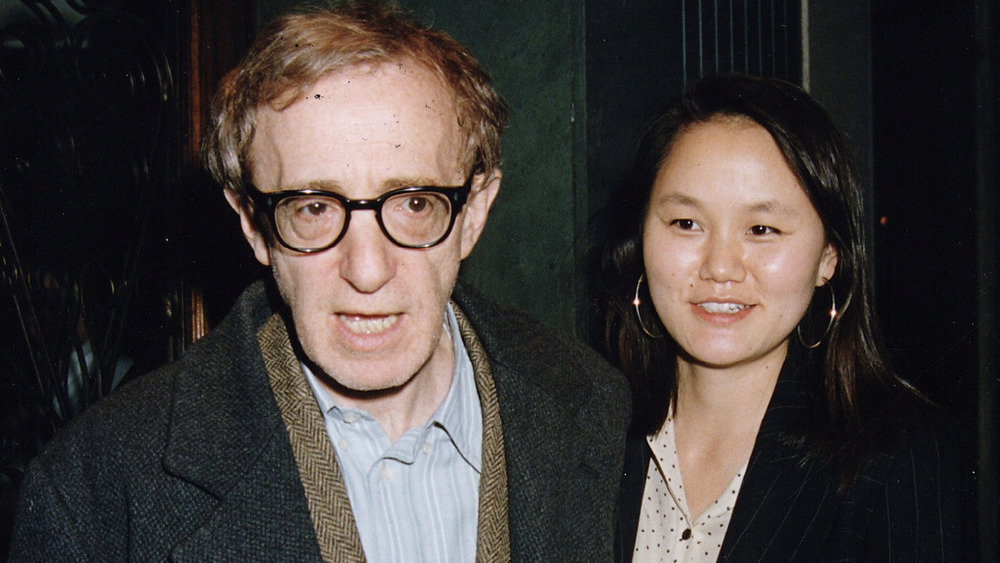 Dave M. Benett/Getty Images
Perhaps under any other circumstance, this love affair would just be another case of an older guy with an exceptionally younger wife, but the fact it's a stepdad-stepdaughter scenario makes this situation that much weirder. Woody Allen first met Soon-Yi Previn back in 1979 when he began dating actress Mia Farrow — she was nine at the time (via The New York Times). Towards the end of his relationship with Farrow, Allen admitted growing close to Previn, and the pair began having an affair in 1991. Things came to a head when Farrow found nude pictures Allen had taken of Previn, and they, naturally, split up. Previn and Allen, however, maintained their relationship and have since been estranged from Farrow and the rest of her children.
In a warped effort to downplay the odd circumstances surrounding the relationship, Allen told Time, "I am not Soon-Yi's father or stepfather. I've never even lived with Mia. I've never in my entire life slept at Mia's apartment, and I never even used to go over there until my children came along." He then added, "The only thing unusual is that she's Mia's daughter. But she's an adopted daughter and a grown woman. I could have met her at a party or something."
Accusations that Allen sexually assaulted another one of Farrow's daughters, Dylan Farrow, have made the relationship much more questionable, as they have served as one of the catalysts for the #MeToo movement.
Robin Givens and the 'magnificent' Howard Stern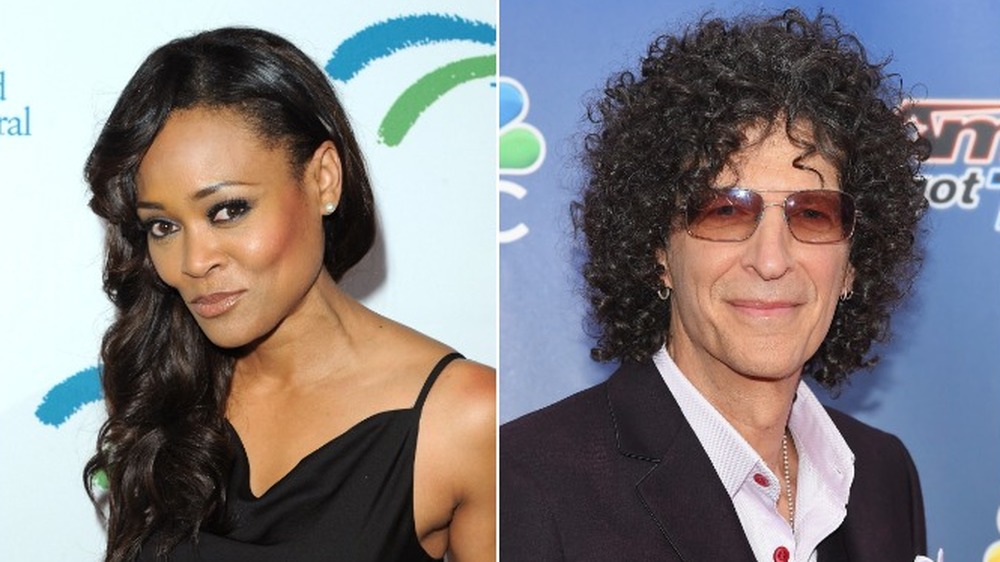 Craig Barritt, Michael Loccisano/Getty Images
This unlikely pair got together back in 1999, and while not much has been revealed about the relationship, Robin Givens has gone on the record saying her time with Howard Stern was... enjoyable. As the shock jock previously told Rolling Stone, he wasn't exactly the most gifted man when it came to his junk. "No guy will ever admit to having a small penis. I just went on the record," he told the mag. "I might be one of the smallest guys in the world ... Who the f**k's going to admit to something like that? And that's great radio. Because it's someone being honest about their fears and emotions."
However big or small, Givens revealed that Stern was quite the gifted lover. The actress went on Watch What Happens Live in 2019 and revealed that the famed radio host was a stallion in the sack, despite what is or isn't in his pants. "Howard Stern was a magnificent lover ... like unbelievable," Givens gushed to Andy Cohen.
For whatever reason, Givens felt comfortable divulging only that piece of information regarding her brief jaunt with Stern and no other.
Chelsea Handler didn't stay in 50 Cent's 'Candy Shop' all that long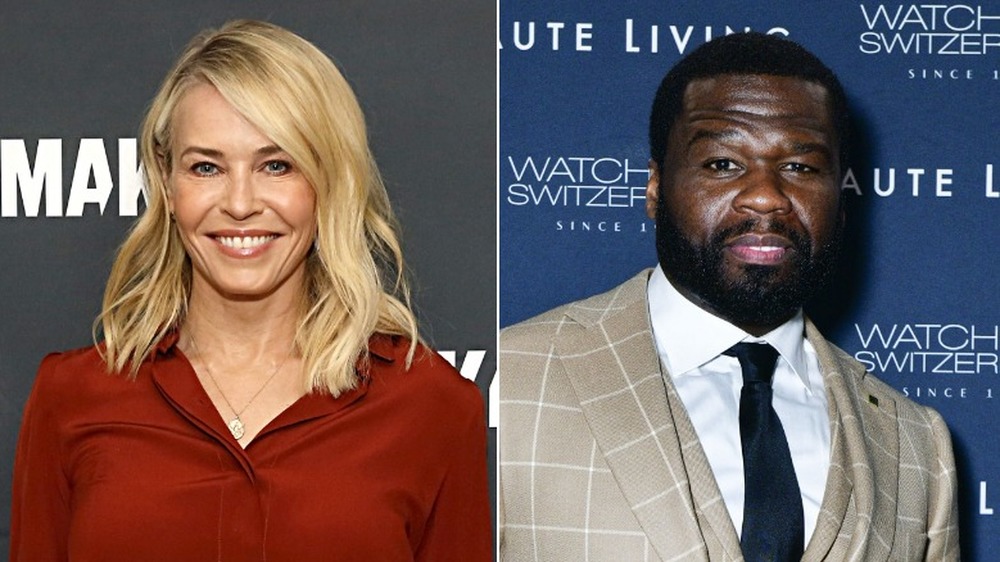 Rachel Murray, Eugene Gologursky/Getty Images
Chelsea Handler always admitted that she used her old talk show to meet men, but when she linked up with 50 Cent after he made an appearance on Chelsea Lately in 2009, all of us went... huh? The comedian dated the rapper shortly after, and while she wasn't too vocal about the relationship while it was happening, she spilled the beans to Oprah's Next Chapter in 2013. "He's a great guy ... that's somebody who's persona is completely antithetical to who he is in real life," she stated. "It wasn't the most serious relationship, but he came on my show and he sent me a bunch of flowers and I just was like, 'I'm not gonna be dating someone who's first name is a number,'" she joked.
The relationship turned sour, however, when 50 Cent pulled a stunt Handler deemed "juvenile" during an interview with Howard Stern (via MadameNoire). As it turned out, Handler was set to interview Ciara, an ex of 50's, and the rapper thought he'd be doing Handler a solid by informing her of the old flame and her possible lingering feelings. The move didn't sit well with Handler.
"I go ... 'Why are you telling me this? This girl is coming on the show tomorrow, and now I have to look at her and think you guys have some weird thing going on or had going on," she said, cutting him loose soon thereafter.
Kate Beckinsale had to defend Pete Davidson from online trolls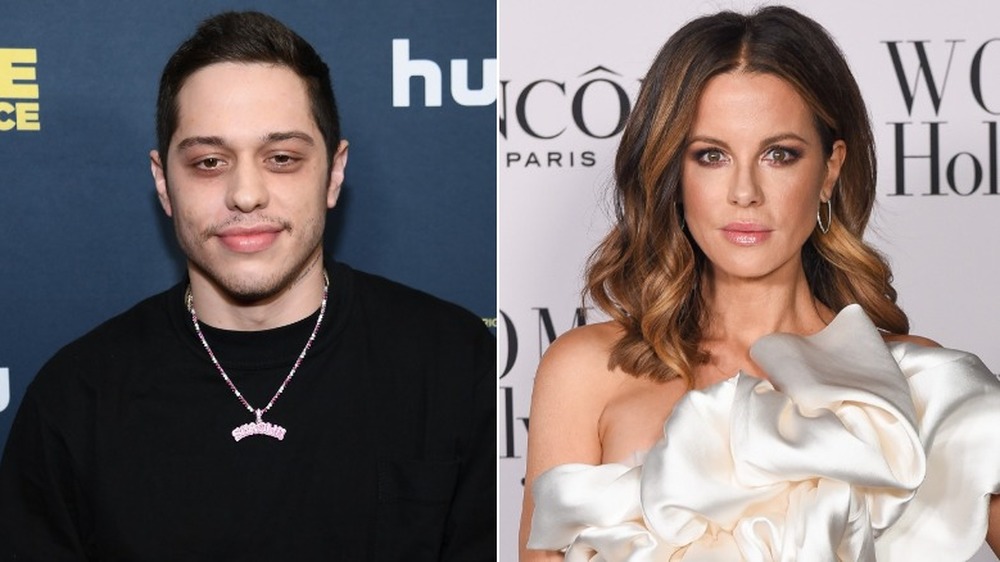 Dimitrios Kambouris, Presley Ann/Getty Images
No matter which way you slice it, we simply couldn't have seen this one coming. According to Glamour, rumors that Kate Beckinsale was dating Pete Davidson first started swirling when they were caught leaving the Golden Globes together in January of 2019. While nothing was confirmed for a while, Beckinsale was quite protective over Davidson over the course of their relationship. The Underworld actress — who's also 20 years his senior — was caught defending her boy toy twice against internet trolls after they left not-so-kind comments about him under some of her Instagram pics.
Though the pair was spotted holding hands in public and attending each other's events in the earliest parts of 2019, the fling seemingly reached a crescendo when Beckinsale and Davidson were spotted at a hockey game in New York, full-blown PDA in motion. What made the picture even more sensational was the relatable awkwardness visible on Queer Eye's Antoni Porowski's face as he tried to pretend nothing was going on.
All that tongue action couldn't save the couple though, as they were rumored to have broken up in April of 2019.
Jada Pinkett Smith and August Alsina's 'entanglement'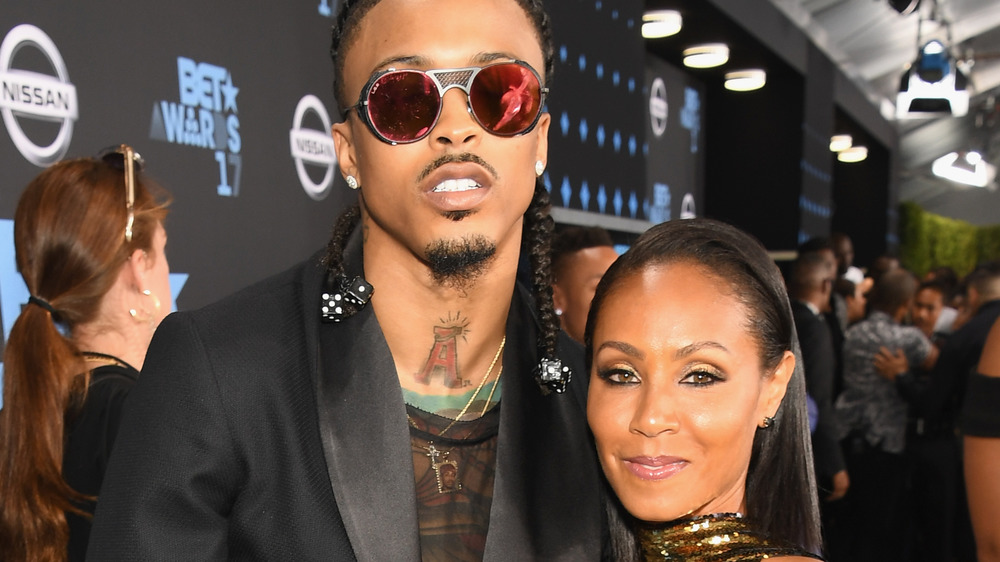 Paras Griffin/Getty Images
This is the "entanglement" heard around the world. Jada Pinkett Smith stunned everyone when in July, she confessed on her Facebook Watch talk show, Red Table Talk, that she had been in a relationship with August Alsina while still being married to Will Smith. Rumors that Jada and Alsina were once an item had been swirling for a while, bolstered by several references in Alsina's music.
It all came to a head when Alsina spilled all the tea during an interview with Angela Yee and even said Will gave him permission to start the relationship with his wife. In an effort to get ahead of the media firestorm that soon ensued, Jada took to RTT and told her side of the story.
While most people would have been okay with the pair having a fling because, at the time, the Smiths had separated, the circumstances under which Jada and Alsina got together made the affair quite controversial. Through her own admission, Jada said Alsina got close to the Smith brood seeking refuge, as he was going through some physical and mental health issues. As the Smiths' relationship seemingly began devolving, Jada turned to Alsina to numb the pain of an impending divorce. The Smiths have, of course, stayed together, but the fact that Jada and Alsina were an item, to begin with, is still quite odd. 
David Foster and Katharine McPhee don't care about their age gap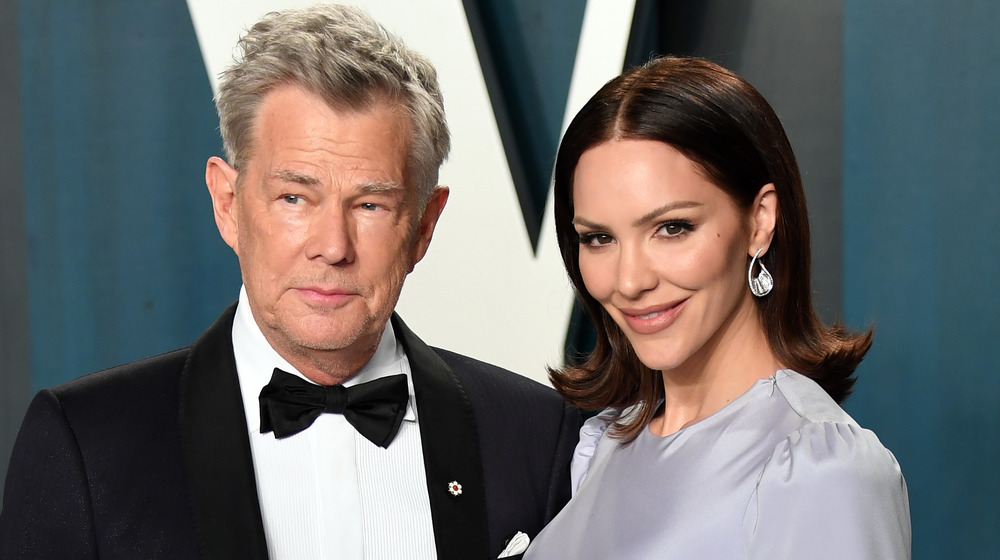 Karwai Tang/Getty Images
Keeping in theme with wild age gaps, David Foster and Katharine McPhee have a 35-year-age difference between them. What's even more awkward? McPhee is literally agemates with Foster's daughters. His oldest, Allison Jones Foster, is 14 years older than McPhee.
Foster and McPhee met back in 2006 when the Grammy-award winning music producer served as one of the mentors on season five of American Idol. While the pair didn't immediately start dating, they have remained in each other's lives since, and McPhee has established relationships with the Fosters. "I've known her for 15 years and they've known her that long as well. It was a comfortable transition, and it's a credit to both my wife and daughters that they've just rolled with it and they do great together," Foster told USA Today in 2020. "It's been years now with no animosity and no problems, and I have no reason to believe that'll change at all."
The two got hitched in 2019 and, at the time of this writing, are expecting their first child together.
Rob Kardashian and the Kim Kardashian lookalike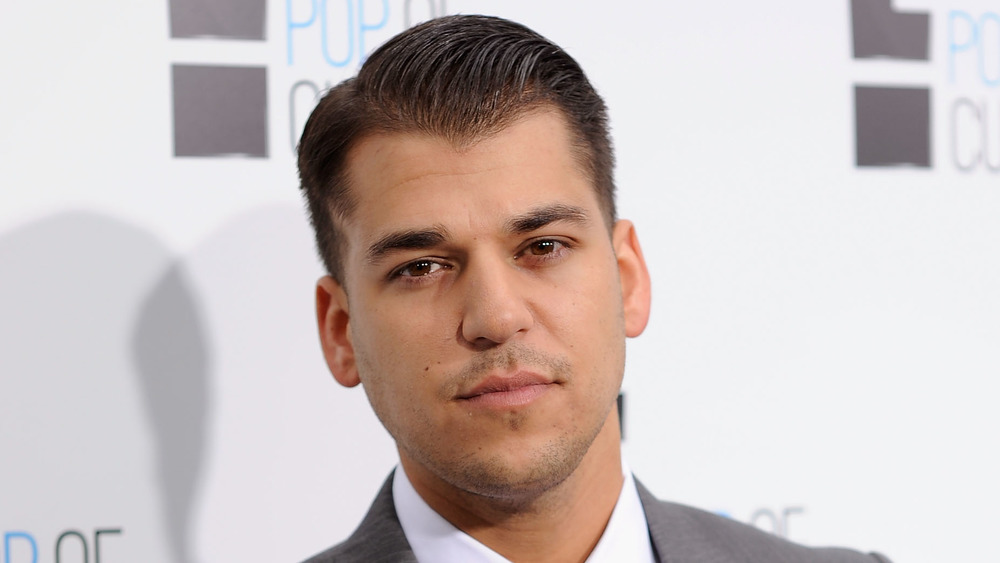 Dimitrios Kambouris/e/Getty Images
At this point, we know the Kardashians are unlike most families. However, every once in a while, they do or say things that — even though we've known them for years — just seem a wee bit too much. Cue Rob Kardashian's hookup with a Kim Kardashian lookalike.
In a 2017 episode of Keeping Up With the Kardashians (via ET), sister Khloe and Rob are hanging out, going back and forth with that Kardashian banter we have grown to love, when their conversation takes a turn with Khloe asking, "Do you remember when you f**ked the girl who won the Kim Kardashian lookalike contest?"
Taking the cringe factor to the next level, Rob nonchalantly sidesteps the incident and instead decides to bring up a separate, more grotesque story that's perhaps better heard from the horse's mouth. But it doesn't end there. Later on in the conversation, Khloe goes on to question why her brother never sought to hook up with Khloe Kardashian lookalike. Bible, we cannot make this stuff up.
Jake T. Austin dated one of his Twitter fans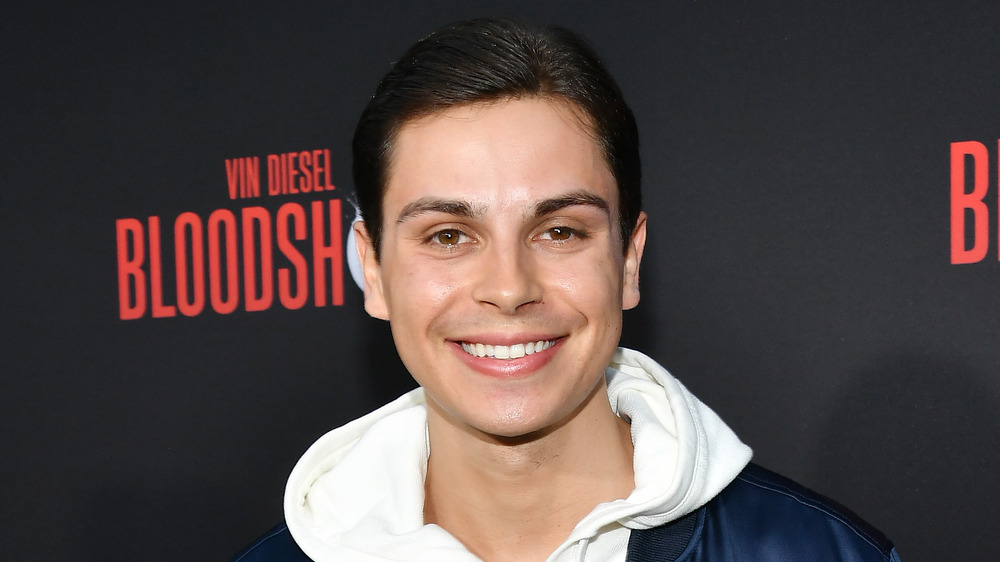 Amy Sussman/Getty Images
Proving that nothing is out of reach as long as you stay consistent, one lucky fan dated former Wizards of Waverly Place star Jake T. Austin after she persistently messaged him on Twitter for years.
According to People, Danielle Ceasar spent seven years chasing after the actor before he finally took notice. In 2011, the pair finally met "at what looks like a meet-and-greet," but didn't become official until 2016, when Austin posted a since-deleted shot of the two smooching and cuddling.
"We're young and having fun just getting to know each other," the actor told People at the time. "It doesn't matter how you meet someone – on set, in a coffee shop, at school or in the business. Sometimes you connect with people at the right moment and you just click." Here's to holding out hope.
Courtney Stodden and Doug Hutchison's controversial nupitals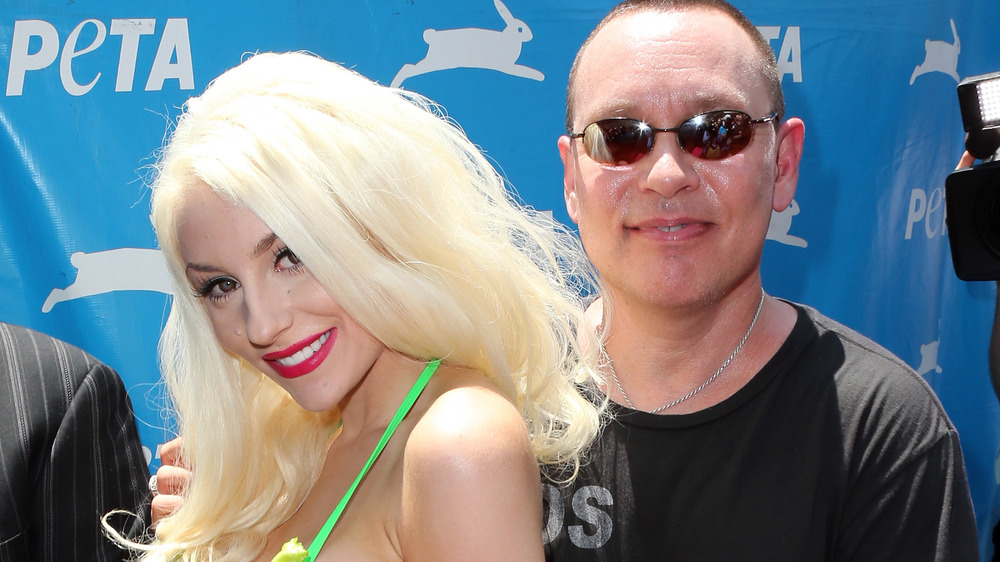 David Livingston/Getty Images
She was 16, and he, at the age of 51, was old enough to be her grandfather, but still, Courtney Stodden and Doug Hutchinson insisted that their 2011 courtship was true love. The pair set the world ablaze with their controversial nuptials, but through it all, they defended their marriage.
Part of what was so off-putting about this coupling — 35-year age difference notwithstanding — was the fact that they seemed to be dependent on each other in a toxic way. According to ABC News, Stodden had never "been to high school or driven a car" when she met Hutchinson, and The Green Mile actor was a twice-divorced, recovering addict, who sought solace in what he saw as a "very mature-looking woman" before finding out her age.
Despite the fact that the world thought their relationship was a publicity stunt, the pair went strong for almost a decade before calling it quits. In a lengthy Instagram post in March 2020, Stodden revealed that their tumultuous marriage was no more. She wrote, "I've been scared to even speak up about feeling groomed or being verbally abused during the almost 10 year marriage because I was a child and he was 50 when we married but I'm a woman ... I've felt completely trapped, manipulated and at times abandoned by adults. Growing up in such an environment— it became a lonely and dark place."