Footage Emerges Of Kim Kardashians' Robbers' Escape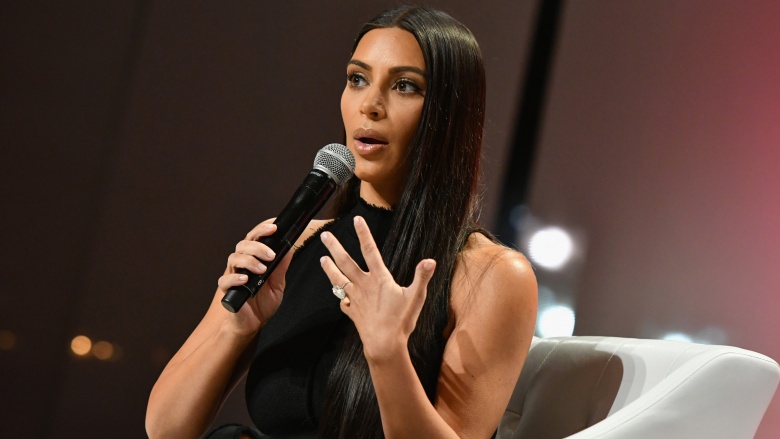 Getty Images
Finally, security footage has emerged of Kim Kardashian's robbers.
For those living under a rock, Kardashian was robbed at gunpoint in the early hours of Oct. 3, 2016, in her Paris apartment. She was physically unharmed but very shaken, and the robbers, who were allegedly dressed in police uniforms, made off with the reality star's jewels, including a $4 million diamond ring from husband Kanye West.
France's M6 News obtained video (via TMZ) that reportedly shows three bandits on bicycles and two on foot arriving at the Hôtel de Pourtalès at 2:19 a.m. on Oct. 3, 2016. The suspects emerged from the premises about 48 minutes later at 3:07 a.m. One of the bicyclists appears to have a bag on his handlebars, which may have contained Kardashian's stolen jewels. It's unclear where the security footage was recorded, though previous reports suggest it may have been from a nail salon near the hotel.
As Nicki Swift previously reported, the Bel Ange nail salon may have caught the thieves on their CCTV cameras. "[The owner] wasn't even allowed to view it herself but [the police] told her what was on it," a source told The Sun. "They said it showed their faces. The upstairs camera caught the gang in a mirror which looks out onto the street. It shot them perfectly as they made their way inside this shopping area and then a second camera got them as they made their way through an unlocked corridor to the car park. Police told the owner it has given them the best lead yet." Unfortunately, TMZ later reported the salon's footage didn't actually show enough to identify the perps.
One place that it's safe to assume the footage didn't come from is the Hôtel de Pourtalès itself. As Nicki Swift previously reported, the hotel's concierge said the complex was very lax about security. "The hotel doesn't mind about security," the concierge told the Daily Mail. "We told them years and years before, you have to make a camera, you have to put [in place] a security process, about keys. Nothing was locked, there was no proper security there," he said. "There is a camera in the main wall of the hotel, behind the big red [front] doors, but it didn't work for years."