Bob Dylan's Had An Interesting Love Life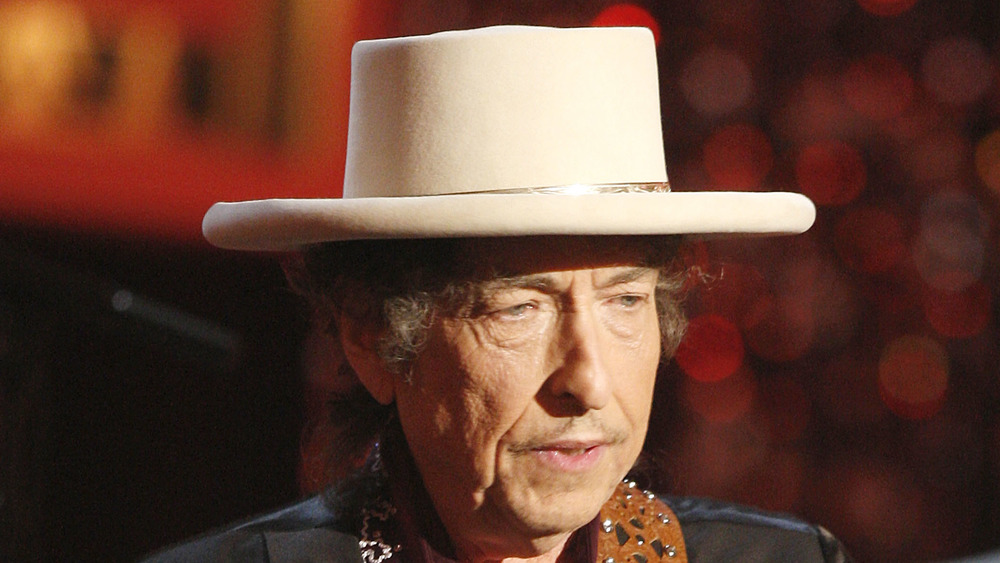 Kevin Winter/Getty Images
From Katie Holmes and Jamie Foxx's secret romance lasting years to Lady Gaga's recent "normal mystery man" boyfriend, many celebrities work hard to keep their relationships private. And when it comes to music icon Bob Dylan, many answers are similarly "Blowin' in the Wind."
Bob Dylan has been a music trailblazer for decades, from the protest era up to his critically acclaimed 2020 album, Rough and Rowdy Ways. Since the beginning, he's written his own rules for what he wants to do creatively and how he wants to be perceived. The elusive singer famously evaded the "voice of a generation" moniker in the 1960s, instead insisting he was simply a "song and dance man," per Rolling Stone. And he infamously switched from acoustic to electric guitar at the Newport Folk Festival, alienating a large part of his base back in 1965. Yup, Bob Dylan has always strummed to the beat of his own guitar, which extends to how much the public knows about his love life.
The singer appeared arm-and-arm with girlfriend Suze Rotolo on the cover of his second album, The Freewheelin' Bob Dylan, per Independent. "She was the most erotic thing I'd ever seen," he wrote in his 2004 memoir, per Rolling Stone. That influential relationship turned sour when he began dating musician Joan Baez, but that 1965 tryst was also short-lived. So what about since then? The details are murkier than you may think. Scroll down to find out about Bob Dylan's mysterious love life.
Bob Dylan has kept his relationships, and a marriage, under wraps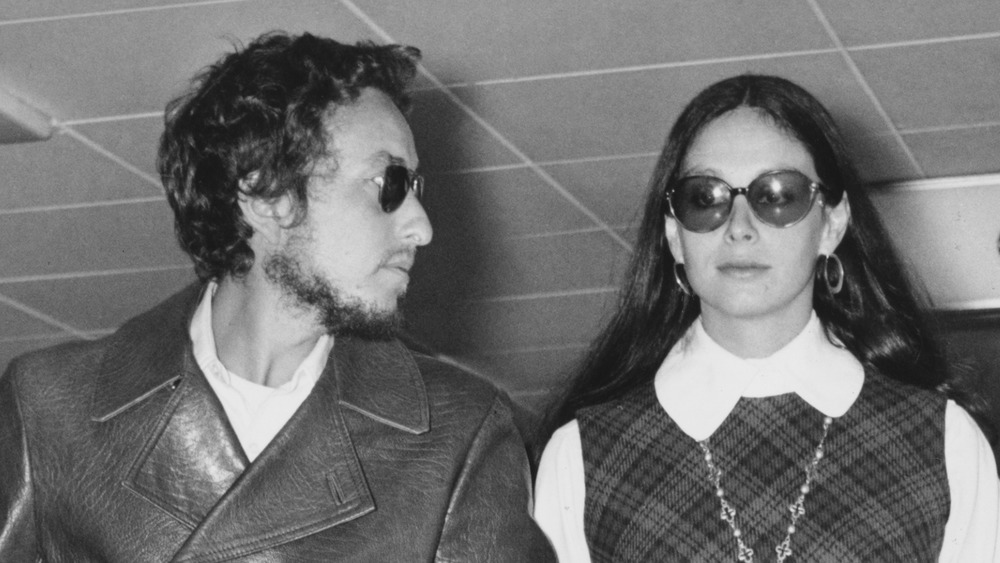 Evening Standard/Getty Images
So what do we know about Bob Dylan's love life? The musician first married Sara Lownds in 1965, per Rolling Stone, with whom he shares four children. She was the subject of songs like "Sara" off of his 1976 album, and more. But they divorced in 1977. And here's where things get strange. 
Bob Dylan tied the knot to backing singer Caroline Dennis in 1986, and the two share one child, Desiree, and remained married until 1992. But according to ABC, both the marriage and Desiree were kept a secret from the press for 15 years. Yup, it was only in 2001, years after their divorce, that the public found out about the marriage and child. The secrecy was a shared decision, according to Dennis. "Bob and I made a choice to keep our marriage a private matter for a simple reason — to give our daughter a normal childhood," she said in a statement. 
Since then, Bob Dylan's love interests have been a mystery — and obviously, he's skilled at keeping his affairs private. That said, his children have gone on record saying he was a loving father. "Yes, he was affectionate. When I was a kid, he was a god to me for all the right reasons," son Jakob Dylan said (via Independent). "He never missed a single Little League game I had. He's collected every home-run ball I ever hit." Aw. Ultimately, Dylan's romantic history is his business, though it's a tale as complex as his music.