The Truth About The Bachelorette's Uzoma 'Eazy' Nwachukwu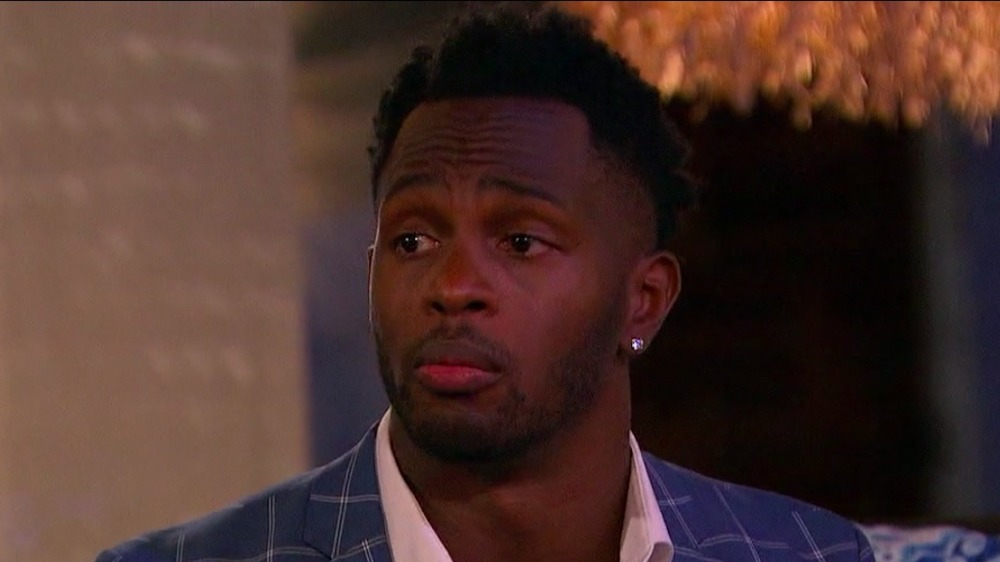 The Bachelorette/ABC
Uzoma 'Eazy' Nwachukwu made a running start on his Bachelorette season 16 debut when he literally ran through a sign that read, "Your future husband." He continued his slick moves by telling Clare Crawley (via Bachelor Nation) that "I used to play football and I want you to know you will always be my first-round draft pick." If his well-planned picked up line and entrance wasn't enough, his salmon-colored suit certainly made him stick out. Eazy also offered some comedic relief for the night by commenting on other contestants' arrivals. For example, he joked that he didn't bring a snack to the event. "I thought we were here to meet Clare. Now it's turning into a potluck," he said. 
Fans have noticed that Eazy has not been featured in recent episodes of The Bachelorette. He is, however, still competing for Tayshia Adams' heart, who replaced Clare when she fell in love with, and got engaged, to Dale Moss earlier in the season. While ABC has made no formal remark about Eazy's noticeable absence, Bachelor Nation fans are pretty certain they know why. Here is the truth about The Bachelorette's Uzoma 'Eazy' Nwachukwu.
Uzoma 'Eazy' Nwachukwu wants to tackle love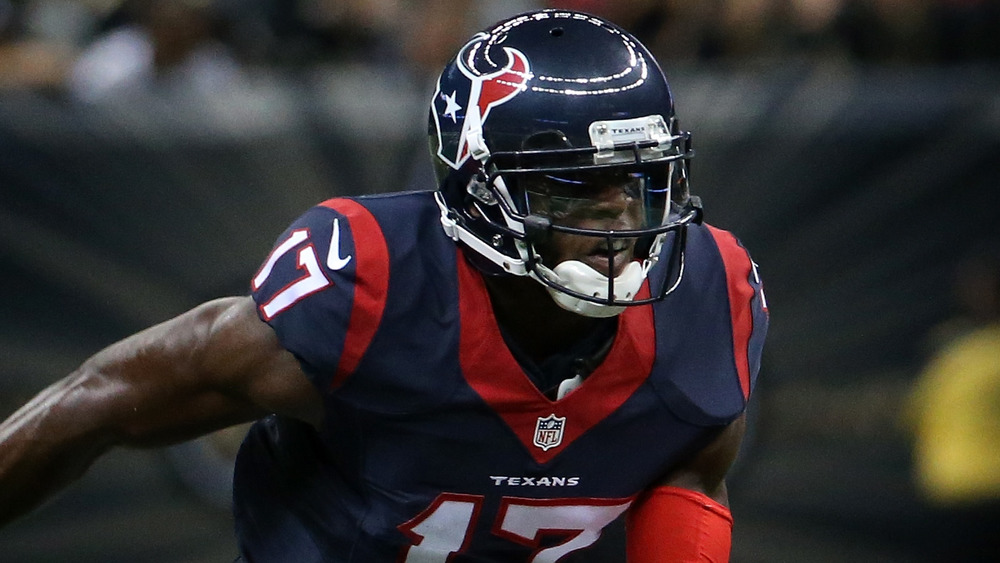 Chris Graythen/Getty Images
Uzoma 'Eazy' Nwachukwu was a professional football player for four years, according to Heavy. He signed with the Houston Texans as an undrafted free agent in the 2013 NFL Draft, and then played briefly for the Miami Dolphins, Seattle Seahawks, and Dallas Cowboys. His NFL career ended after the Cowboys released him in September 2017. He now works for Athletes First as an NFL marketing agent, which is the same firm that represented him and Aaron Rodgers, who in 2016, proposed to JoJo Fletcher on her season of The Bachelorette.
This also isn't Eazy's first stint on reality TV. He was featured on the HBO series Hard Knocks, which documented NFL training camps and the struggles players endured like fighting for playing time and other career opportunities. This time around, he thinks his time on television has been "refreshing," as he told Bachelor Happy Hour in October.
While Eazy's NFL career wasn't particularly long, he is ready to make a touchdown in his love life by finding his partner in crime. According to his Bachelorette profile, he describes himself as a hopeless romantic who is looking for a woman with passion for her career, but who also knows how to take a break and have fun. Eazy may have the handsome looks and personality to woo Bachelor Nation fans, but apparently, his experience with women has caused concern.
A woman made serious allegations against Uzoma 'Eazy' Nwachukwu
Shortly after Bachelor Nation fans met Uzoma 'Eazy' Nwachukwu, a woman made serious allegations about the former NFL star. In the first of now several deleted tweets, she wrote, "I will not stand by quietly anymore, while this aggressor is paraded around on this show as a 'stand up guy' or as the 'comic (per Heavy).'" In an interview with Heavy (updated Dec. 1, 2020), the unidentified woman said that she spoke with The Bachelorette's production team, and the show's legal team discussed the allegations with Eazy. "That's why it's he said, she said," she told Heavy. "He said consensual, I said not." 
Prior to the Heavy interview, blogger Reality Steve told fans not to expect to see much of Eazy and later claimed ABC would do their best to edit Eazy out of the show. However, Screen Rant noted that it is almost impossible to completely remove Eazy from all scenes due to the large number of group shots in The Bachelorette.
It is unclear what will happen if Eazy makes it far into the show, but from the several (beware: spoilers) reports circulating, it seems that no one is too concerned about that. Fans can watch the men — and possibly catch a glimpse of Eazy — as they battle for Tayshia Adams' heart on ABC every Tuesday evening.
If you or someone you know has been the victim of sexual assault, you can call the National Sexual Assault Hotline at 1-800-656-HOPE (4673) or visit RAINN.org for additional resources.