The Truth About Wendy Williams And Kris Jenner's Relationship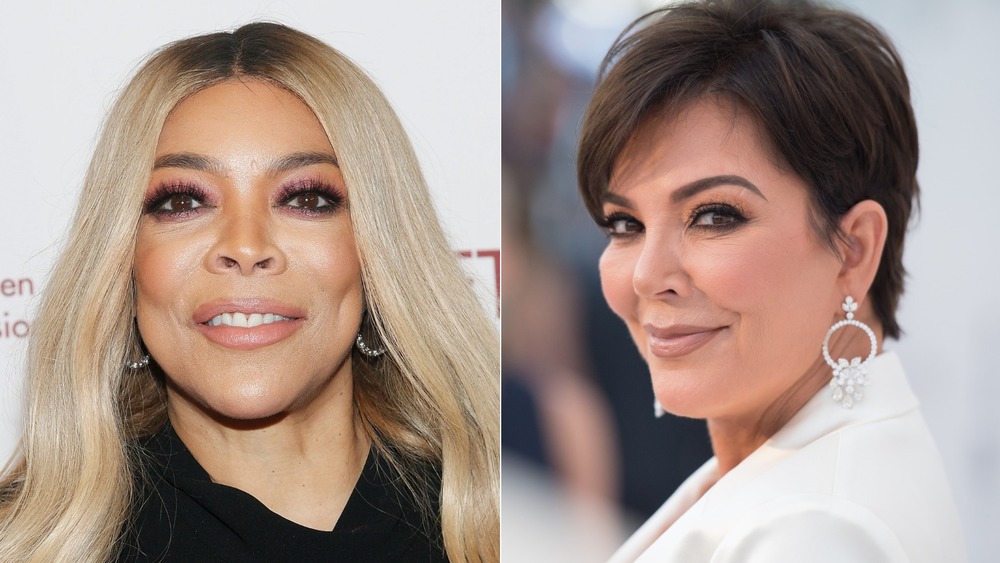 Lars Niki, Ryan Emberley/amfar/Getty Images
Although Wendy Williams is often the subject of controversy, it's rare that we hear of her genuinely not liking someone. The renowned talk show host doesn't always have the nicest things to say about celebrities on The Wendy Williams Show, and it makes sense that she has made enemies along the way. However, one celeb in specific struck a nerve with Williams: Kris Jenner. 
The history of Jenner and Williams' relationship is rather interesting. Williams, who isn't afraid to be candid about her opinions, is no stranger to dissing the Kardashian-Jenner bunch on-air. In 2016, Williams slammed Kanye West for targeting Wiz Khalifa and ex Amber Rose in a lengthy Twitter rant, according to Us Weekly. In the same breath, unfortunately, Kim Kardashian West caught some flack from the TV personality. "You gave this stripper [Amber Rose] her come up," Williams said. "By the way, we recall meeting your wife on her back." 
Williams' digs at the Kardashian-Jenner family didn't stop there. Her "beef" with Jenner is something many viewers picked up on, considering she refers to Jenner as "that woman" and has criticized her parenting skills on several occasions. However, it seems that things might have changed between Williams and Jenner. Here's where they stand now.
Wendy Williams made amends with Kris Jenner
After Wendy Williams filed for divorce from Kevin Hunter, she made it her mission to take on some pretty interesting life changes. In a personal rebrand following her hiatus from The Wendy Williams Show, the talk show host has blossomed new friendships with some of the people she'd trash-talked on the show previously. In 2019, Williams established a short-lived friendship with Blac Chyna following a long time feud between the two. Out of all of Williams' redemption friendships, her budding bond with Kris Jenner and the Kardashian-Jenner family has raised the most eyebrows.
In June 2019, Williams shared a few snapshots with Jenner and Kim Kardashian West. It wouldn't be until July 2019 that Williams addressed the situation on her show. On a July 8, 2020 episode of The Wendy Williams Show, she used the "Hot Topics" segment to discuss where she stands with the KarJenners after having lunch with them. "First, I would like to give love to the Kardashian-Jenner family. Kim and Kanye are lovely," Williams said. "Kris is — first of all, I joke with you when I call her 'that woman.' She is that woman, and I mean that in the best way... Kris totally deserves every bit of success she has." 
That didn't mean Williams planned to stop talking about the Kardashian-Jenners on her show. But according to the talk show host, she will confirm details with Jenner the night before. Talk about a happy ending!