Nearly 33% Of People Say This Is Their Favorite Taylor Swift Song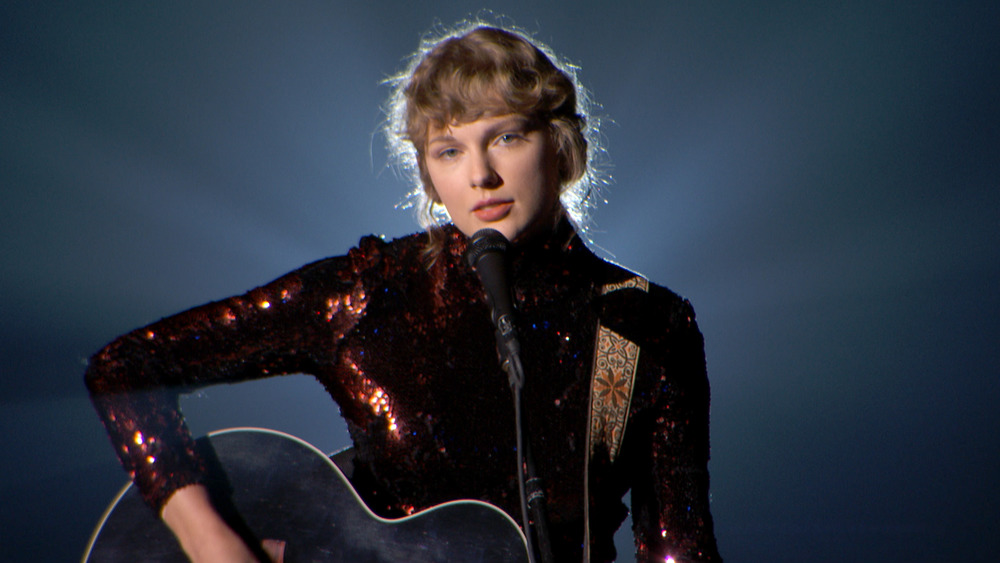 Acma2020/Getty Images
Fact: Good breakup songs never go out of style. Depending on who you ask, Timbaland's "Apologize" featuring OneRepublic, Justin Timberlake's "Cry Me a River," and The Weeknd's "Heartless" may make the top track. But since we're talking about breakup music, we can't forget the queen Taylor Swift, who seems to turn every ex-boyfriend into a Billboard hit.
Whether it's the old-school classics — like Swift's "Teardrops on my Guitar" and "Back to December" — or newer hits like "My Tears Ricochet" and "Happiness," Swift has routinely come out with melodies that can simultaneously feel like a warm sweater for a broken heart or a shot of the strongest drink you'd need before hitting the dance floor with your girls. 
So, which Swift track do you think her army of Swifties most relate to? Out of the dozens of songs the singer-songwriter has released over nine studio albums, there can only be one winner. Check out the results from Nicki Swift's poll below.
Fans can't seem to shake this song off
Perhaps because of Taylor Swift's numerous and notorious breakup songs, it's not surprising that one of them made the list as a fan favorite. In a Nicki Swift poll with 607 respondents, nearly 33 percent, or 198 people, said "Shake It Off" was their all-time favorite Swift song. The song won out over other hits, like "Blank Space" and the evergreen "You Belong With Me." And it's not only fans that have recognized the song's worth. In 2015, the Nashville Songwriters Association International recognized it in their awards. In 2015, the song was nominated three times at the 5th Annual Grammy Awards for Record of the Year, Song of the Year, and Best Pop Solo Performance, as per Billboard.
However, the song has stirred up some controversy as well. Two songwriters, Sean Hall and Nathan Butler, accused Swift of copying their lyrics from their 2001 song, "Playas Gon' Play," as per NME. While the court case was originally dismissed in 2018, the case's relevance was renewed in 2020 when a Los Angeles judge gave a green light for the case to be heard, according to Deadline.
Hall and Butler say their work was "culturally appropriated" at the hands of "well-financed Goliaths." Swift's team told Billboard in a statement that the phrases used in the song were "public domain cliches." "These men are not the originators, or creators, of the common phrases 'Players' or 'Haters' or combinations of them," they said.