Are Anne Hathaway And Emily Blunt Friends In Real Life?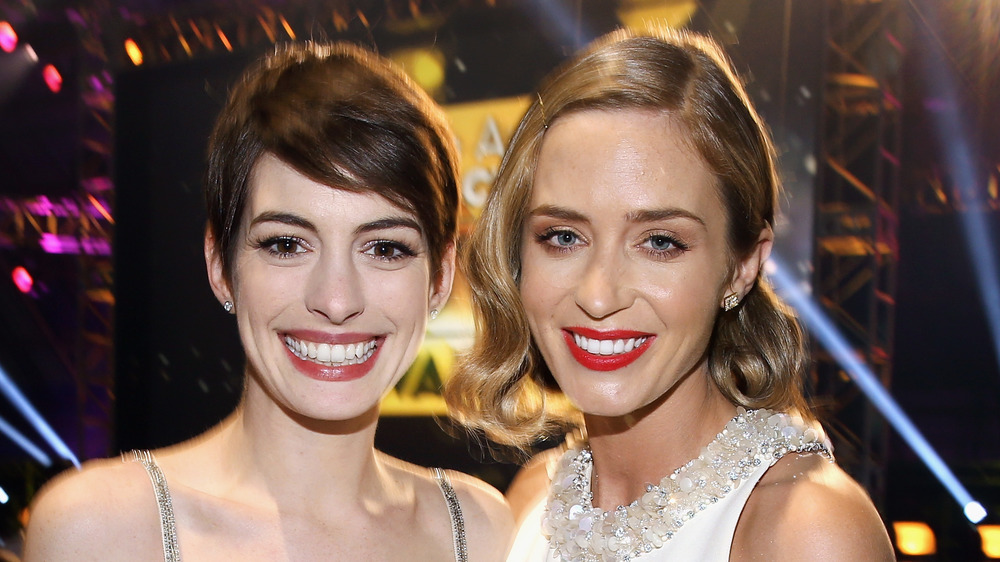 Christopher Polk/Getty Images
Anne Hathaway and Emily Blunt first met on the set of the 2006 movie The Devil Wears Prada. The actresses — who played Andy and Emily, respectively — were the perfect example of coworker frenemies. The duo ramped up their characters at the Oscars, fighting over who had more love for The Devil Wears Prada co-star Meryl Streep. But, are these actresses friends or frenemies in real life?
The friendship between Hathaway and Blunt started on set, according to IMDb, with the actresses becoming so close that Blunt even calls her co-star "her rock." Hathway gushed about her Prada co-star to Entertainment Tonight, revealing (via Yahoo), "Emily, we just really bonded on The Devil Wears Prada, so to be there with one of my favorite people that I've met at my job, you know, was really special."
Hathaway further made it clear Blunt is one of her favorite people after the A Quiet Place actress won a SAG award in 2019 (via Access Hollywood). The Witches star took to Instagram to celebrate her dear friend with the caption,  "Yaaaaaaaaay."
John Krasinski apparently wanted to date Anne Hathaway originally, not Emily Blunt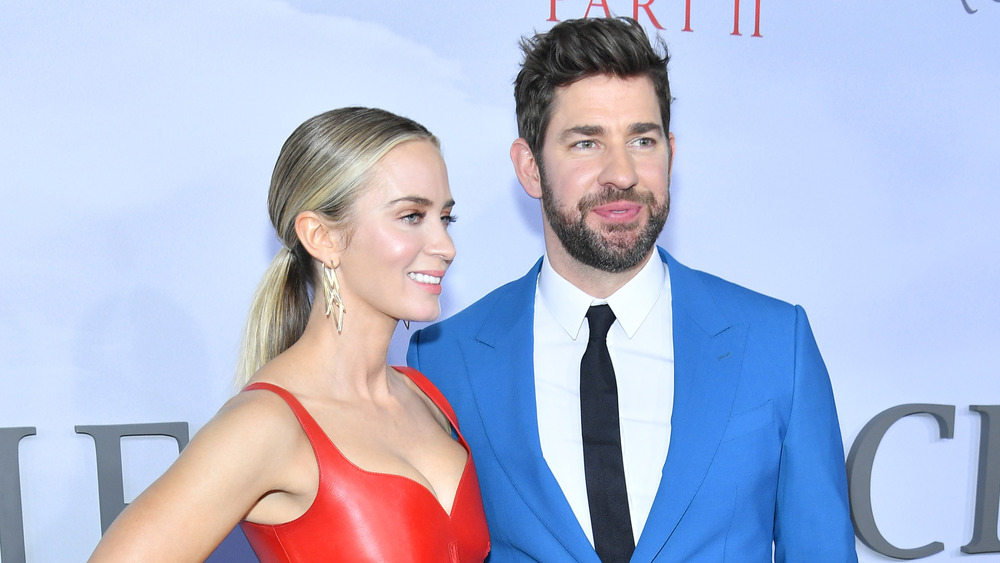 Roy Rochlin/Getty Images
Emily Blunt's time on A Quiet Place not only led her to a SAG Award, but also extra bonding time with her husband, John Krasinski. During an appearance on The Graham Norton Show in 2018, Krasinski revealed that he was a big fan of his wife in The Devil Wears Prada prior to meeting her. "It's just one of those movies that whenever you're going through the channels, you just stop and you look," Krasinski said on the show (via People).
The actor also joked that he was initially hoping to go out with Blunt's friend and co-star, Anne Hathaway, instead. He recalled his reaction when meeting Blunt, "When we first met, I was like, 'I just want to get it out of the way — I'm a huge fan of yours,'" before revealing, "I couldn't get Annie and so I was like, 'Ohhhh...'"
Despite Blunt's husband vying for Hathaway's attention, the admission clearly was all fun and games for Blunt and Hathaway's friendship. The Princess Diaries star posted a photo of the headlines stating Krasinski really wanted her, teasingly writing, "John, I'm only with Adam because I couldn't get Emily." The Adam in question is, of course, Hathaway's husband, Adam Shulman.