The Truth About Meryl Streep's Husband Don Gummer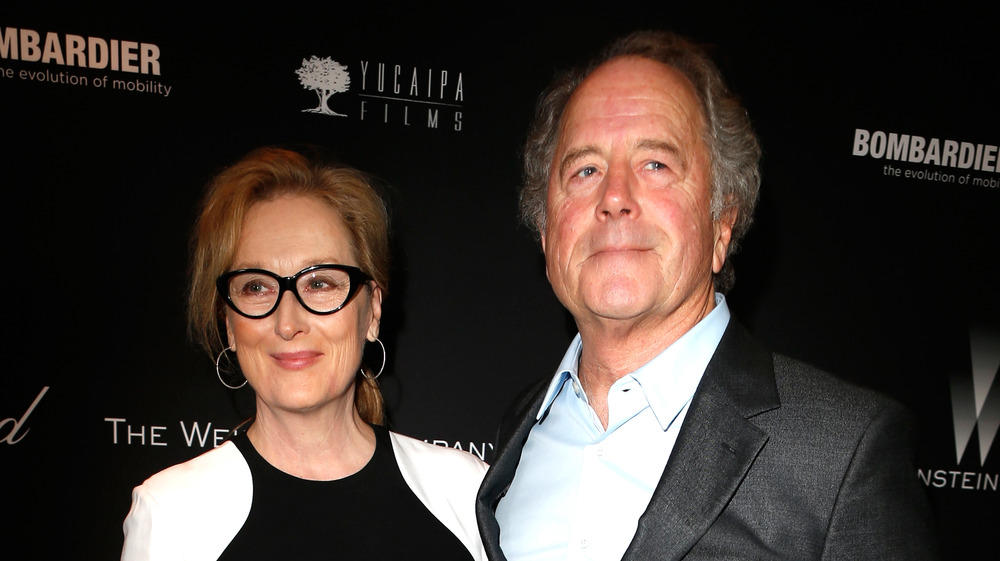 Jeff Vespa/Getty Images
Award-winning actress Meryl Streep is quite the formidable presence. (We will never forget her legendary role in The Devil Wears Prada, in which she made her struggling fashion assistant, Andy, played by A-list actress Anne Hathaway, literally cower in fear.) But when Streep is off the set, it appears she is just a sucker for romance with her long-time husband.
But who is the patient and loyal husband willing to serve as arm candy for such a successful woman? Meet Don Gummer: sculptor by day and dutiful stage husband by night. Over the years, Gummer has proved to be all-in when it comes to his talented wife, always standing by her side at her many red carpet and star-studded events, including award shows and premiere parties galore. Sounds like this man stays pretty busy!
As reported by Oprah Mag, the husband and wife have been married over forty years! That's a long time — especially in Hollywood years! But where and how did the two soulmates meet? And what is behind their recipe for a long-lasting marriage filled with patience and understanding? Keep reading after the jump to find out!
Meryl Streep and Don Gummer are both Yale grads
Kevork Djansezian/Getty Images
As the story goes, Meryl Streep and Don Gummer both attended Yale University, but the future lovebirds only met by way of Streep's brother, who enlisted the help of Gummer when she was moving, per Oprah Mag. Six short months later, the two were married. After marrying, the couple went on to create a pretty big family, complete with four children: one son, Henry Wolfe; and three daughters, Mamie, Grace, and Louisa.
And, while some may be quick to write Gummer off as just the husband of a successful actress, they would be wrong to do so. Gummer is very talented in his own right. As reported by Art Daily, the celebrated sculptor focuses on "large free-standing works," including outdoor pieces. According to the publication, Gummer's work has been featured in over two dozen solo shows, as well as many group shows. Pretty impressive!
While Gummer has somehow managed to fly relatively under the radar, it was Streep that acknowledged her ever-faithful husband during her 2012 Academy Awards speech, in which she took home the highly coveted award for Best Actress for Julie & Julia. "First, I'm going to thank Don because when you thank your husband at the end of the speech they play him out with the music, and I want him to know that everything I value most in our lives, you've given me," Streep declared. Aww!