Inside The Strange Claim Lamar Odom Is Making About His Ex-Fiancée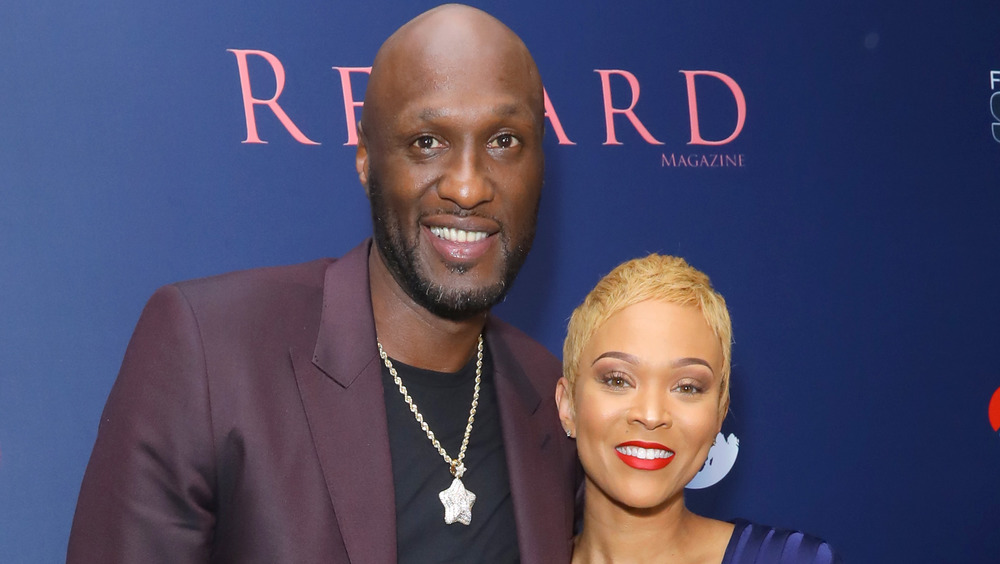 Jc Olivera/Getty Images
'Tis the season for more celebrity breakups. In the age of people sharing their life stories with the world online, the most popular form of public breakup announcements among Hollywood couples is through social media. While internet sleuths can point out a relationship's end by noticing lovebirds unfollowing one another, deleting pictures and posting cryptic messages on their Instagram Story, Lamar Odom's case is rather unconventional.
Odom took to social media in late December 2020 to accuse ex-fiancée Sabrina Parr of holding his social media accounts hostage. In the former athlete's Instagram post, he wrote: "Unfortunately my social media platforms are being held hostage by my ex and we are working hard to recover my passwords for IG and Twitter." 
According to Parr, however, Odom's inability to access his social media accounts is a result of him not being social media savvy. In a since-deleted Instagram Story, Parr wrote (via Page Six), "I find these accusations from Lamar & whoever he's working with extremely disappointing. We are no longer together and haven't been for a while. I've [chosen] to move in silence about the situation & I suggest you do the same. We both know the truth and I can assure you no truth is being told on their end." 
She also shared a screenshot of text messages between herself and Odom, allegedly from November 2020, where she wrote, "I don't have your passwords. You can reset it! I'm trying to show you how!!!!" Read on to find out what's going on with these hot and cold lovers.
Lamar Odom and ex-fiancee Sabrina Parr have a complicated relationship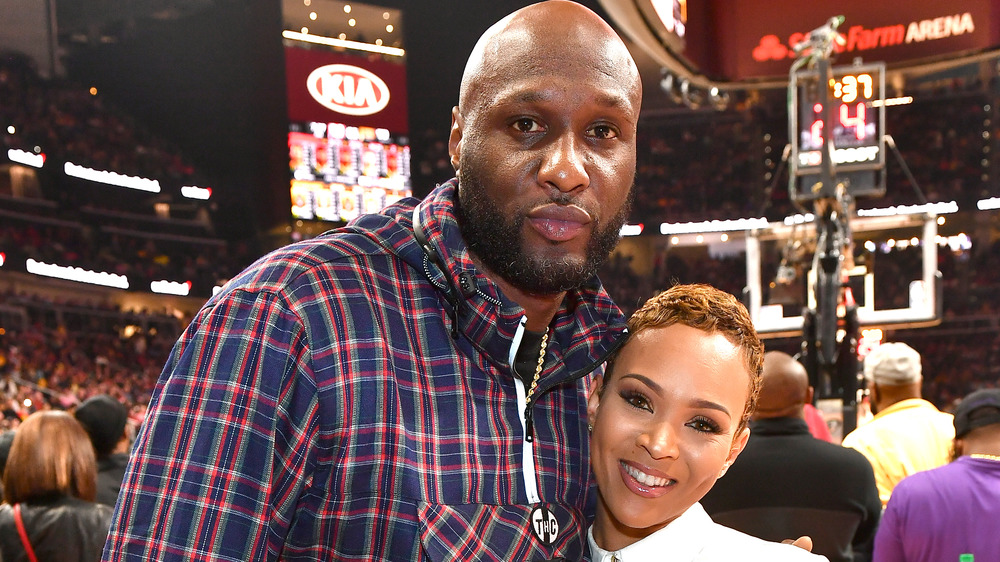 Paras Griffin/Getty Images
Although it's not the most unconventional post-breakup argument, Lamar Odom and Sabrina Parr's relationship is equally complicated. In November 2020, Parr confirmed the two had called off their engagement, nearly a year after initially announcing their intent to marry. "Y'all know I'm honest and transparent so I have to be the first to let you guys know that I am no longer engaged to Lamar," Parr wrote in an Instagram Story (via People). "This has been a difficult decision for me to make but it is the best for myself and my children," she continued, adding, "Lamar has some things that he alone has to work through."
A week later, Parr shared a selfie of her and the former NBA player as they celebrated their one year engagement anniversary. The personal trainer later shared a now-deleted photo with Odom and her daughter celebrating Thanksgiving with each other. "So thankful to be surrounded by love on this day! Happy Thanksgiving from me to yours," she captioned the photo (via Page Six). 
Odom and Parr were slated to tie the knot November 2021, per US Weekly, but it's still up in the air whether the on-again, off-again lovebirds will make it down the aisle. We'll just have to wait for the next installment of their relationship woes.