Why Fans Think Lamar Odom And Sabrina Parr Are Back Together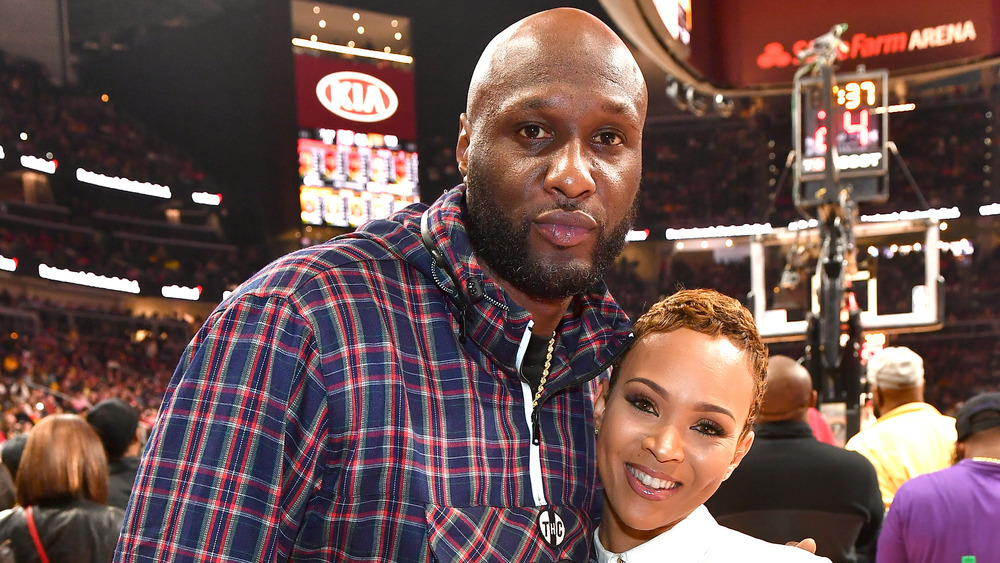 Paras Griffin/Getty Images
It looks like Lamar Odom and Sabrina Parr might be working things out just one week after announcing their breakup. The personal trainer previously told fans she's "no longer engaged to Lamar" in a lengthy Instagram post on Nov. 4, but only eight days later, she appeared to be singing a different tune as she posted a photo of the former athlete planting a sweet kiss on her cheek (via People).
Although fans might be struggling to keep up with their relationship status, the couple has a tendency to move fast. After their relationship became public in August 2019, the two often gushed over each other on social media. "My post goes out to the new leading woman in my life, that I'm gonna tell everyday how beautiful she is, from the inside out," Odom wrote on Instagram at the time in a now-deleted post, per Us Weekly. "Thanks @getuptoparr for teaching me what real self-value means. It changed my entire mindset." The couple later announced their engagement after only three months as an item in November 2019 and later set a wedding date for Nov. 11, 2021.
Odom has been known to move quickly when it comes to love, especially after he wed ex-wife Khloe Kardashian just one month after meeting her in 2009. Keep scrolling for more details about why fans think Odom and Parr might be on the mend.
Lamar Odom and Sabrina Parr celebrated their one-year engagement anniversary
Sabrina Parr made it pretty clear that she and Lamar Odom had a few issues that contributed to their split, writing, "This has been a difficult decision for me to make but it is the best for myself and my children. Lamar has some things that he alone has to work through" in her breakup announcement, per her Instagram Story (via People). "I love him dearly, but I am no longer able to be by his side while he seeks the help he so desperately needs." Despite her very direct message to fans, it seems like their love for one another was stronger than their differences.
Just eight days after announcing that they were no longer a couple, Parr shared a selfie to her Instagram Story with the baller celebrating one year as fiancé and fiancée. "Made it in time to celebrate our 1-year engagement anniversary @lamarodom," she wrote on a loving photo of the two on Nov. 11, 2020. She also shared a throwback video from their celebratory engagement dinner one year prior and posted several videos from her day of traveling, including one clip of what appears to be Odom walking through a hotel lobby. It seems like the pair took a little vacation to work on their differences, but while she didn't say for sure if their plans to say "I do" are back on, it's clear these two just can't stay away from each other.