The Truth About Dr. Dre And Eminem's Relationship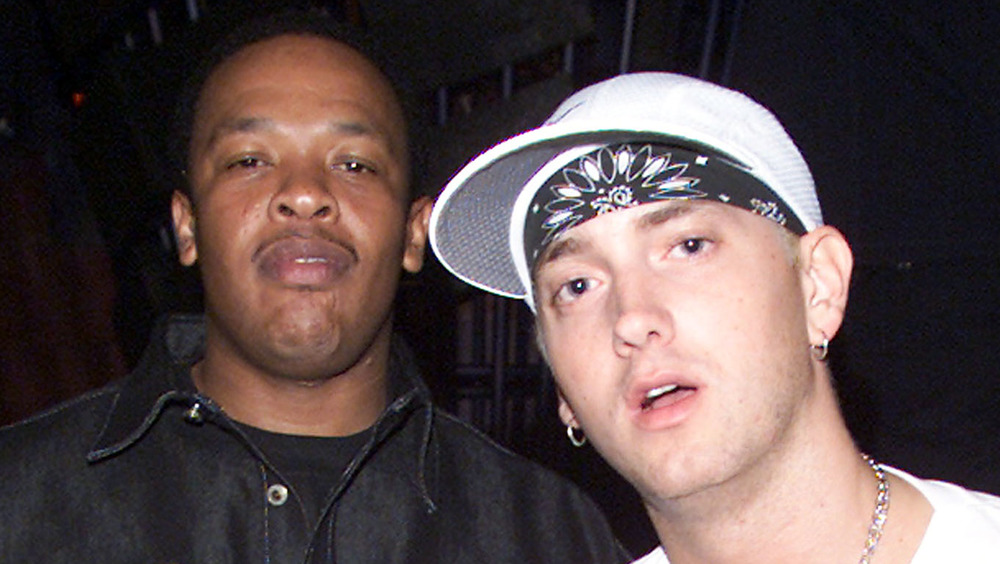 Frank Micelotta Archive/Getty Images
With the news that rapper, producer, and hip-hop mogul Dr. Dre was hospitalized on Jan. 5, 2021 for a brain aneurysm at Cedars Sinai Medical Center in Los Angeles, many of his fans, followers, celebrities, and protégées took to social media to express their best wishes for his recovery. (Dre, who as of the time of this writing is reported to be "lucid" and in stable condition, per media outlets such as Page Six, even took to social media himself to assure fans of the state of his health and thank them for their outpouring of support.) 
But among those who have remained close within Dr. Dre's social sphere, one notable voice was conspicuously silent — the hip-hop artist Eminem, who, many would argue, is indebted to Dr. Dre for his career in the music industry. Why has Eminem remained silent? Could it simply be due to a willingness to deal with Dr. Dre's health scare in private? Does it reflect upon his current dynamic with Dr. Dre, and are there any other feuds in the mix that might have something to do with it? Here's the truth about Eminem's relationship with Dr. Dre.
Dr. Dre and Eminem are still tight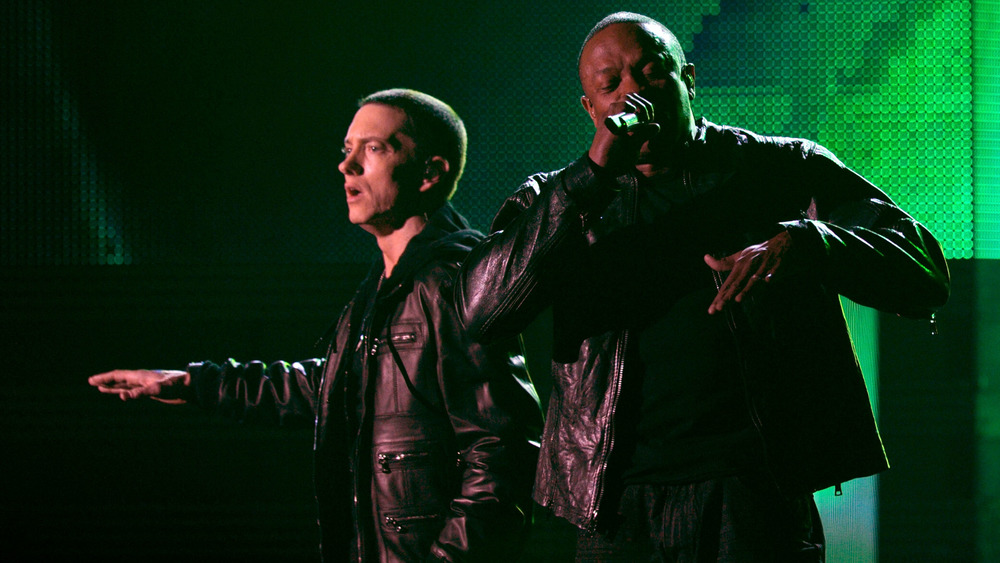 Kevin Winter/Getty Images
While rapper Dr. Dre was already established as a hip-hop legend long before his mentee, Eminem, released his star-making EP Slim Shady in 1997, it was his subsequent mentorship of the then-up-and-coming performer that, in part, cemented his reputation not only as an artist, but as a kingmaking producer. Dre took the younger rapper under his wing, collaborating with his protégé on best-selling albums such as The Marshall Mathers LP and The Eminem Show, as well as the 2001 hit single "Forgot About Dre." And while the realm of hip-hop is well-known for it's myriad feuds, the connection between Eminem and Dre has seemingly stood the test of time. 
Though Eminem has garnered a long list of enemies within the music industry over the course of his decades-long career, his loyalty to Dre has remained steadfast. Indeed, his reverence of Dre has extended to becoming a defender of sorts for the older rapper, sometimes taking on Dre's industry rivals as his own — including beefs with producer Jermaine Dupri, hip-hop mogul Suge Knight, and actor Will Smith. Despite the fact that Eminem has even gone as far as to feud with other members of Dre's protégé coterie — including Snoop Dogg – it seems that this friendship will, in the end, remain strong and intact.