Chrissy Teigen's New Look Is Turning Heads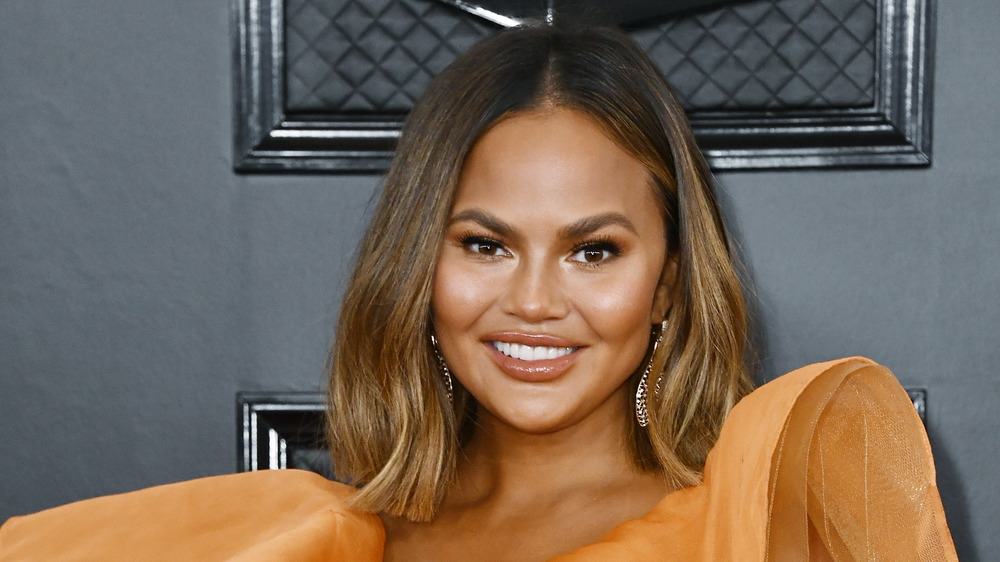 Frazer Harrison/Getty Images
Chrissy Teigen is known for keeping it real. Whether voicing her political opinions on Twitter, cracking jokes on television, or offering fans a sneak peek at her life via Instagram, Teigen is always entertaining her millions of followers on any given platform. But this time, she doesn't have people talking because of her witty words. It's her appearance that's snagging headlines — and rightfully so.
That's because Teigen is switching up her signature look with a more modern, fun hairstyle. And it's just the kind of change that could make staying inside during quarantine less monotonous and way more fun. In January 2021, the cookbook author debuted her new purple hair via Instagram after teasing a similar look a week or so prior. Suffice to say, we're obsessed.
However, she didn't dye her brunette locks for real; she went the wig route instead. Keep reading to learn more about Teigen's new 'do — and what other famous people have to say about it. (Spoiler alert: This may leave you grabbing some purple hair dye, or scouring the internet for your very own bright-colored wig. Don't say we didn't warn you!)
Chrissy Teigen's purple hair reflects how she's 'always wanted to' look
Before actually committing to the new look, Chrissy Teigen got in on that Instagram trend of using a filter to swap her hair color, as pointed out by Page Six. Oh, the wonders of technology! With a head of lilac-hued (and Insta-filtered) hair, she wrote on the 'gram, "well I absolutely have to do this when I get home. I swear I'm okay! I realize this looks like I'm having a crisis lol I just wanna start looking the way I've always wanted to!!" Honestly, good for her.
In the comments section, fans — and fellow celebs — offered their support of the then-impending dye job. Teigen got Paris Hilton's approval; the Simple Life star gushed, "Loves it!" Real Housewives star Lisa Rinna posed the question, "What's her name?" Meanwhile, Vanessa Hudgens added, "Love u for saying that lol Ur gorge. Live your best life," with the last part punctuated by clapping emojis.
Indeed, it seems she is! Teigen followed through on getting her purple locks — a "full custom lace wig installed, provided and styled" by Jayy HairStyles — and captioned her Instagram gallery, "the wig life ... chose me." In one of several Instagram Story videos showing off the new look, she said, "Trying to figure out how to rock this now. It's confusing," before offering, "Join us on this journey of figuring out who we are."
You already know fans are buckling their virtual seatbelts, all set to follow along for the ride.