The Truth About Larry King And Piers Morgan's Relationship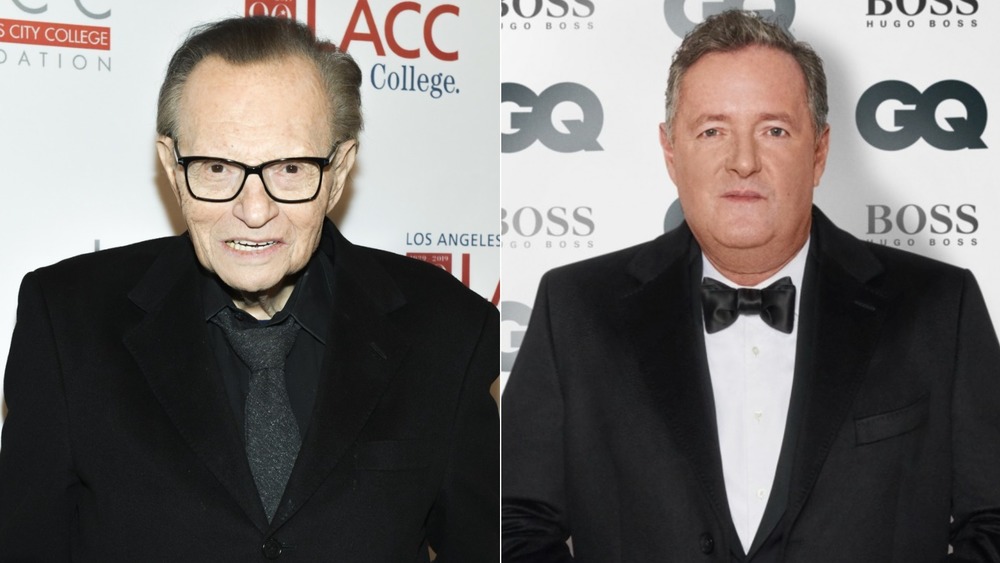 Rodin Eckenroth, Conde Nast/Getty Images
Based on what we've seen on TV, late talk show host Larry King was a pretty cool guy. Aside from his signature outfits and recognizable voice, his inviting personality and straightforward interviewing skills captured the hearts of many of his supporters. Don't let King's innocent face fool you — he could be critical and brutally honest, which might've been too much to handle for former CNN chat show host Piers Morgan. 
When the news broke of King's death on Jan. 23, 2021, Morgan joined the list of celebrities who publicly expressed their condolences. Morgan first offered a "RIP" to King on Twitter, regarding him as a "television legend." It was Morgan's follow-up tweet about the Brooklyn native that has everybody talking. "Larry King was a hero of mine until we fell out after I replaced him at CNN & he said my show was 'like watching your mother-in-law go over a cliff in your new Bentley.' (He married 8 times so a mother-in-law expert)," Morgan wrote. "But he was a brilliant broadcaster & masterful TV interviewer." As a result, the British journalist is facing serious backlash over the tweet. If you're wondering where King and Morgan's relationship stood prior to the former's death, read on!
Piers Morgan is Larry King's primetime successor on CNN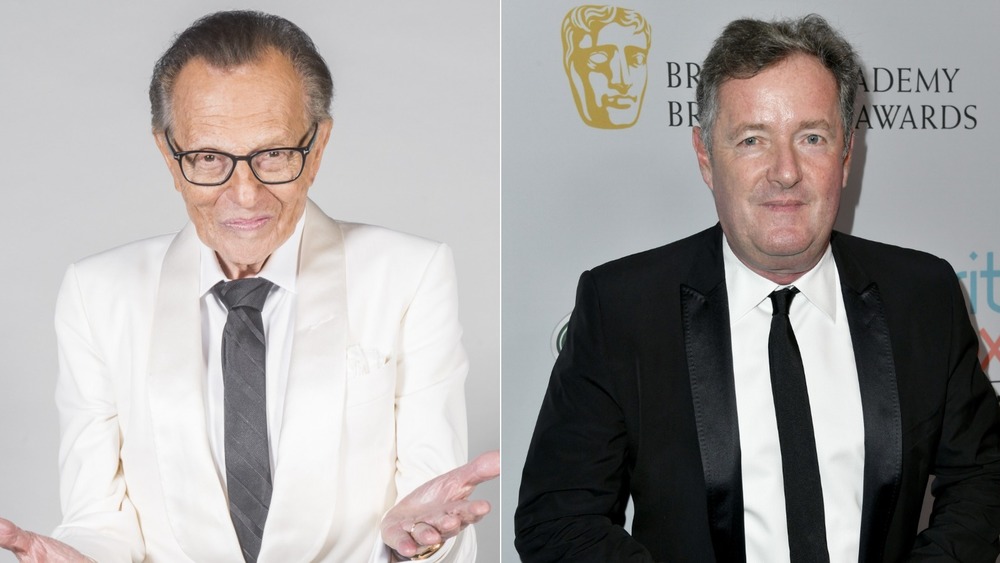 Michael Bezjian, Frazer Harrison/Getty Images
Amid the news of Larry King's death, Piers Morgan shared his condolences in an eyebrow-raising tweet. Following his tweet, critics slammed Morgan for his "disrespectful" tribute to his CNN predecessor. On the other hand, some people found Morgan's tweet to be in good taste. One user tweeted, "Y'all getting offended over something [Larry King] himself never would have been offended over..."
King and Morgan had a pretty icy relationship. After King's 25-year CNN run with Larry King Live ended in 2010, Morgan replaced King's prime-time spot a year later. Piers Morgan Live would later be canceled in 2014 due to low ratings. Around the time, King criticized his successor's interviewing skills. "My problem with Piers was, nothing personal, but he was the antithesis of what I was... it was all about him," King said in a November 2015 interview. "So when I was asked, I'm honest, I was asked, I said 'look, I like him personally, but that's not my type of show.'" He added that he felt that Morgan did not serve the audience well.
Although there's no real bad blood between the two hosts, Morgan doubled down on his tweet, later writing, "Larry hated me replacing him at CNN and never made any secret of it, which I found very sad because he was one of my heroes – but I still think he was a superb broadcaster & one of the all-time TV greats." Yikes, sure sounds like a backhanded compliment.