The Real Reason Rudy Giuliani Is Being Sued For A Billion Dollars
Chip Somodevilla/Getty Images
Less than a week after President Joe Biden was sworn in as leader of the United States on Jan. 20, 2021, it looks like Biden's biggest detractors — former President Donald Trump and his coterie of conservative lawmakers and pundits (many of whom backed Trump's baseless claims of voter fraud after he lost his bid for reelection in November 2020) — are facing the consequences of their actions. The latest among them is none other than former New York City mayor and Trump's one-time personal attorney, Rudy Giuliani, who is dealing with a lawsuit due to those same voter fraud accusations.
As The New York Times reported on Jan. 25, 2021, the company Dominion Voting Systems, a manufacturer who made and provided many of the machines used in the November 2020 election, has brought forward a suit against Giuliani on the basis of spreading misinformation about the company on national television, social media, and on his New York-based radio show and podcast. While the news of the lawsuit is bad enough for Giuliani in a post-Trump world (considering Trump has distanced himself from Giuliani in the past weeks), the amount Dominion is suing for — $1.3 billion — makes it a potentially even more devastating blow.
So what are the details behind the suit? And what exactly did Giuliani say to provoke it?
The lawsuit brought against Rudy Giuliani is all about voter fraud claims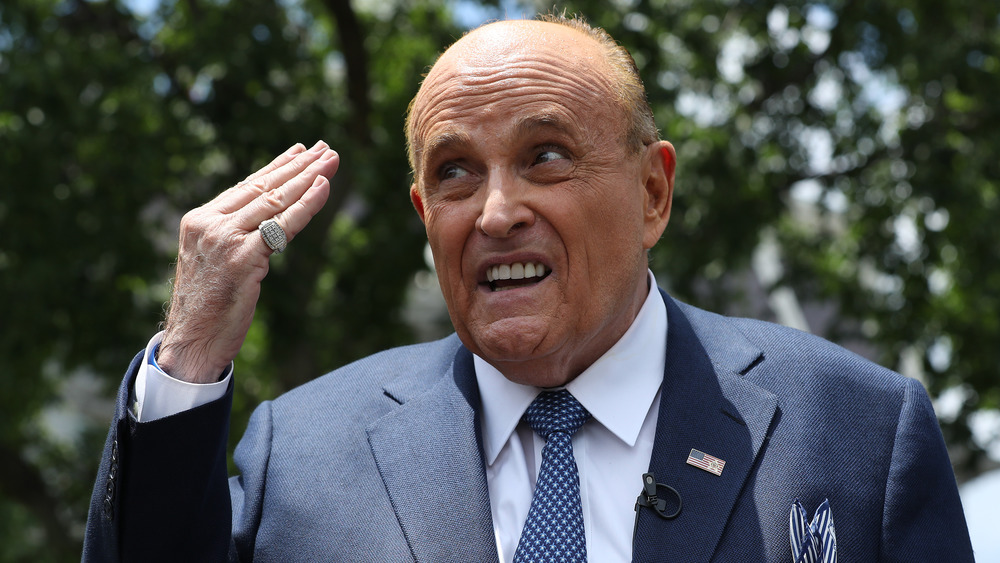 Chip Somodevilla/Getty Images
As CNN reported on Jan. 25, 2021, the suit against Rudy Giuliani was filed in the Washington, D.C. District Court alleges that Giuliani propagated a series of lies against Dominion in an effort to spread unsubstantiated accusations of voter fraud — in an attempt to challenge President Joe Biden's election victory in November 2020 and keep Donald Trump in office for a second term. But in doing so, per the suit, Giuliani tarnished the reputation of the manufacturing company to an extreme degree.
"Just as Giuliani and his allies intended, the Big Lie went viral on social media as people tweeted, retweeted, and raged that Dominion had stolen their votes," the lawsuit states. "The harm to Dominion's business and reputation is unprecedented and irreparable because of how fervently millions of people believe it." In short: the suit argues that Giuliani's claims that the Dominion machines were fixed in Biden's favor has done damage to their business on a massive scale.
As per The New York Times, among the stranger lies Giuliani purportedly disseminated about the manufacturing company was that, Dominion was "founded in Venezuela to fix elections for Hugo Chávez," a dictator who continuously rigged elections to keep himself in power (via Cato.org). As the suit corrected, Dominion "was founded in 2002 in [founder] John Poulo's basement in Toronto to help blind people vote on paper ballots."
Rudy Giuliani wants to countersue Dominion
Rey Del Rio/Getty Images
But as many media outlets reported, the lawsuit against Rudy Giuliani might only be the first step in gearing up for a bigger fish to fry: ex-President Donald Trump. According to The New York Times' January 2021 interview with Thomas A. Clare, the lawyer representing Dominion in the suit, the company is "not ruling anybody out" when it comes to pursuing legal action against parties who, like Giuliani, allegedly extensively damaged Dominion's reputation as a manufacturer. "Obviously, this lawsuit against the president's lawyer moves one step closer to the former president and understanding what his role was and wasn't," added Clare. As the NYT also noted, other parties that Dominion might also sue include Trump acolyte Mike Lindell, aka the MyPillow Guy, and conservative networks like Fox News.
Despite the looming nature of a $1.3 billion lawsuit, however, it seems that Giuliani is refusing to back down — and in fact, the attorney is planning to make a few litigious moves of his own. "Dominion's defamation lawsuit for $1.3B will allow me to investigate their history, finances, and practices fully and completely," Giuliani said in a statement about the suit, per CNN. "The amount being asked for is, quite obviously, intended to frighten people of faint heart." Giuliani then proceeded to blame the suit on "intimidation by the hate-filled left wing" and cited its cause as to "censor" free speech, adding that he plans to "investigate a countersuit against [Dominion] for violating these Constitutional rights."