Jim Nantz: How Much Is The Sportscaster Worth?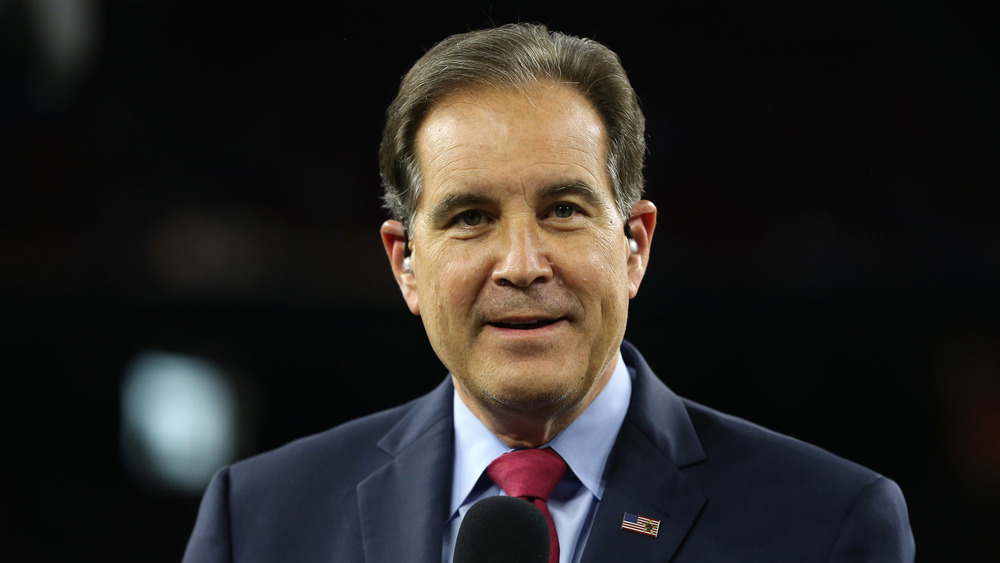 Streeter Lecka/Getty Images
As one of the most recognized faces in sports broadcasting, Jim Nantz is worth a pretty penny thanks to his work on CBS. In fact, Nantz has been a fixture at some of the major sporting events in the country since the 1980s, and shows no signs of slowing up anytime soon with his appearance at Super Bowl LV.
As the announcer is gearing up to cover the Kansas City Chiefs and Tampa Bay Buccaneers' record-breaking game, it sounds like he is partial to the Chiefs, considering his relationship with Patrick Mahomes. The two are actually quite close, especially after Nantz revealed he had Mahomes over to his own "half-size replica of the Pebble Beach Golf Links' seventh hole" at his home, he told NJ.com reporters, adding the athlete was determined to get a hole in one.
"His whole countenance changed once he stepped foot on that tee," Nantz recalled of their golf game to GQ Magazine. "He was sociable. He was who he is. He's just a great guy, convivial and all that, but I also saw him go to a place that I've recognized looking into the helmet a few times. 'I'm here to do something. I'm here to pull something off. I'm here to make history.'"
The relationships Nantz has made throughout his career clearly helped get him to where he is today. Keep scrolling to see the sportscaster's net worth.
Jim Nantz's net worth might be getting a lot bigger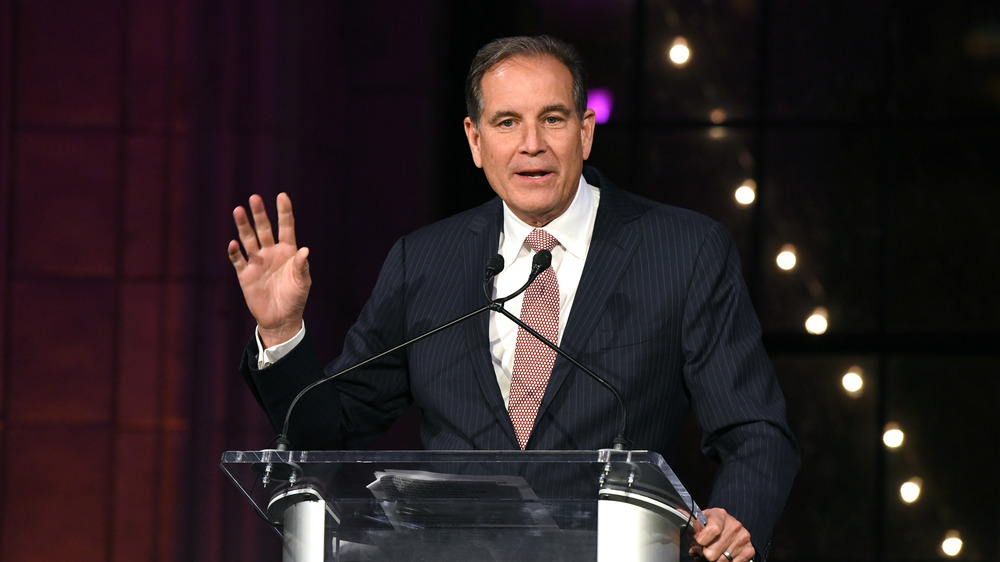 Michael Kovac/Getty Images
With countless accomplishments in his career as a sports broadcaster, it's no surprise journalist Jim Nantz has acquired such a hefty net worth. The reporter is worth an estimated $15 million, according to Celebrity Net Worth. However, his salary isn't much compared to fellow CBS announcer and former quarterback Tony Romo, who is reportedly paid $17.5 million from the network.
Nantz is allegedly seeking a bigger payday and wants "Tony Romo money," the New York Post reported in November 2020, with the outlet reporting that Nantz currently has a salary of $6.5 million a year. Although he is asking to "top" Romo's $17.5 million salary, he's definitely deserving of a raise with his three decades of work at CBS. "In the last 30 years, Jim Nantz has become the face and voice of CBS Sports," Nantz's agent, Sandy Montag, told the outlet at the time. "The network has become synonymous with his voice and his leadership." We're sure that Nantz has his fingers crossed for even more millions.