This Post-Super Bowl Hug Has Sports Fans Talking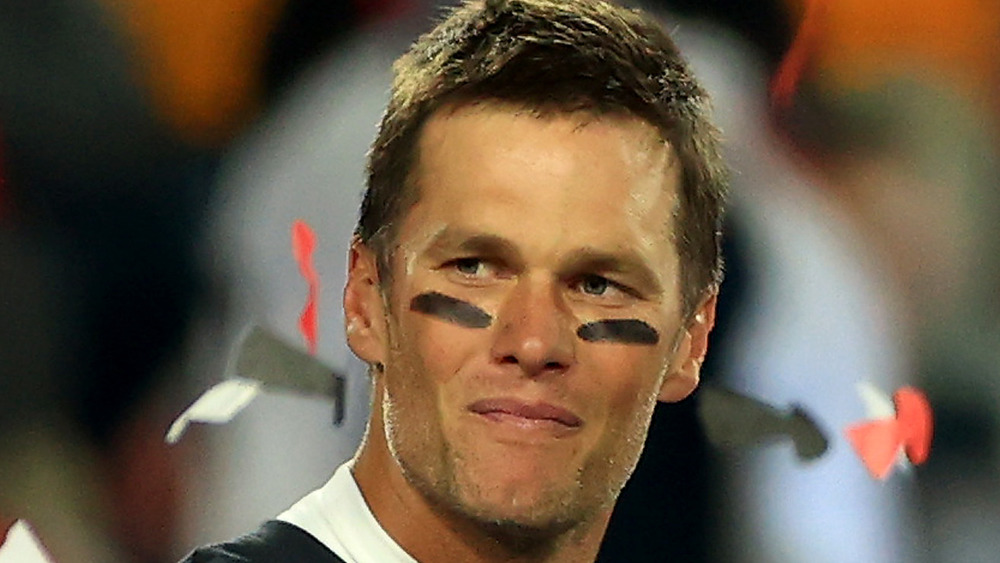 Mike Ehrmann/Getty Images
Super Bowl LV is now in the books after the Tampa Bay Buccaneers and the Kansas City Chiefs left it all on the field on Feb. 7, 2021, with the Bucs emerging victorious. Led by quarterback Tom Brady, the home team ran away with this one, defeating the Chiefs 31-9. That being said, the still-enjoyable match-up also resulted in a moment of sheer sportsmanship that you may have missed!
As confetti streamed and Gatorade poured, millions of viewers were moving on, putting their Buffalo dip into Tupperware containers and debating taking a Dramamine after The Weeknd's motion-sickness-inducing performance. Meanwhile, a brief and joyous exchange took place. On the field at Raymond James Stadium in Tampa, Fla., after the game was called, Brady and Chiefs quarterback Patrick Mahomes shared a moment of mutual respect. As captured by cameras, Mahomes approached Brady and went in for a hug. The two had a respectful embrace after an intense game, and Brady, per JustJared, could be overheard saying "keep in touch" (view the clip here). Meanwhile (at least to our ears), Mahomes can be heard telling the Tampa Bay Buccaneers quarterback, "you were awesome," before the two parted ways. Chivalry and sportsmanship are alive, indeed! It was sweet.
Although the Buccaneers won by 22 points, marking the team's second Super Bowl win and Brady's seventh win, it seemed both quarterbacks were in good spirits. Keep reading to see how the internet has reacted to Brady and Mahomes' epic bro-hug moment.
The internet is loving Tom Brady and Patrick Mahomes' "bro-ment"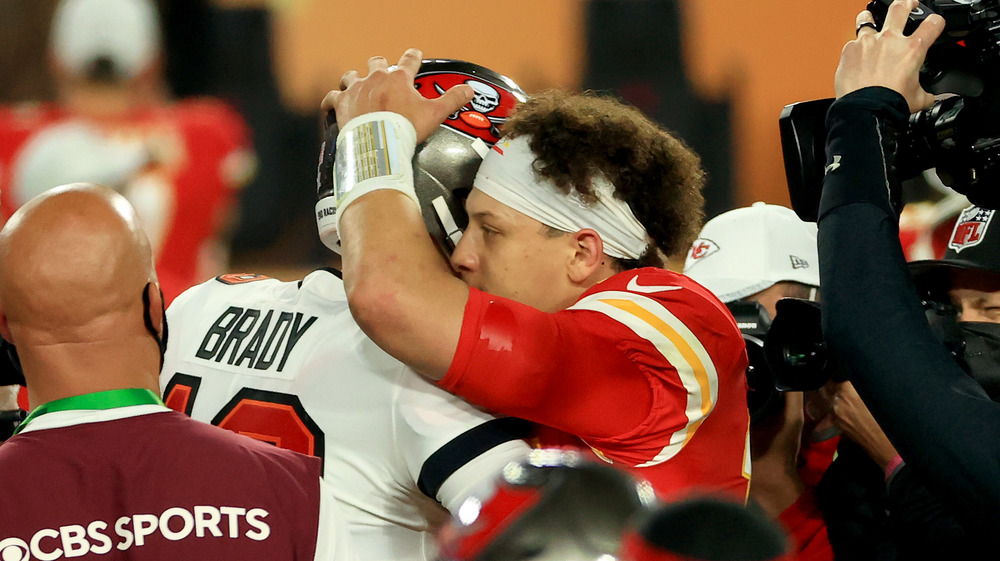 Mike Ehrmann/Getty Images
So how does the internet feel about Tom Brady and Patrick Mahomes' post-Super Bowl LV hug? Fans mostly thought the moment was a touchdown! "ok but why am I crying over that tom brady and patrick mahomes hug," one tweeted. "Two greats," the official NFL account wrote. "Pat Mahomes is a class act with a long runway ahead of him..." wrote a third. Mahomes is 25 years old as of this writing, while Tom Brady is 42. 
Another fan took issue with Brady's shady sportsmanship in the past. "Patrick Mahomes just had the worst game of his life, but he still had enough class to not only shake Tom Brady's hand but also hug him. How hard could have it been for Tom to do the same with Nick Foles?" the user penned, referencing the 2017 Super Bowl. Brady was on the New England Patriots then, and Foles the Philadelphia Eagles, who emerged victorious that year. During that game, per NBC, "Brady ran straight to the locker room rather than staying on the field to shake Foles' hand." 
"I didn't even think about that," Brady later said of the moment, per NBC. "I think Nick Foles is a hell of a player and a Super Bowl champ. I don't know one reason or another why I wouldn't do that. Sometimes I run off the field, sometimes I haven't." Well, perhaps Brady was making up for past errors! 
Patrick Mahomes' mom was a little less sportsmanlike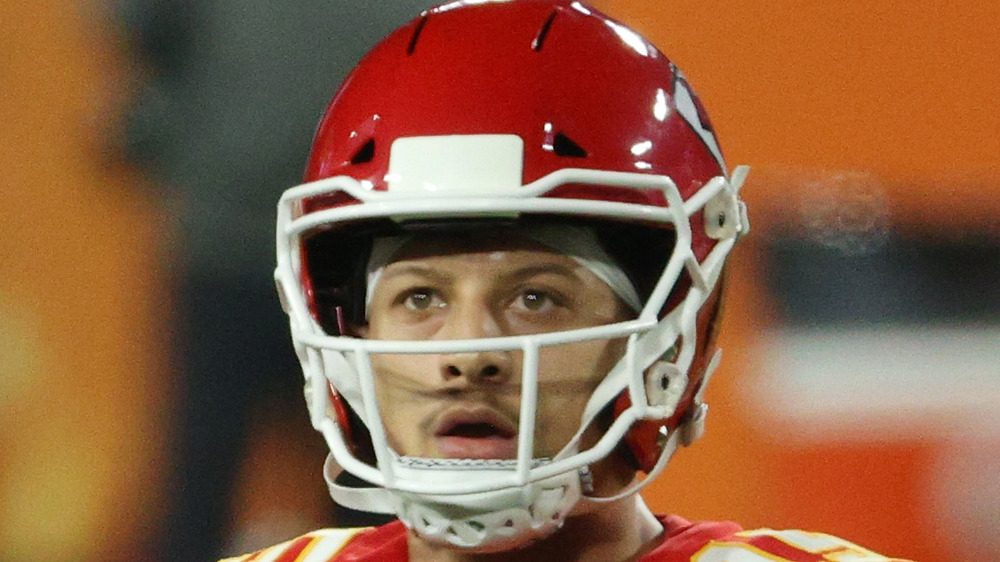 Patrick Smith/Getty Images
Patrick Mahomes and Tom Brady's "bro-ment" was a fine example of sportsmanship, as was Mahomes' humble reaction to his Superbowl LV loss. Mahomes said after the fact, per ESPN, that Tom Brady simply played a better game. "They were the better team today," Mahomes said. "They beat us pretty good, the worst I think I've been beaten in a long time... They took away the sidelines and they did a good job of rallying to the football and making tackles... They were just better than us." As ESPN wrote, "the loss was his [Mahomes'] first as a starter with the Chiefs by more than eight points."
That being said, not everyone on Mahomes' sideline was so kind about the runaway game. His mom, Randi Mahomes, took to the internet to say the Buccaneers' victory was a result of, per CBS, having "the officiating crew on her side." Yup, she blamed the refs in a particularly spicy tweet, sent before the game ended. "If you have to have the ref on your team is that really winning!!! @giseleofficial lol," she wrote, tagging Brady's wife, Gisele Bundchen, for added effect. Shady! 
The Ringer did note that "Kansas City was on the receiving end of some questionable calls," but even with a disproportionate number of penalty yards, it's hard to believe the game was intentionally rigged in any way. Regardless, Mahomes and Brady's hug showed us that there are seemingly no hard feelings between the two stars and there's always next year!