Why North West's Artwork Is Causing Such A Stir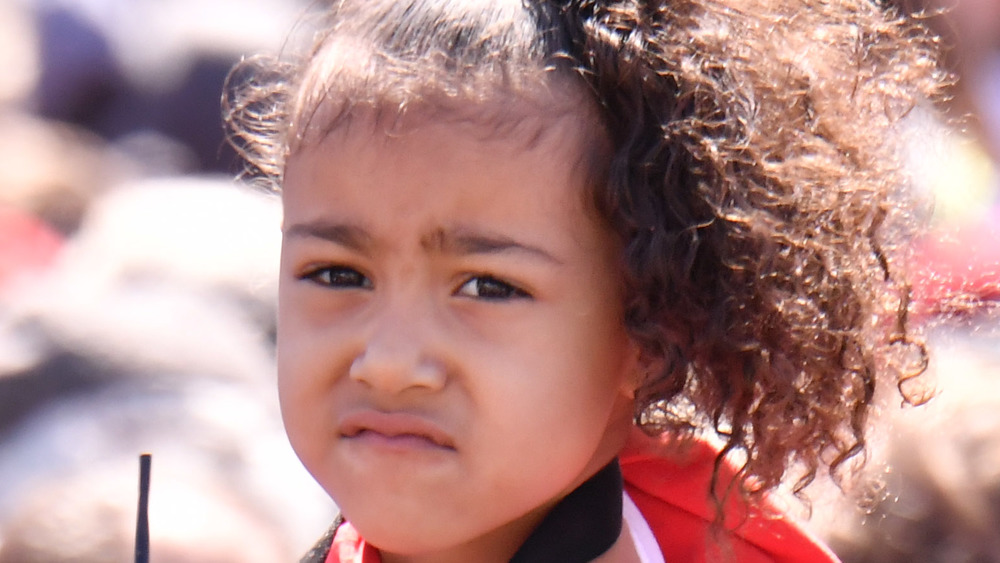 George Pimentel/Getty Images
Kim Kardashian's kids enjoy a glamorous life that includes over-the-top parties as well as surely endless opportunities. For instance, while North West could grow up to be a model thanks to her super-chic style, she could also use her creative talent to become an artist. Her mom proved just that when she "showed off an impressive landscape painting on her Instagram Story and claimed North West was the artist behind it," per Page Six. 
Us Weekly noted that the "mini masterpiece showed a lake scene with two trees in the foreground and mountains in the back." On top of that, North "covered the mountains in snow, added reflections to the water, and painted purple and white flowers." So pretty!
However, instead of being incredibly impressed by the Bob Ross-like work, there were a lot of people who thought that something weird was up. "I will bet anything (even my life) that this painting was not done by north west," one person tweeted, which echoed what many others felt about the piece of art. While Kim K's oldest child could have inherited some creative talent from her famous parents, plenty of people just couldn't get past her age, with another person tweeting, "THERE IS NO WAY THAT 7-YEAR-OLD PAINTED THIS."
That surely leaves you wondering what's going on. Well, read on to check out supposed proof that North may not have painted the piece and apparent evidence that she was the artist behind the amazing painting.
Did Kim Kardashian lie about North West's painting?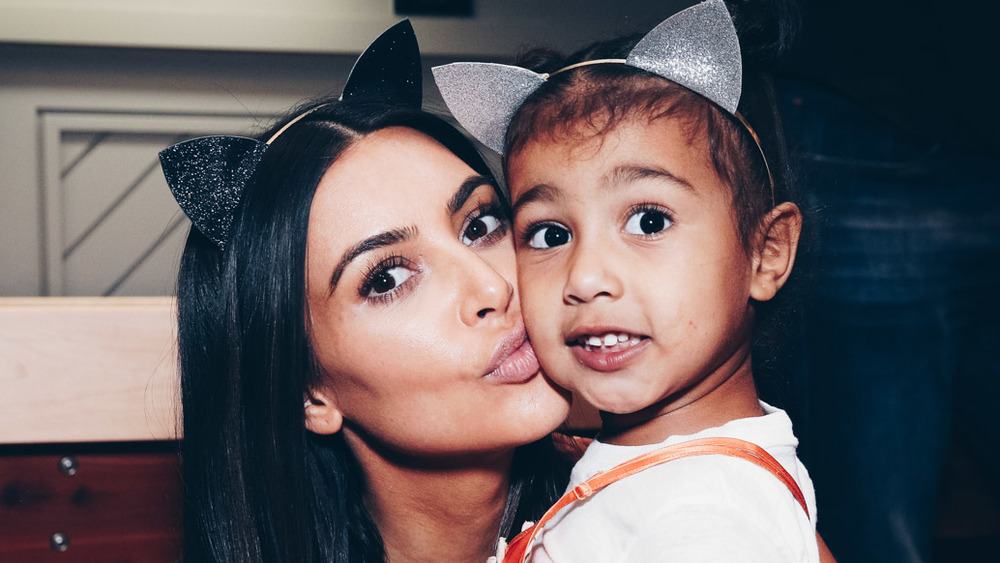 Handout/Getty Images
North West may be a talented artist, but did she really paint the piece that Kim Kardashian shared? While there were those who came up with theories that seemed to soothe their doubt — such as, "I was up all night thinking about the North West painting and I've decided that it is a color by numbers painting" — others were sure that the story was simply untrue. "When you zoom in you can see the border on the transparent "North =)," one Twitter user wrote along with a laughing emoji. Someone else responded with apparent proof in the form of a close-up image of the signature on the painting that they suggested showed that the name had been added digitally.
However, others were open to the idea that North is an amazing young painter (and even had another explanation for the seemingly wonky text issue). "I just wanna say, as an artist I fully believe North could've really painted this (I've seen some amazing paintings done by very young kids)," one person tweeted in defense.
Things may have been settled, though, when someone explained that her mom is the art teacher who showed North how to paint her masterpiece. In fact, it turns out that "everyone who comes through her class goes through this exact same painting when they're starting." The woman who posted even shared a look at her own version of the piece that she did as a child. So, mystery solved?
Kim Kardashian shuts down critics who doubt her daughter
Kim Kardashian has now clapped back at the critics who claim North West's oil painting is fake. The 40-year-old posted a lengthy statement to her Instagram Story on Feb. 9, 2021, which boldly began: "DON'T PLAY WITH ME WHEN IT COMES TO MY CHILDREN!!!" Kim then explained her daughter had been taking art classes and working on the particular landscape piece for several weeks. "My daughter and her best friend have been taking a serious oil painting class where their talents and creativity are being encouraged and nurtured," she wrote.
She then went on to say, "As a proud mom, I wanted to share her work with everyone." However, Kim expressed her discontent with articles and social media posts by "grown adults" who suggested she was lying. "How dare you see children doing awesome things and then try to accuse them of NOT being awesome!?!?!" she wrote. She concluded by asking people to "stop embarrassing yourselves with negativity." 
Kim then shared a screenshot of a Daily Mail headline, which initially began, "North West Did Not Paint This." She wrote, "THIS IS THE HEADLINE?!?! DOUBTING MY CHILD." She also provided further proof that North was the artist by sharing her friend Tracy Romulus' daughter Ryan's painting — which shared a likeness to North's. And clearly showing that creative talent is in the genes, the mom-of-four also gave followers a glimpse of Kanye West's artwork as a child... which was equally impressive. We suppose that settles that then?