What Trump Will Be Doing During His Second Impeachment Trial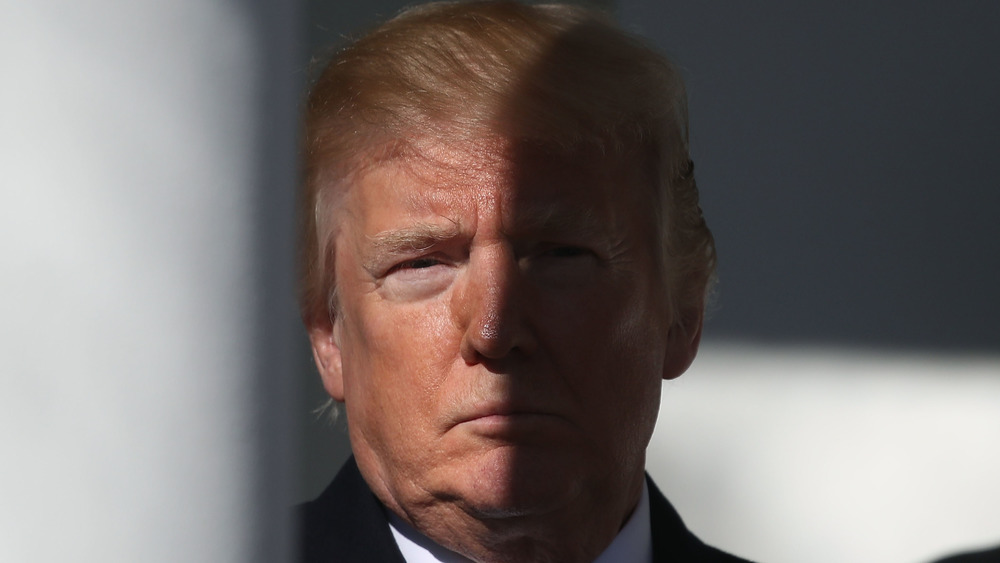 Mark Wilson/Getty Images
Donald Trump's second impeachment trial began on Feb. 9, 2021, per The New York Times. The former president faces charges of "incitement of insurrection" for the January 6 Capitol riots with Democrats arguing that Trump was "singularly responsible" for the deadly attack in Washington, D.C. The House voted in favor of impeachment in January 2021, making Trump the first U.S. president to be impeached twice. Now, the trial moves to the Senate. So what will Donald Trump be doing when it all happens? (Hint: he won't be attending).
According to The Daily Mail, evidence that Trump should be convicted for stoking the attack (which followed his nearby rally) will involve "video of Trump speaking," footage of the riots, and Trump's "tweets to display his incendiary rhetoric." The trial will "kick off with a four-hour debate on whether impeaching an ex-president is constitutional" with Donald Trump's lawyers, David Schoen and Bruce Castor, Jr. (no, not Rudy Guilliani this time), arguing it's not. According to The New York Times, Trump's second impeachment will probably have the same outcome as his first. That's because while "all 50 Democrats" in the Senate will be voting to convict him, 17 Republicans would need to join, which seems pretty unlikely, especially since 45 Republican Senators tried to get the trial thrown out. 
Regardless, we know Donald Trump flew to Mar-a-Lago amidst Joe Biden's inauguration on Jan. 20, 2021. Is that where he'll be? Scroll down to find out. 
Donald Trump will not be attending his impeachment and is planning his next move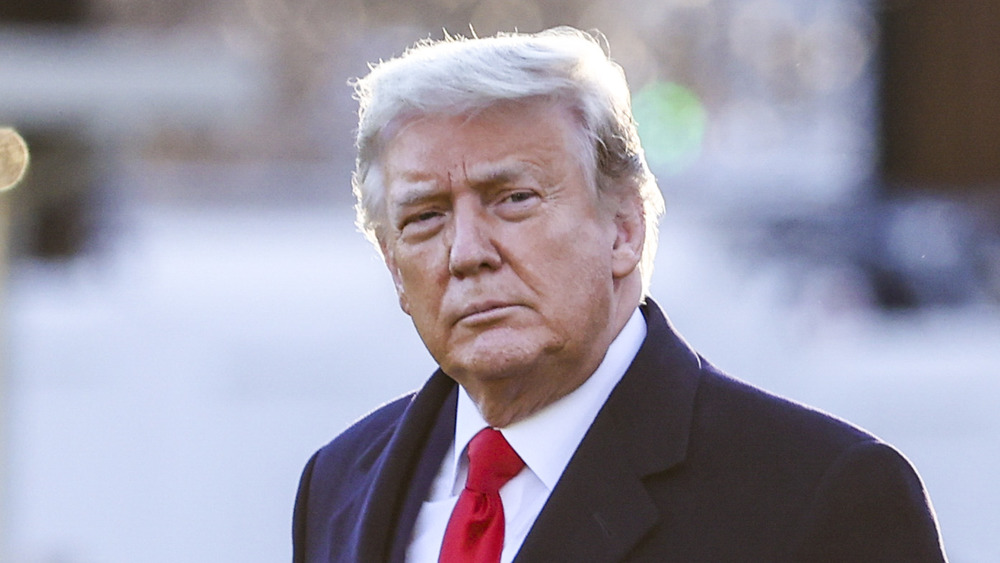 Tasos Katopodis/Getty Images
So what will Donald Trump be doing during his second impeachment trial? According to The Daily Mail, he will "closely follow" the "trial on TV from his Mar-a-Lago residence." So, no, Trump will not be attending the trial, but won't be golfing either, which, per The Daily Mail, he has done "nearly every day" since leaving Washington, D.C. The former president famously jetted back to Mar-a-Lago in Palm Beach, Fla. hours before President Joe Biden took office.
Donald Trump, who was removed from Twitter two days after the Jan. 6 riots, has been laying low. He has not made a public appearance or engaged in any social media since leaving office. But, according to The Daily Mail, "those close to him say he is reveling in his ability to still shape the news cycle" without doing so. "He finally realizes less is more," an adviser told Politico. Another aide added, "Right now Trump is thinking, 'I've got 45 votes [against conviction], all I have to do is go golfing and not do anything." Fair enough!
Meanwhile, Donald Trump is apparently not bowing out of politics given his potential acquittal. "He's compared it to that time in between seasons of The Apprentice, building anticipation and wonderment for what's to come," one adviser told Politico on the period between the trial and his "second act" of politics. 
In that case, we'll see what "Season 2" looks like.