Marc Anthony 'Still In Love' With Jennifer Lopez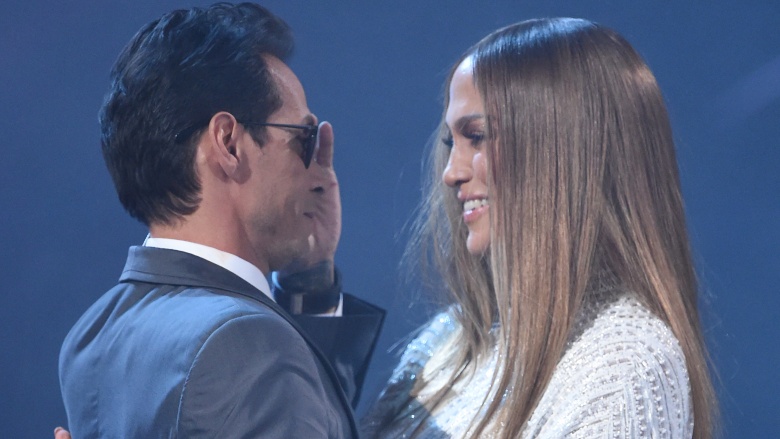 Getty Images
Remember that televised kiss between Jennifer Lopez and ex-husband Marc Anthony at the Latin Grammys? And remember how the Latin crooner and wife Shannon De Lima separated right around the time of that smooch? Sources say that it wasn't a coincidence.
An insider told Us Weekly that Anthony is "still in love with [Lopez]" and has been trying to get her back ever since she and her own beau, Casper Smart, called it quits in August 2016 amid allegations that Smart wasn't so smart and cheated on her. "As soon as he heard Jennifer split with Casper, he wanted out," the source said. "[Anthony and Lopez] have magic when they sing together. That's how they came together last time. There is just this chemistry between them."
Another source told People, "Marc has been in love with Jennifer Lopez since the day they met many years ago and that is a simple fact. He was devastated when they split, and he will always be a part of her life because of their similar backgrounds, their kids, and their love of music and performing. It would take a very strong spouse not to feel some jealousy."
However, Lopez's BFF, Leah Remini, said on Watch What Happens Live (via Entertainment Tonight) that Lopez had nothing to do with Anthony's split from model De Lima. "Absolutely not, that is not the reason. Marc's separation had happened already, clearly way before that," Remini, 46, said. "I thought it was an innocent kiss between two parents and two friends. I love them onstage together, and I love that they still perform."
Additionally, a source told People that De Lima and Anthony's issues had nothing to do with Lopez and more to do with his lifestyle while working. "Marc is so busy with his career, touring and recording that he distances himself from his relationships without even knowing it," a source said. "Even with his wife in tow, she can feel like he is on another planet. Marc likes to have a woman at home but he also likes to live like a bachelor. This doesn't work for very long."
A source close to J. Lo told Us Weekly said Lopez is "happily single" with no real desire and "no plans" to get back together with her ex, but agreed, "She did make beautiful music with Marc!"
Still, don't count these two out completely. An industry insider was optimistic to People, noting, "They seem better together now than any time in the past few years, but I don't know if they will ever reunite as a couple. But I would not rule it out."