The Truth About Meghan Markle's Latest Look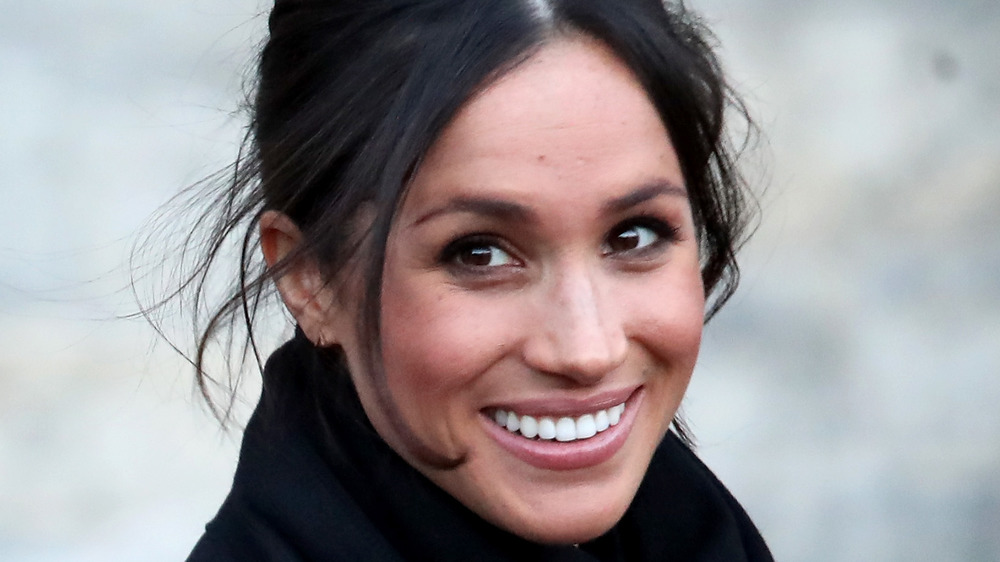 Chris Jackson/Getty Images
There are plenty of reasons why you might adore Meghan Markle. You may admire her charitable efforts or aspire to the kind of financial success she has achieved. And then, of course, you might totally be into her sense of style, which includes buzz-worthy outfits and enviable hairstyles. Indeed, Marie Claire noted that Meghan is not only known for "chang[ing] up her look in a big way" when it suits her, but she's also "the queen of the low bun and beachy waves," not to mention natural curly hair, as well as longer and straighter styles. That's surely why "all we can ever think about is how gorgeous her hair is in, like, every single freaking hairstyle," whether she's making the internet freak out over her wedding hairdo, opting for an unrecognizable style in isolation, or embracing a new look post-royal life.
Frankly, Allure claimed that the "Meghan Markle" effect — that is, the influence her aesthetic choices make on others who are willing to pay up in order to follow her fashionable lead — is so powerful that "the world [is] in awe" of "her personal fashion and beauty choices." That includes "her (glorious, gorgeous) hair, which is setting a new tone for the Royal Family" thanks to "thoroughly modern styles" that are "quickly shaking up the typically staid royal beauty we're used to seeing."
That's why, if you are a fan of the royal and her regal, yet modern hair, then you will definitely love the style that she showed off during an appearance in February 2021.
Meghan Markle has had a stunning 'Hollywood makeover'
Meghan Markle and Prince Harry surprised the public when, in February 2021 — not long after announcing that they were expecting their second child together — the pair took part in Spotify's Stream On event, which saw them "[appear] on their couch in their Santa Barbara, California, home to talk about Archewell Audio, the production company they formed late last year that will create podcasts exclusively on Spotify," according to People.
While both Meghan and Harry spoke during the clip, fans of the Duchess also surely noticed her hair, which she wore long and with stunning waves that curled down to her waist. Celebrity hairstylist James Johnson told the Daily Mail's FEMAIL that Meghan "made a statement with big glamorous curls." Johnson explained, "I think a lot of us are feeling the need for a re-vamp, perhaps this is the image she's always wanted to look like."
"Meghan [has] opted for a whole new cut, and it's great to see her changing her style," the hair expert added, while also noting that she likely achieved the look thanks to clip-in extensions. "She looks so glamorous with her Hollywood makeover. Curly and big is a good way to make a statement with a new look!" Seriously, if Meghan was making a statement with her hair — i.e. I'm loving my fabulous life and it shows — then message received!