Where Do Jinger Duggar And Jeremy Vuolo Live And How Big Is Their House?
Jinger Duggar and Jeremy Vuolo moved to Los Angeles in July 2019, allowing Jeremy to continue his education at The Master's Seminary. The former soccer player wants to be an ordained pastor like his brother-in-law Ben Seewald. It appears the Counting On stars and family are enjoying their life, far away from the rest of the Duggar family.
The Vuolo's live in a light and bright contemporary home in the San Fernando Valley. Jinger and Jeremy's home looks like a California postcard, from the videos and pictures we've seen online and on social media.
According to RadarOnline, the Vuolo's live in a 2,000 square foot contemporary style house. The home has 4 bedrooms, 2 bathrooms with a 2 car garage. The home is built for the indoor/outdoor California lifestyle and is surrounded by fruit trees. The property dates back to 1953, but underwent a full remodel in 2015. Jinger shared a picture of her kitchen on Instagram, and it looks quite modern and high-end.
There were just 3 members of the Vuolo family when they moved to California; Jeremy, Jinger, and baby daughter Felicity. The couple announced the birth of their daughter, Evangeline Jo Vuolo, in November 2020. The Vuolo's now have 4 family members, a few short of the 19 Kids and Counting crew, but the family is growing! Keep reading to find out more about Jinger and Jeremy's life in California and just how much their house is worth. 
Can Jinger Duggar afford the California dream?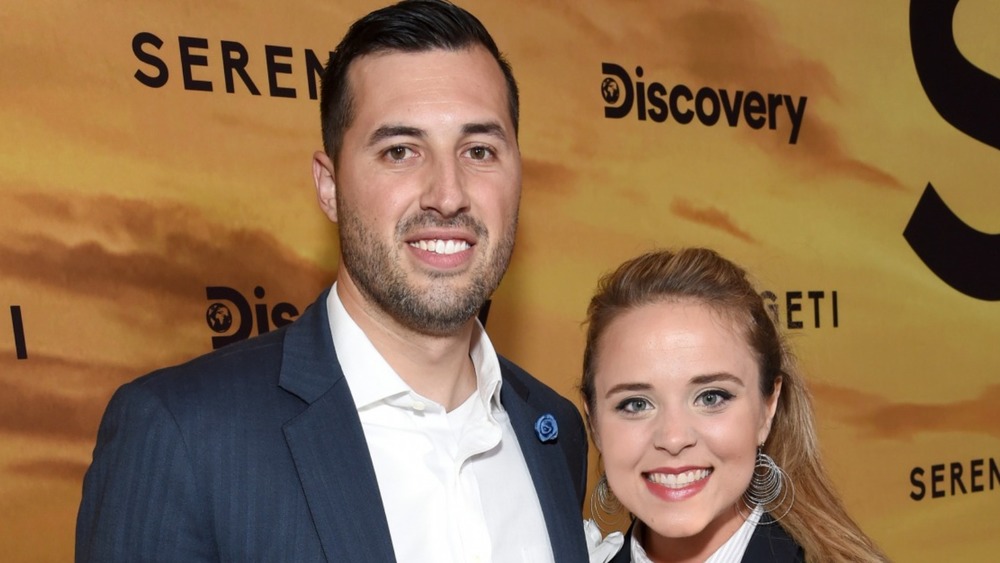 Michael Kovac/Getty Images for Discovery Channel
Jinger Duggar Vuolo, Jeremy Vuolo, and their baby girls Felicity and Evangeline are living their best life in Los Angeles. Jinger is a young mom living the California dream, very different from the strict rules she followed as a child. But life in California can be expensive — RadarOnline reported Jinger and Jeremy's 2,000 square foot home in in the San Fernando Valley is worth $685,000! 
According to the Southland Regional Association of Realtors, the median sale price for a home in the San Fernando Valley in August 2019 (when RadarOnline published their story) was around $572,000, far less than what the Vuolos paid. Cheat Sheet speculated that the Vuolos might not be able to afford the lifestyle, writing, "Those prices don't sound very affordable for a young family on a grad student's budget."
Fans don't need to worry about Jinger and Jeremy; according to Celebrity Net Worth, Jinger is worth $2 million. Between TLC's Counting On and Jinger's sponsored Instagram and YouTube posts, the Vuolos are doing just fine. Per TLC's website, the Vuolo family is "taking on new activities such as swimming lessons, high-end shopping and even skateboarding."
Life in L.A. may cost more than in Arkansas but there's so much to do. Jinger and Jeremy shared a visit to the Santa Monica Pier on Instagram. Jinger said, "The other day was so beautiful, we decided to visit the iconic @santamonicapier! Felicity absolutely loved seeing the arcade, carnival games, and rides." Keep scrolling to find out more about Jinger and Jeremy's life in California.
Jeremy and Jinger have hunkered down and made moves in California
Like all of us, Jinger Duggar and Jeremy Vuolo have spent more time at home due to the coronavirus. It must be hard for Jinger to be away from her family, especially since Jessa and Ben Seewald are expecting their fourth child.
Jinger posted on Instagram in March 2020, "In these difficult days, be sure to text a friend, video chat with family, and let them know you're grateful for and love them. Stay safe, stay strong." It appears Jinger misses her family, especially Jessa, to whom she is very close.
Jinger may be making some big changes. According to CheatSheet, the couple might be pulling back from sharing so much with their fans, they don't want their children to be raised in the public eye, the way Jinger and her siblings were. It appears Jinger may follow her sister, Jill Duggar Dillard, and spill some dirt about Jim Bob and Michelle Duggar.
Jinger seems like she's about to embark on a new endeavor: writing. According to Katie Joy's Without a Crystal Ball, the couple is expected to release a book in May 2021, which "promises to give a backstory to Jinger's life growing up on camera on TLC's 19 Kids & Counting and now on Counting On." From what we've seen, California life agrees with Jinger and her family!