Inside Eric And Ivanka Trump's Trip Back To NYC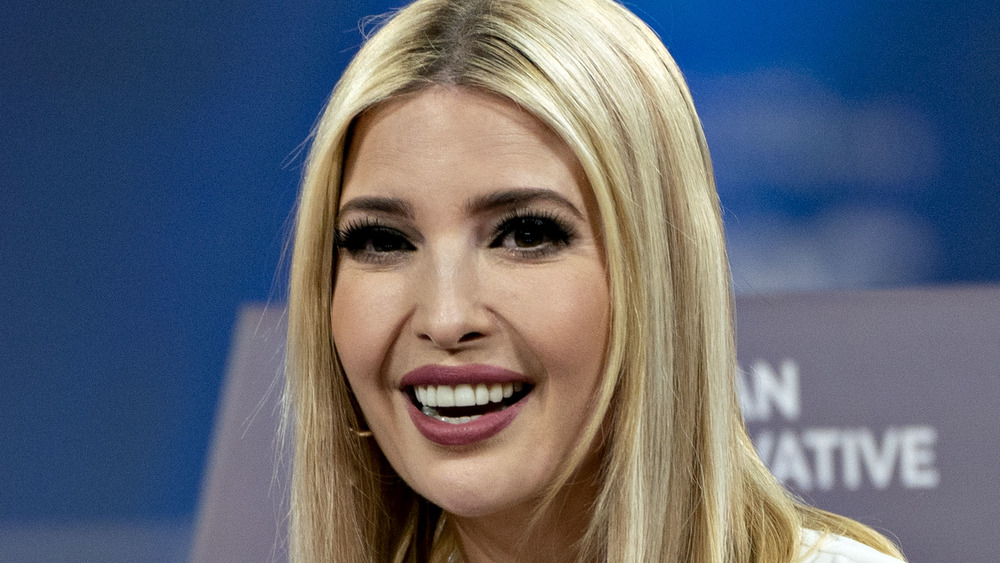 Bloomberg/Getty Images
There was a fair amount of speculation about where the Trump family would live following Donald Trump's presidency. Trump hails from New York, N.Y., which is where most of his kids were raised as well. Plus, it was reported that former first lady Melania Trump couldn't wait to return to the Big Apple. 
"For the past four years, Melania has missed her life in New York," a source claimed on Rob Shuter's Naughty But Nice podcast in November 2020 podcast. "She loves the city and the lifestyle she used to have and cannot wait to get it back at Trump Tower. She basically put her life on hold to be with her husband in D.C. She never wanted any of this." Whether that's true or not remains to be seen because since leaving the White House, Melania has reportedly been living in her husband's Mar-a-Lago resort in Palm Beach, Fla. with their teenage son, Barron.
Most of Trump's family members followed suit and are also now living in Florida, according to the Daily Mail. That doesn't mean they aren't taking advantage of their other residence options, though. Eric Trump and Ivanka Trump returned to New York in February 2021, for the first time since leaving Washington, D.C., and both were seen entering their father's Trump Tower on Fifth Avenue. Keep reading for a peek inside the siblings' return to NYC.
Eric and Ivanka Trump were out and about in NYC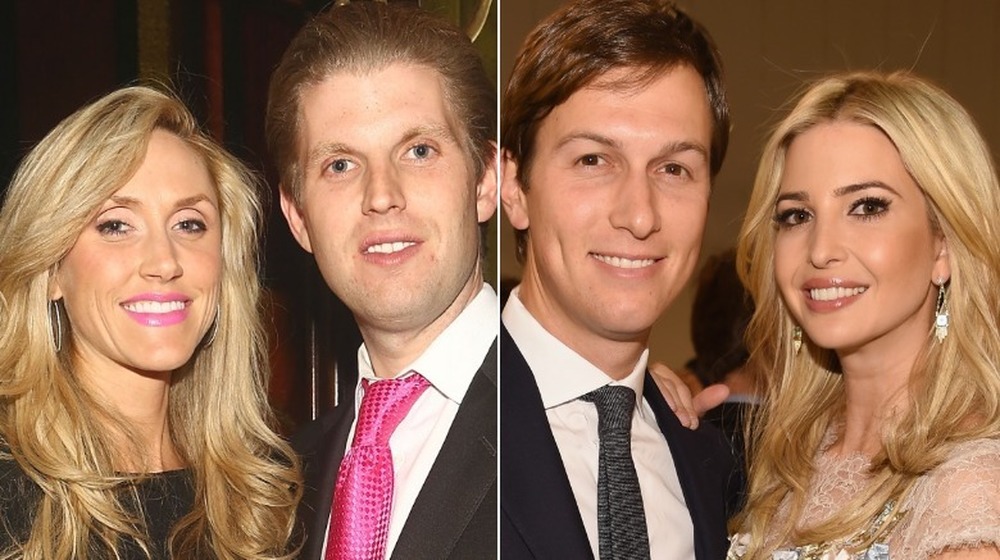 Astrid Stawiarz, Larry French/Getty Images
Eric Trump and Ivanka Trump were separately spotted walking in New York City on Feb. 24, 2021. Eric and his wife, Lara, (pictured left) were seen enjoying lunch with Eric's mother, Ivana, at the upscale Italian eatery Altesi Ristorante, per the Daily Mail. Eric was reportedly the only one of the trio who opted to wear a mask while walking in public to drop his mother off at her townhouse. Eric and Lara continued on to Trump Tower, where they reportedly have an apartment.
Ivanka was photographed the same day (via the Daily Mail) wearing a casual black coat and jeans. The sighting came just four days after she was seen holding hands with husband Jared Kushner (pictured right) on the beach in Florida. She was wearing a face mask while out and about in New York, but The Daily Mail noted that it is unclear if she quarantined between her time in Florida and her outing in New York, as required by New York's COVID-19 travel guidelines. She was also seen entering Trump Tower.
Although the siblings may have a spot in NYC's Trump Tower, Ivanka and her husband, Jared Kushner, allegedly rent a luxury apartment at Arte Surfside in Miami Beach, as noted by the Daily Mail. They are also reportedly building a home on a $31.8 million plot of land purchased in Indian Creek Island, Fla., in 2020.There are no reports of Eric and Lara searching for property in the Sunshine State at this time.